Online Platforms to Help You Stay Connected as Coronavirus (COVID-19) Lockdown Soars
Online Platforms to Help You Stay Connected as Coronavirus (COVID-19) Lockdown Soars
By Nick Anderson No Comments 6 minutes
As the world is engulfed in panic and several people have moved in self-isolation, there's a growing need for digital solutions to help bridge the gap between people and organizations. There's a rise in digital services and not just productivity ones.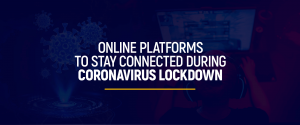 Educational institutes have turned to video conferencing for holding online classes. Other organizations have moved to work from home.
If you have been affected, then continue reading our blog to make the most out of your isolation. The purpose of this blog is to introduce services that can help you stay connected and also give you a few tips on how to make the most of your time.
Best Platforms for Productivity
Microsoft Teams
Teams is Microsoft's solution for collaboration in the workplace. It lets you stay connected with your peers who are working remotely or collaborate with other organizations. Teams has experienced a surge in the number of users lately; as many as 12 million new people joined in just seven days.
You can establish conference calls – both video and audio – even call people who are not using Teams, send group and private texts, and keep a check on the flow of work.
It gives you the option to be more exclusive. So, for example, Project A can have multiple channels based on the individual aspects of the project, such as Design or Engineering. Colleagues need only to be added to the channels they are responsible for. There's a Files section where you can view all the content that has been shared.
Microsoft's Office365 is integrated in Teams. Documents shared between people can be edited in realtime, and events can be saved in your Outlook's calendar.
Zoom
Zoom is designed for group calls and text chats. It's a powerful tool that combines all that you need from a video conferencing tool, and it's free too. It is why when the current pandemic took the worst form – forcing people to work remotely – more people have discovered the platform.
The free nature of the product meant that anyone could jump in, and up to 100 participants can talk to eachother live. However, Zoom offers multiple options for those seeking a more comprehensive solution, such as increased meeting duration and cloud recording.
Skype
Skype remains one of the go-to platforms for online calls, group meets, and text-based chats. There's also the option to buy Skype credits and call local and international landlines. In essence, it's a convenient way, and the credit packages   The emojis integrated into Skype give it a more casual touch than other such online communication platforms, but that's not to say it's not popular among businesses.
It's free to begin with, making it accessible instantly to anyone looking to connect with people during this lockdown.
Skype for Business was a paid option but is now succeeded by Microsoft Teams.
Meet
Meet is Google's answer to the growing online communication platforms. It'spart of G-Suite, which is aimed at businesses looking to leverage the cloud for productivity. G-Suite is an amalgamation of Google's services: Gmail, Calendar, Hangouts, Meet, and Drive.
The individual services are available for free to everyone, but G-Suite allows you to leverage the cloud for access to bigger storage spaces (30GB for each user), personalized emails, andadministrative controls.
It's fit for organizations that want to create personalized emails and bring their colleagues into a mailing service. Google Docs expands productivity by giving you access to documents and spreadsheet apps that can be edited in realtime by participants.
Platforms for Learning
You can use this lockdown as an advantage to propel your skills to new levels or learn new ones. The brilliant thing about the digital space is the vast amount of resources you have when it comes to learning. Is there a subject which fascinates you? There's likely a ton of information and courses out there on it.
After you are done with the courses, you can proudly display e-certificates on your Linkedin profile.
Hubspot Academy
Hubspot develops software for marketing and sales, but it also hosts an online academy filled with hundreds of courses. Whether you want to learn about Affiliate Marketing or Seach Engine Optimization (SEO), Hubspot is the place where you can learn free of cost.
Linkedin
Not just for professional networking, Linkedin is also a vast resource for learning. Head over to Linkedin Learning and take advantage of a free one-month trial.
It hosts over 15,000 courses, distributed under Business, Technology and Creative categories.
Khan Academy
Khan Academy made a name for itself when it was introduced in 2008 as a non-profit online portal where students can come and learn subjects. Since then, it has grown in popularity owing to its approach towards a cogent teaching style.
Subjects include anything from Mathematics to Computer Programming and History.
Coursera
If you require an in-depth approach, then Coursera is a great place to start. Coursera features courses from top universities such as Stanford and tech firms such as Google and IBM. The wealth of knowledge, should you choose to embark on the park, will be worth the price of admission.
Udemy
Udemy is another excellent platform for learning online. You get access to courses ranging in business development, IT and Software, Health and Fitness, Photography, Music, and much more.
Although every course is paid, the prices are kept reasonable so that everyone can have a chance to learn. Udemy often holds discounts on courses, so that's an opportunity for you. Furthermore, every course comes with a 30-day money-back guarantee.
Conclusion
It's natural to see the ongoing pandemic and the ensuing lockdown as a disturbance in everyday life. But staying at home does not have to be boring and a waste of time. Take this time as an opportunity to learn new skills or hone existing ones. In the wake of this global panic, people are turning to digital platforms to complement the situation, and digital platforms are answering back by offering discounts.
If you find yourself home unable to access your favorite content on the web, use promo code COVID19 on FastestVPN's Lifetime Plan for a discount. Get unrestricted access to the internet for life.
Take Control of Your Privacy Today!
Unblock websites, access streaming platforms, and bypass ISP monitoring.
Get FastestVPN