12 Best Unbiased News Sources for 2023
12 Best Unbiased News Sources for 2023
By Nancy William No Comments 7 minutes
Are there any unbiased news sources? Is it important? Most people rely on the news to keep up with what's happening in the country or even the world. It can range from stock market crashes, the newest vaccines, the best software, or even crime. However, not all news sources are unbiased or without influence. The media is not always right, and facts are not always reported accurately.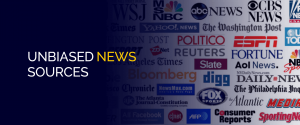 We cannot say that there are many unbiased news sources because that is close to impossible. Although, there are still some reliable leads that give you the best news locally and internationally. With that said, we've highlighted 12 top news sources that are unbiased. 
But before we get started, we must mention that not every news channel or website is available in every country. You can download the FastestVPN app or get the browser extension (Chrome / Firefox) to unblock these platforms. 
Quick List – Top Unbiased News Sources in 2023
The New York Times

– monthly visitors touching 569.4M

CNN

– monthly visitors touching 556.7M

BBC

– monthly visitors touching 497.9 M

The Guardian

– monthly visitors touching 334.8M

NPR

– monthly visitors touching 104.4M

The Wall Street Journal

– monthly visitors touching 83.4M

NBC News

– monthly visitors touching 81.2M

Reuters

– monthly visitors touching 79.0M

Associated Press

– monthly visitors touching 69.2 M

CBS News

– monthly visitors touching 60.1 M

Deutsche Welle

– monthly visitors touching 36.5M

Al Jazeera

– monthly visitors touching 34.8M
What is Unbiased News?
Unbiased news is the term coined for any news story that is presented or reported with proper facts and evidence or without spinning away from the truth. It can be on a political stance or any way that may or may not add benefits to the owners of the news outlet. It is any news that does not report according to paid or partnered benefits. However, there are some sites that are unbiased news sources, while there are some that take the most biased or neutral disposition. Below you'll find more details on the best news sources that are unbiased. 
Best News Sources that are Unbiased
There are only 12 news sources that are unbiased and give off some reliable news reports based on evidence and facts. They are: 
1. The New York Times
The New York Times is known globally and is the best and most influential unbiased news source in the US and internationally. Their approach is mainly targeted as left-leaning, where they strive to achieve the most accurate news results. It aims to cover news based on politics, business, culture, journalism, and more. Even though you'll find the site online, its print subscribers hit a massive 740,000 only in 2022. 
2. CNN
CNN has been around for 42 years, and despite facing some major backlash on controversies over the years, it still stands as one of the most reliable and unbiased news sources in the world. It not only caters to the US market but is widely watched in many countries. According to statistics, most US citizens consider CNN one of the best and most reliable sources. 
3. BBC
Next on the list of the best-unbiased news sources is BBC. In fact, BBC News is known to be one of the more balanced news sources, where most news headlines fall right in the center. It neither favors nor heads against particular sources and is far-fetched from latching on to political influences. It gives you news from Politics, business, health, entertainment, food, reality TV, etc.  
4. The Guardian
Another left-leaning news publication that you can refer to is The Guardian. They offer many news headlines from politics, culture, lifestyle, sports, and more. However, even though some of its news stories are left leaned, the reporting is usually based on facts. These facts gathered before reporting are inherently based on actual evidence or proof. Because of its factual journalistic reports, it is widely popular in the US and the UK. 
5. NPR
NPR, short for National Public Radio, is a non-profit news source that is based in the United States. It, like BBC, covers unbiased news sources that do not lean in or against any direction. It covers the news based on various topics like politics, historical movements, culture, health, and much more. NPR is known as one of the most reliable sources because its news coverage is based on evidence and accurate reporting. You will find NPR available via its website, the radio, and TV. 
6. The Wall Street Journal
The Wall Street Journal, also known as WSJ, is a news organization based in the United States that mainly focuses on covering international news, business, and finance. You will find it available via its site and in print. It's considered resourceful because of its reporting and analysis strategies. 
7. NBC News
NBC News caters to mainly Americans but carries out global news releases. We wouldn't really call it to be an unbiased news source since its stories are mostly left-leaned. It covers news ranging from politics, business, health, technology, and more. However, it still has some credible sources that deliver the news based on evidence. The proof of that is when NBC News representatives fired many journalists that used unethical means of research and reporting. 
8. Reuters
Reuters is another unbiased new source that delivers the news truthfully, with its tone and content not wavering in opposite directions. It is a global platform that highlights topics, some of which include business, politics, sports, and technology. This is one of the many reasons why Reuters make a great and unbiased news platform that also sends out its content to international media outlets. 
9. Associated Press
AP News, short for Associated Press, is found on most unbiased news source lists, and for good reason. The news stories it offers cater to various categories like sports, politics, US-only news, entertainment, business, and more. They're considered reliable sources because of the non-biased approach in their research and reporting. You not only have the option of reading segments of news but also have broadcasts to tap into. 
10. CBS News
Tenth on the list of the best-unbiased news platform sources, we have CBS News. The way the news is processed on the platform is perfectly balanced. There are some of its audience that lean to the right, while some towards the left, with the remaining that fall towards the middle. This balances things out, making it more centralized. CBS News gives you stories from a number of categories like politics, health, entertainment, technology, sports, and more. 
11. Deutsche Welle
DW, short for Deutsche Welle, is known as a German news source that covers unbiased news on global affairs. Here you can get the news on culture, business, politics, and award-winning journalism. You will find Deutsche Welle on TV, on its website, and on the radio. If you can't access it in your country, you can always connect with FastestVPN and use its German server or the server of any location where it's available. 
12. Al Jazeera
Al Jazeera is another news source that is unbiased and based in Qatar. It gives coverage of the news spread across Asia, the Middle East, and Africa. Al Jazeera is widely known for its award-winning journalism and unbiased reporting. You can either get the news on its website, via its channel, or even on the radio. Just in case 
Are There Any Biased News Sources?
There are a couple of biased news sources that you might want to skip, some of which include: 
Fox News

Breitbart News

MSNBC

Sky News

InfoWars
FAQs - Unbiased News Sources
What does unbiased news reporting mean?
News sources that are at a neutral tone and reported in a centralized manner without being left-winged or towards the right. In this aspect, all reporting journalists are to take a non-biased and ensure that all evidence lines up with the story.
What news source is the most unbiased?
There are a couple of reliable sources. Some of them include The New York Times, The Economist, Wall Street Journal, Al Jazeera, BBC, and more.
Is there an unbiased source of the news in the US?
The most unbiased source of news in the US includes PBS News, Associated Press, and a few other options to choose from in our list.
What makes a news article biased?
Biased news refers to favoring towards the person, the event, or anything that falls into the lines of being unfair. Any news outlet that fails to offer the right version of the news or events is termed as biased news.
Are there any countries with biased news reports?
The countries that do not give the news well or are towards a more biased approach inlcude South Korea, Spain, Lebanon, Greece, and Chile.
To Conclude
And that's a wrap! You now have some of the best-unbiased news sources in the world that give you reports on politics, culture, business, lifestyle, crime, and much more. However, the purpose of giving you options to choose from is to confirm whether the news that's on one platform plays out the same on another platform. If you're willing to branch out to other mediums, some alternatives for the news are sources like YouTube, Facebook, Instagram, Twitter, etc. However, if these sources are unavailable in your country, we recommend connecting with the best server location to access them.
Take Control of Your Privacy Today! Unblock websites, access streaming platforms, and bypass ISP monitoring.
Get FastestVPN