What to Do If Your Phone is Hacked
What to Do If Your Phone is Hacked
By Johan Curtis No Comments 6 minutes
Our mobile phone is an essential gadget in our lives. In today's world, you won't find anyone without a phone or some sort of social media existence.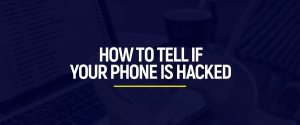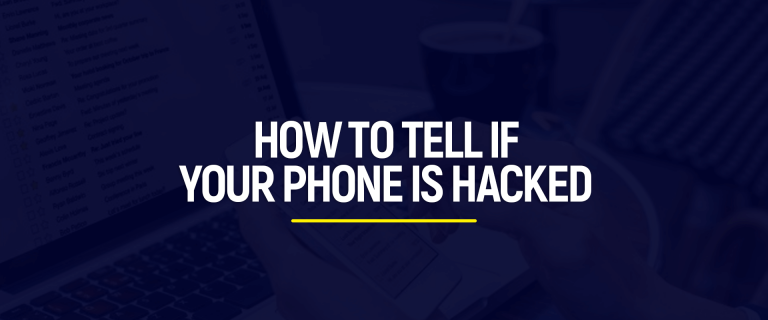 Ever since the growth of the internet and smartphones, owning a mobile has become even more necessary. Most of us have pretty much most of our confidential information saved on our phones, such as passwords, credit card credentials, or any other miscellaneous information/photos/videos.
Is Your Phone Completely Safe?
Your phone is prone to several security risks, the most common risk known as hacking.
Any hacker could easily hack into your phone if you are not taking the appropriate security or privacy measures. Firstly, it is important to be aware of what hacking is and how it can negatively affect you.
What is Hacking?
Hacking is the term used when someone gains unauthorized access to data in a system or a computer when one person breaks into the system of another computer to both misuse and steal data or to simply corrupt system files.
There are several methods that hackers use to intercept your system. We're listing 7 of the most common along with their solutions.
Although, the first thing we need to identify is whether your phone is hacked or not. In the event that your phone is hacked it should be displaying the following symptoms:
There has been a decrease in general battery life
The phone is glitching, apps are crashing, and the performance is slow.
Mysterious pop-ups are appearing.
Unusual activity on the phone or on linked accounts.
Strange outgoing calls and texts that you never sent.
Common Methods of Hacking and their Solution
1) Spyware Application
There are many apps available on the web which works for the very purpose of stalking a said person's location, messages or calls, internet history. Some even have the technology to remotely gain access to the phone's MIC and record conversations. Normally, such apps are marketing towards concerned parents wanting to monitor their underage children.
One thing you want to keep in mind is that spyware is installed onto your phone, which means someone needs to have direct access to install them or be given explicit permission.
Solution
Since we have derived that this can only be done if someone has direct access to your phone, you may want to reevaluate the people you hang out with. Or more importantly, set up a strong pass-code that no one else but you may be able to guess.
Similarly, if you happen to own an iPhone, we'd recommend not jail-breaking it since that makes your software extremely vulnerable and allows the entry of such apps.
More importantly, you should download an antivirus application in order to receive alerts of any suspicious activity on your phone.
2) Phishing
Phishing messages are usually attractive messages that contain malicious links; as soon as the user clicks on the link, the link redirects them to a page, which then installs malicious software in your device, providing the hacker with access to your device.
It is important to be able to distinguish between legit and spam messages, and one should be very careful before clicking on any links.
Solution
Until and unless you know the message is from a reliable and certified source, do not click on any links!
Remember, your bank would never ask you to enter your entire pin online; just keep your mind open towards any suspicious activity.
3) SS7 Global Network Vulnerability
The communication protocol in mobile phones all over the world has certain vulnerabilities that let hackers spy on text messages, phone calls, and locations, only through gaining someone's mobile number.
Similarly, text messages, where you receive confidential OTP messages or two-factor authentication messages, could easily be spied on and intercepted.
Solution
Using an end-to-end encrypted text message service like WhatsApp should be the norm. This way, no one can hack your conversations.
4) Through Free Wi-Fi
Free Wi-Fi may sound like a blessing, but it leaves you a target for many hackers. Public Wi-Fi hotspots are unsecure networks. Such hotspots are vulnerable. Attacks can redirect you to websites asking for certain credentials passwords.
Solution
It is always safe to use networks that are encrypted and trusted. Download an efficient VPN app in order to make sure you're safe. FastestVPN uses military-grade AES
5) Malicious Charging Stations
The stations with free of cost charging booths do sound too good to be true. When you connect your phone to the station's USB cable, it may transfer some sort of malicious content onto your phone and intercept its system.
Solution
It is always better to carry a power bank around with you, so you can charge your device on your own without having to rely on such suspicious means.
How to Remove Hackers from Your Device
In case you've already experienced a hack, and the above solutions did not do the job for you, here are a few more solutions.
Regularly delete cookies, cache, and browsing history from your device. This way, your internet traffic history will be erased and will prevent you from being spied upon.
Make sure your Bluetooth is not turned on unnecessarily. Keeping your Bluetooth turned on also causes hackers to be connected to your phone through it, without you knowing.
Download a security app. Security apps can also be antivirus applications or apps that simply monitor suspicious activity on your phone and send out alerts.
If there is no option left and you notice that your phone is displaying all the symptoms of a hacked phone, then you can always opt to factory restore your phone.
Here's how:
If you own an iPhone:
Open settings
Go to General
Scroll down and select Reset
Then press "Erase All Content and Settings."
Your phone will reset now.
Similarly, if you have iTunes downloaded, you could always connect your iPhone to your laptop, open iTunes and then choose to factory reset.
If you own an Android:
Open Settings
Select General
Search for and select Reset.
Choose "Factory Reset"
Your phone should reset and restart now.
Conclusion
We hope that this covers everything you need to know about hacking and how to protect your phone. Nowadays, every one of us is incredibly dependent on phones, and it would be a shame to have to see it compromised this way.
Phone security is an important matter and should be dealt with seriously.
Moreover, it is always wise to be connected to a VPN while surfing the web, whether on a public network or at home; it keeps your identity hidden and ensures safe browsing.
Take Control of Your Privacy Today!
Unblock websites, access streaming platforms, and bypass ISP monitoring.
Get FastestVPN