4 Ways Showing You How to Optimize Internet for Gaming
4 Ways Showing You How to Optimize Internet for Gaming
By Nancy William No Comments 5 minutes
Online gaming specifically demands a fast internet connection with the lowest possible latency. No matter how expensive your gaming setup is, a poor Internet connection will severely harm your gaming performance. If you ever feel like you are not hitting your shots in FPS games, it's probably due to high ping. Higher response times like that make it harder for your gunshots to register. While some issues with this can be fixed by simply changing DNS servers, it's not always that simple. With that in mind, we have created this guide to show you how to optimize the internet for gaming.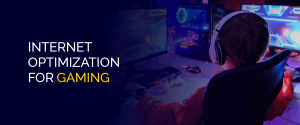 4 Ways to Optimize Internet for Gaming
There are some games that won't be affected by a faster internet connection, but the difference is clearly noticeable once you have used high-speed internet. Casino games like blackjack online, slots and roulette can be played with a decent connection, as they're not as graphics-intensive, despite being responsive, innovative, and high-resolution.
However, even doing so, if you seek a dynamic experience, you might want to optimize your internet to its highest possible capacity. This way, you'll be able to enjoy the games with more immersion, without sacrificing your time or energy on fixing the connection bugs. Now, without further ado, let's get into the guide.
1. Use an Ethernet cable
Whether you are gaming on PC, PlayStation, or Xbox, you should always use an Ethernet cable over Wi-Fi. Using the former provides incredibly consistent speed, and latency is drastically reduced; two things that are incredibly essential for all forms of online gaming.
Ethernet connection is simply superior to Wi-Fi as it sends information to your device without any interference or delay, thus positively impacting your gaming performance.
You can buy Ethernet cables from any online or local computer store. Once you have that, all you need to do is plug one end of it into your router and the other end into the Ethernet port of your gaming device.
PS5 and Xbox both have Ethernet ports, but if you have the Nintendo Switch, you are out of luck. You can, however, purchase an Ethernet adapter to solve this problem.
Portable devices like laptops will also greatly benefit from a lot from a wired connection, but if you don't want to sacrifice convenience, you can opt for a gaming Wi-Fi router. It still won't beat an Ethernet connection though; keep in mind that all these gaming routers come with Ethernet ports.
2. Reduce Background Internet Usage
It goes without saying that the fewer applications or devices consuming your internet, the better your connection speed for gaming will be. Close all the applications like Google Chrome, Adobe, or cloud services that might be running while you are playing games.
Also, make sure no one else is using your Wi-Fi. You can start by changing your Wi-Fi password in router settings or revoke their access to your Internet when you are gaming. Router settings can be managed from a mobile app as well, and if your router has one, you can conveniently use it to check who is using your Internet.
3. Change DNS Servers
Moving on to advanced settings, you can change DNS servers to find the one that works best for you. You can experience lagging if you haven't assigned a proper DNS to your router.
DNS settings are also found in PlayStation when setting up a wired or Wi-Fi connection. There are various DNS servers that you can use; the most popular one for gaming is Google's DNS. Just put the following numbers in DNS settings and you should be good to go.
Google's DNS:
Preferred DNS Server: 8.8.8.8
Alternate DNS Server: 8.8.4.4
Open DNS:
Primary DNS: 207.68.222.222
Secondary DNS: 207.68.220.220
Cloudflare DNS:
Primary DNS: 1.1.1.1;
Secondary DNS: 1.0.0.1
Quad9 DNS:
Preferred DNS Server: 9.9.9.9
Alternate DNS Server: 149.112.112.112
Level3 DNS:
Preferred DNS Server: 209.244.0.3
Alternate DNS Server: 209.244.0.4
You can test all of the aforementioned DNS servers to check which one provides you with the best connection. Once you find "the one" stick use it whenever you are configuring your internet settings.
4. Change network adapter settings
Finally in this last section, we are going to look at the best network adapter settings for gaming. First, you want to disable Ethernet adapter components. You can do this by right-clicking network connection icon found on Windows taskbar. After that click on Open Network & Internet settings and select Change Adapter Options. Now, right click on the connection you want to optimize and select properties. This should open a new Ethernet Properties tab and here's where all the settings are:
Click on configure button in the Ethernet Properties tab.
Switch to Advanced tab.
Click interrupt moderation from the property list and disable the value from the dropdown menu on the right-hand side.
From the same property list disable the value for these options as well: Flow Control, Receive Side Scaling, TCP Checksum Offload (IPv4) and UDP Checksum Offload (IPv4).
To Conclude
You now know how to optimize internet for gaming, using our guide. However, another thing that you need to make sure is disabled on your desktop is power saving settings for the network adapter. This will prevent Windows from shutting down network drivers to save energy, and in turn, you will receive a solid internet connection. This concludes our guide for the best gaming Internet settings.
Take Control of Your Privacy Today!
Unblock websites, access streaming platforms, and bypass ISP monitoring.
Get FastestVPN