Watch Tyson Fury vs Dillian Whyte on Firestick
Watch Tyson Fury vs Dillian Whyte on Firestick
By Christine Margret No Comments 5 minutes
Hey! Boxing fans, it's your chance to know how to watch Tyson Fury vs Dillian Whyte on Firestick from any region hassle-free with FastestVPN.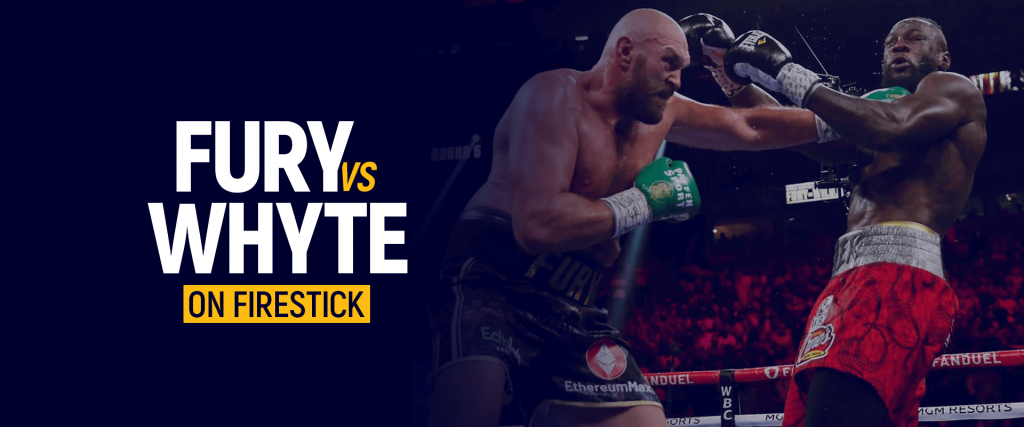 On 23 April 2022, you will see Tyson Fury defending his heavyweight crown against Dillian Whyte. In the clash between Tyson Fury vs Dillian Whyte, Fury is again trying to defend his unbeatable title. The furious Fury has so far appeared in 33 fights where he holds the victory flag 32 times while 1 fight ended up without any result.
Now it's Dillian Whyte who got his chance to snatch the heavyweight title from the Gyspy King (Tyson Fury). Both of these UK nationals are going to collide at Wembley Stadium, London in a 12 round match.
Dillian Whyte with a great track record seems to be a good adversary against Fury. Whyte who is also known as "The Body Snatcher" only faced defeat 2 times out of his 30 contests. He credits boxing for changing his life.
Whyte had started his fighting journey in MMA and kickboxing, then at the age of 20, he stepped into boxing. His first bout was a success where he beat a future gold medalist, Joshua.
However, there is a lot going on before the competition as Fury is trying to annoy his contender. It began when Dillian Whyte did not appear in the press conference, Fury had left a short and explicit message on the whiteboard aiming to upset his rival. Adding fuel to the fire, Fury also shared a photoshopped picture of Whyte where he is wearing a white knicker. Oh, man! That's hilarious.
Another reason why this match is so important especially for Tyson fans is that it might be his last entry in the ring. Tyson Fury has announced that he will retire from boxing after his collision with Dillian Whyte on April 23rd.
Tyson Fury vs Dillian Whyte Fight Date and Time
Date: Saturday, April 23, 2022
Time: 10 pm GMT (Ringwalks)
Venue: Wembley Stadium, London, UK
Broadcaster: BT Sport Box Office (UK) and ESPN+ PPV (US)
What is BT Sport Box Office
BT Sport is a broadcasting service offering its service since 2013. It holds exclusive rights in England and Ireland as it was made with the collaboration of England and Ireland BT Group. They also offer exclusive content for their home countries.
Sign up for BT Sport Box Office
Signing up for BT Sport is childsplay. You need to create the account by providing an email and password just like any other sign up process. However, you need to get your credit card details as it's a paid service which means you need to pay to watch the battle between Tyson Fury vs Dillian Whyte.
The monthly pass costs you £25/30-days. It can stream up to 4K UHD and can run on 2 devices at once.
How to Watch Tyson Fury vs Dillian Whyte on Firestick
Fans can watch the fight live Tyson Fury vs Dillian Whyte on Firestick. As BT sport has an official app available on the Amazon store so you don't have to download it using any sideload method. All you need to do is visit the app store on your Firestick and search for the BT TV App.
BT Sport has a good record in broadcasting live streams of various popular fights. But the only drawback you have to face is the geo-restrictions. which is heartbreaking for true fans of boxing matches. No need to worry about it, because Fastest VPN has expertise in unblocking sites and buffer-free streaming.
Therefore, people who are obsessed with boxing matches can watch the live fights with FastestVPN.
Apart from unblocking websites, FastestVPN also offers a lot of other features like AES 256 bit encryption, Ad Blocker, anti-malware, smart tunneling, DNS leak Protection, and many more.
Another point of attraction about it, you can connect up to ten devices simultaneously.
To further ensure your privacy it also has an internet kill switch feature that cut off the connection in case of server loss or any interruption occurs in the connection. Here's how to watch Tyson Fury vs Dillian Whyte on Firestick:
Subscribe to FastestVPN
Install VPN app on Firestick
Open the app
Visit  BT Sports, and subscribe to the service
After subscribing to the service, you can watch Tyson Fury vs Dillian Whyte on Firestick.
Tyson Fury vs. Dillian Whyte – Undercard
The full card will be announced soon.
Main Event: Tyson Fury vs. Dillian Whyte- WBC heavyweight title
Isaac Lowe vs. TBA
Tyson Fury vs. Dillian Whyte Stats
Tyson Fury
Nationality: United Kingdom
Age: 33 Years
Division: Heavyweight
Height: 6 ft 9 in  (206 cm)
Reach: 216 cm (85 in)
Stance: Orthodox
Total fights: 32
Wins: 31
Wins by Knockout: 22
Losses: 0
Draws: 1
Dillian Whyte
Nationality: United Kingdom
Age: 33
Division: Heavyweight
Height: 6 ft 4 in  (193 cm)
Reach: 198 cm (78")
Stance: Orthodox
Total fights: 30
Wins: 28
Wins by Knockout: 19
Losses: 2
Draws: 0
Final Words
At this point, we hope you are now completely aware of the procedure of how to watch Tyson Fury vs Dillian Whyte on Firestick. With a crowd of around 90K in the stadium, you can witness every sensational moment by watching on your FireTV.
So what do you think, will Tyson Fury be able to continue his unbeaten run, or will Dillian Whyte be the one who will lift up the heavyweight title on his shoulders.

Take Control of Your Privacy Today!
Unblock websites, access streaming platforms, and bypass ISP monitoring.
Get FastestVPN