Watch Tyson Fury vs Dillian Whyte on Smart TV
Watch Tyson Fury vs Dillian Whyte on Smart TV
By Alexandra Smith No Comments 5 minutes
Boxing fans control your rising heartbeats while eagerly waiting to watch Tyson Fury vs Dillian Whyte's next streaming show. If you are in a hurry, get your hands on the effective guidelines to watch Fury vs Whyte on smart tv smoothly.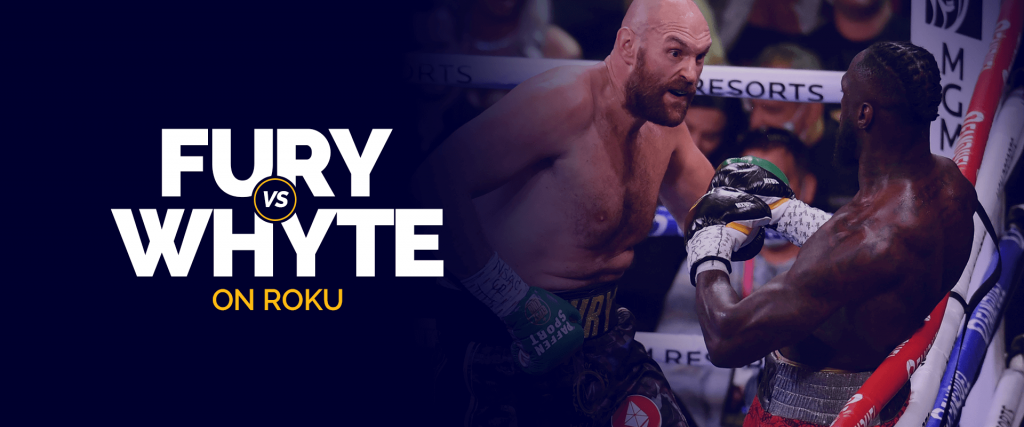 The long-standing wait is over, and you are just a few days away from the event. Tyson Fury takes on Dillian Whyte for the WBC title. Fans are desperately waiting for the next victory after Dillian Whyte ruthlessly knocked out Alexander Povetkin in 2021's Gibraltar contest. In this blog, you will find all the essential information about the unmissable bout.
However, you must find out how to watch Tyson Fury vs Dillian Whyte on your Smart TV to cherish the event. Read the full blog to get acquainted!
Tyson Fury vs. Dillian Whyte Details
One of the most anticipated events of the year is around the corner. Tyson Fury and Dillian Whyte fight is the talk of the town this week. Fans are searching to access its live streaming via several media streaming applications and sites.
Multiple media streaming apps, including DAZN, will provide the live streaming of the contest. The show is all designed to take place on the set date, and contenders will lace up their gloves to fight each other eye-to-eye.
Tyson Fury vs Dillian Whyte Fight Schedule
Tyson Fury and Dillian Whyte, the massive fight in British boxing history, will happen on Saturday– 23rd April 2022, at London's Wembley Stadium. The place is expected to be over-crowded, with a number of 100,000 people watching the live show.
Date, Time & Venue
Boxing enthusiasts can prepare their snacks to sit in front of their smart screens and stream the show seamlessly. Fans can expect the intriguing Fury vs Whyte ring walks to be set in motion near 10:00 PM on the night.
Where To Watch Tyson Fury vs. Dillian Whyte
Battling for WBC heavyweight championship, Tyson Fury and Dillian Whyte are expected to appear in the ring on 23rd April'22. After having protracted negotiations, both fighters have signed their contracts for the Boxing contest according to WBC heavyweight title.
There is Fox Sports App and ESPN+ for USA residents to cherish live streaming of the steaming fight between the British duo. Hence, the folks living in the UK can broadcast the show on the BT Sports Box office App.
Since not everyone can go to the stadium to stream the live match between the overwhelming crowd. However, to stream the steaming match without any disturbance, you will need to get a subscription to a premium app that provides seamless streaming.
Therefore, you need to buy a premium package from ESPN+ to get a subscription for streaming your favorite players fighting in the ring. The prices for plans are included $7/mo and $70 a year.
How To Use a VPN To Access ESPN & Fox Sports
There is only one problem to stream your desired fight with ESPN and Fox Sports, and it is geo-restrictions due to country censorship laws. Unfortunately, not every country provides access to such marvelous media apps. At this moment, a VPN is a lifesaver.
You can circumvent these annoying geo-blocks to get your hands on live streaming. Be aware that every VPN doesnt pave access to unblock geo-restricted content; using a free VPN is unreliable for streaming.
We recommend FastestVPN: it is the most reliable VPN service with much more reasonable pricing. It can provide the users with intact privacy, security, anonymity, and the fastest bandwidth.
Moreover, it works seamlessly with Smart TVs, numerous media apps, ESPN, and Fox Sports.
How to Watch Tyson Fury vs Dillian Whyte on Smart TV
To watch Tyson Fury vs Dillian Whyte on Smart TV is quite simple. You need to follow the mandatory guidelines to get started.
Get a subscription to FastestVPN.
Since some of the Smart TVs don't get along with VPNs, you must set up FastestVPN on the router & connect it to your Smart TV.
Get a subscription to ESPN+ & Fox Sports App.
Download the ESPN+ & Fox Sports App.
Sign in to the application.
Start watching Tyson Fury vs Dillian Whyte on Smart TV.
Who Is In The Tyson Fury vs. Dillian Whyte Undercard?
Tyson Fury vs. Dillian Whyte will take place on the 23rd of April 2022; besides the primary event, there will be exciting fights involving multiple impressive contenders.  Although the organizers have not announced the names of who will be appearing on the main card, you can stay tuned for the latest updates.
Fight Records
To get insight into your favorite contender's fighting background, read the details mentioned below.
Tyson Fury
Weight: Heavyweight
Height: 6 ft 9 in (206 cm)
Reach: 85 in (216 cm)
Nationality: British
Stance: Orthodox
Total fights: 32
Wins: 31
Wins by KO: 22
Losses: 0
Draws: 1
Dillian Whyte
Weight: Heavyweight
Height: 6 ft 4 in (193 cm)
Reach: 78 in (198 cm)
Nationality: British
Stance: Orthodox
Total fights: 30
Wins: 28
Wins by KO: 1
Losses: 2
Draws: 1
Conclusion
And we are done! Be prepared for the massive day of the fight with all of your essential things to have a stress-free streaming experience, snuggled up on your living room couch with a bowl full of popcorn to munch on.
You can keep your internet privacy safe with FastestVPN. Since a robust VPN service can provide you with an extraordinary streaming service without any irritating issues of bandwidth throttling or your ISPs spying on your web browsing history.
You are all set to enjoy Tyson Fury vs Dillian Whyte on Smart TV.

Take Control of Your Privacy Today!
Unblock websites, access streaming platforms, and bypass ISP monitoring.
Get FastestVPN