How to Watch Khabib Nurmagomedov vs Dustin Poirier on FireStick
How to Watch Khabib Nurmagomedov vs Dustin Poirier on FireStick
By Johan Curtis No Comments 4 minutes
"The Eagle" Khabib Nurmagomedov is back again in the octagon. This time, he'll be going up against the interim champion Dustin Poirier in a lightweight title fight. This is without a doubt the biggest fight of Poirier's career and one that will earn him massive recognition if he beats the undefeated champion.
The fight was locked back in June and is due to be held next month in Abu Dhabi. This fight is Khabib's first appearance since his popular win against Connor McGregor in UFC 229 in October 2018.
In the world of MMA, Khabib has a reputation for being a hard-hitting fighter, and a force to be reckoned with. You can watch Khabib Nurmagomedov vs Dustin Poirier on FireStick when it takes place next month.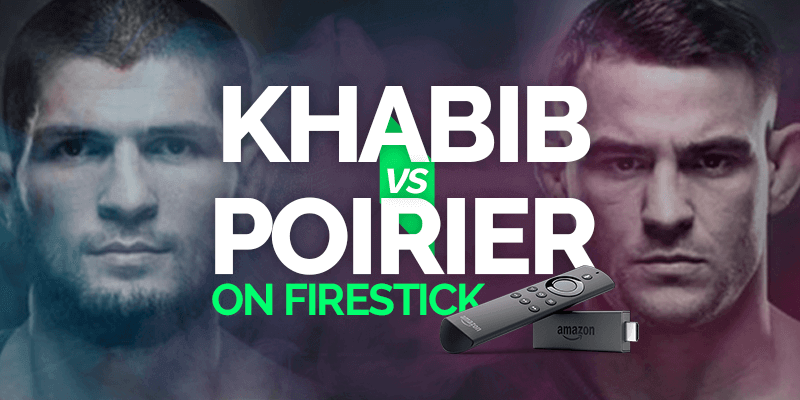 Khabib Nurmagomedov vs Dustin Poirier Date, Time and Venue
Date: Saturday, September 7, 2019
Time: 11 AM Pacific Standard Time
Venue: The Arena, Yas Island, Abu Dhabi, United Arab Emirates
Stream Khabib Nurmagomedov vs Dustin Poirier on FireStick
UFC used to switch hands between FOX Sports and ESPN, but the latter secured rights to the sports event. So, for the next five years, ESPN is the exclusive broadcasting partner for UFC fights.
It goes without saying that in order to access the fight live, you either need a UFC Pass or have access to ESPN via your cable provider. The latter requires that you are in the United States. For watching UFC directly from its own service, you have two options: UFC PPV and UFC Pass Fight.
UFC PPV allows you to pay for only the fight that you are interested in, and UFC Pass gives you unlimited access to the UFC platform, allowing you to watch past and upcoming events. UFC Pass is the better deal as it costs only $9.99 per month, whereas the PPV option will set you back $34.99 for the fight.
But there's the issue of geo-restriction whether you go with UFC or ESPN. UFC's content varies by country to country, so it's possible that UFC 242 might not be available in your region. Similarly, ESPN is available in the United States only.
The way to overcome this obstacle is with a VPN like FastestVPN that has 150+ servers worldwide. By using FastestVPN and connecting to the United States server, you can effortlessly can access to UFC or ESPN no matter where you are in the world.
Here's how to watch Khabib Nurmagomedov vs Liz Dustin on FireStick:
Download FastestVPN app for FireStick from here, then install it
Launch FastestVPN and connect to US server
In FireStick's app store, search for UFC app or ESPN app, and ensure that you have an active subscription to either service
Launch UFC/ESPN app and login with your credentials
Search for UFC 242, then start watching the event live on September 7
Khabib Nurmagomedov vs Dustin Poirier Fight Records
Khabib Nurmagomedov Stats
Nationality: Russian
Division: Lightweight/Welterweight
Height: 5 ft 10 in (178 cm)
Reach: 70 in (178 cm)
Stance: Orthodox
Total fights: 27
Wins: 27
Wins by Knockout: 8
Losses: 0
Dustin Poirier Stats
Nationality: American
Division: Lightweight/Featherweight
Height: 5 ft 9 in
Reach: 72 in (183 cm)
Stance: Southpaw
Total fights: 31
Wins: 25
Wins by Knockout: 12
Losses: 5
Conclusion – Khabib Nurmagomedov vs Dustin Poirier on FireStick
Both Khabib and Poirier are hot off the heels from their latest victories against Connor McGregor and Max Holloway, respectively. Defeating Holloway is one thing, but taking on Khabib means the biggest challenge yet for Poirier.
Poirier has teased surprises that he is going to use in the fight against Khabib. We can't wait to see the two compete. Whether you're watching via UFC or ESPN, let FastestVPN unblock Khabib Nurmagomedov vs Dustin Poirier on FireStick for you.
Take Control of Your Privacy Today!
Unblock websites, access streaming platforms, and bypass ISP monitoring.
Get FastestVPN