How to Watch Grammy Awards on Firestick 2022
How to Watch Grammy Awards on Firestick 2022
By Christine Margret No Comments 5 minutes
FOMO is a real thing and those music fans who are without a solution to watch the Grammys must be feeling exactly this. However, lucky for them that the solution is flowing their way. Served on a silver platter!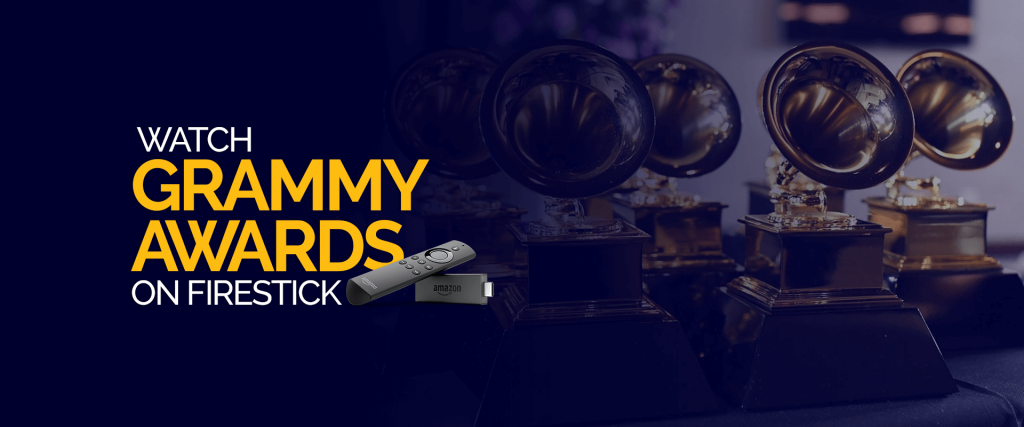 The 64th annual Grammy Awards are to be held in January. The awards are upon us and we are yet to see some of the most exciting events take place. Who will bag the Best Pop Duo award? Whoever it is, I'm sure fans all around the world are just as excited as me!
CBS is the official broadcaster and you can easily watch Grammy Awards on Firestick through the channel. If you're a beginner, there's a whole guide for you to learn how! Read on and find out.
Grammy Awards 2022 – Date, Time, Venue
The award function is definitely expected to be quite eventful. It is returning to LA – the land that has hosted the Grammys for a minimum of 18 times! Save the dates to enjoy the whole music event live!
Date: January 31st, 2022
Time: 5 p.m. PT / 8 p.m. ET
Venue: Staples Center, Los Angeles
How to Watch Grammy Awards on FireStick
We know that CBS is the official broadcaster this year and has the rights until the year 2026. It is not the first time that you can watch Grammy Awards live, it has been going on like that since 1971. You can watch the awards live through CBS. There are CBS apps that facilitate live streaming for you with complete ease.
Here is how you can watch Grammy Awards on Firestick from anywhere:
Choose a plan that is well-suited for your needs
Subscribe to FastestVPN
Download and install the FastestVPN app for firestick
Connect to FastestVPN's US server
Download CBS app for Firestick
Get a subscription and enjoy live streaming from anywhere in the world!
The CBS All Access channel is very affordable and costs only $5.99 a month. It is not contractual so it can be canceled at any time when you feel it is no more entertaining enough for you. It also provides a 1-week free trial, so YAY for that!
Alternatives to Watch Grammy Awards on Firestick
Other than the CBS app, you can watch Grammys 2022 through the following:
CBS Amazon Channel
Now, this is awesome given that if you subscribe to the CBS amazon channel, you can stream Grammy Awards on Firestick live directly without any app. The subscription for this is slightly more expensive – $9.99 per month, but it does come with a 3-day free trial too! The subscription can be canceled at any time so it may be a good choice for you if you want to watch the Grammys live and cancel after the musical night of the year is over. This hack will let you can watch Grammys for free!
DirecTV Now
DirecTV Now app includes CBS with their $34.99 per month plan. It is already included in the plan by default and you can check in their channel lineup to make sure that CBS works in your area. DirecTV Now has a 7-day free trial available.
PlayStation Vue
With the PlayStation Vue, you can also enjoy the whole event magnificently. The PlayStation Vue app will let you stream easily. It costs $39.99 per month with the "access" plan. The service offers a 5-day free trial for you to benefit from.
Note: All of these alternatives are still based on CBS All Access which is geo-restricted outside the US. Make sure you connect to FastestVPN's US VPN server to get access outside the region, no matter where you are!
Some more details to fill you in with…
Of course, the excitement and curiosity have the music fans going nuts. They want to gather as much info as they can, and this is exactly the hub for them!
Who is hosting?
The very prominent artist, Alicia Keys, will be hosting the ceremony. She is no less than a master following in the footsteps of all the recent hosts, except we anticipate her to be just better! Alicia Keys is very familiar with the stage, the event, and all that comes with it – after all, she has taken home 15 Grammy Awards! (dammmnnn).
Who are the performers?
What has been disclosed so far is that legendry artists such as Cardi B, Post Malone (with The Red Hot Chili Peppers), Miley Cyrus, Camila Cabello, Brandi Carlile, H.E.R., Janelle Monáe, Kacey Musgraves, Dan + Shay, and your boyfriend Shawn Mendes are all ready to set the stage on fire on the night of January 31st.
The Red Carpet
Are we forgetting the red carpet? Absolutely not! Nothing is solidified yet but we know that the red carpet will air on E!, Facebook Live, and CBS (for free) prior to the ceremony.
Precedent has been set that E! starts the streaming 4 hours before showtime, so if you don't want to miss even a second of the event, E! is your avenue.
Conclusion – Grammy Awards on Firestick

We are super excited for the Grammys this year, just as all the last! But what's new this year is that for the first time in history, Grammy has expanded the nominee list in the General Field (Record of the Year, Album of the Year, Song of the Year, Best New Artist). It has been increased from 5 to 8 in an attempt to make the whole ceremony much more inclusive! Watch Grammy Awards on Firestick via FastestVPN and be a part of music's biggest night in HDTV – except in your PJs from the comforts of your home!
Take Control of Your Privacy Today!
Unblock websites, access streaming platforms, and bypass ISP monitoring.
Get FastestVPN