How to Watch Formula E Live Online – Formula E Championship 2019 -2020
How to Watch Formula E Live Online – Formula E Championship 2019 -2020
By Johan Curtis No Comments 7 minutes
Formula 1 is hailed as the premiere racing event in the world. It has decades worth of history in providing spectators with thrilling high-octane action that is unrivaled by any other sports of this category.
It is sanctioned and regulated by the Federation Internationale de l'Automobile (FIA). Decades after Formula 1 has established itself as the biggest motorsport event in the world, the FIA moved to introduce Formula E – a class of racing that involves electric cars only. Where Formula 1 focuses on cars powered by grunting gasoline engines, Formula E focuses on cars powered by electric motors.
The idea behind Formula E was to introduce the electric class to the Formula name as electric cars were catching popularity and becoming increasingly common on roads. With that, a new class of motorsport was born in 2011. Formula E has entered its 5th iteration with a 6th set to take place later this year.
Just like Formula 1, Formula E gets coverage from broadcasters worldwide. Interested in Formula E? Keep on reading as we explain how to stream Formula E live online.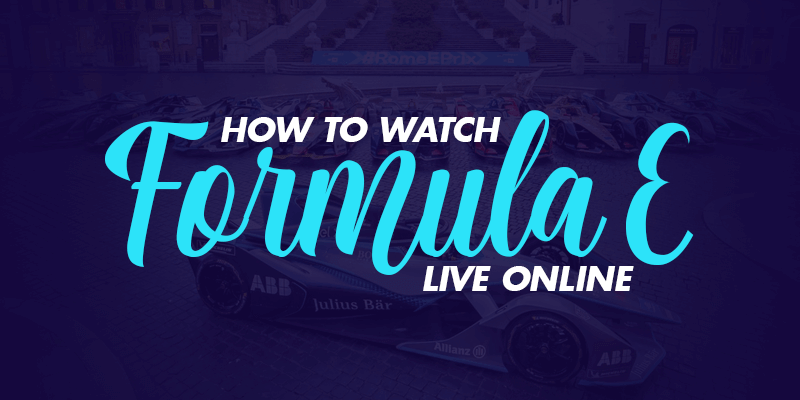 Formula E Schedule for 2019
Formula E is currently completing its fifth iteration. The final two races will be held at the Brooklyn Street Circuit in United States, on July 13 and 14.
When the current Formula E season completes its course, all efforts will shift towards the next one which takes place on November 22, 2019. Here's the full schedule for it:
| | | | |
| --- | --- | --- | --- |
| Date | ePrix Name | Circuit | Location |
| November 22-23, 2019 | Ad Diriyah ePrix | Ad-Diriyah Street Circuit | Saudi Arabia |
| December 14, 2019 | To be Announced | To be Announced | To be announced |
| January 18, 2019 | Santiago ePrix | Parque O'Higgins Circuit | Chile |
| February 15, 2019 | Mexico City ePrix | Autodromo Hermaos Rodriguez | Mexico |
| March 1, 2020 | Hong Kong ePrix | Hong Kong Central Harbourfront Circuit | Hong Kong |
| March 21, 2020 | To be Announced | To be Announced | China |
| April 4, 2020 | Rome ePrix | Circuito Cittadino dell'EUR | Italy |
| April 18, 2020 | Paris ePrix | Paris Street Circuit | Paris |
| May 3, 2019 | Seoul ePrix | Seoul Street Circuit | South Korea |
| May 30, 2019 | Berlin ePrix | Tempelhof Airport Street Circuit | Germany |
| June 20, 2019 | New York City ePrix | Brooklyn Street Circuit | United States |
| July 25-26, 2019 | London ePrix | Royal Docks and ExCel London | United Kingdom |
Stream Formula E live online from anywhere in the World
The 5th Formula E event that's running its course as we write has several broadcasters around the world. Fox Sports is one such broadcaster that's presenting the event live in the United States. While the list of broadcasters have not been announced yet for the next Formula E, it's a good bet to expect that Fox Sports will again be a part of it.
You need both a subscription to the United States and a VPN. The latter is required if you want to access Formula E's livestream outside of the United States. Usually these digital services are geo-restricted, so even if you were to switch to a different broadcaster, chances are that it would impose the same restrictions for people visiting outside of their support region(s).
You may already have access to Fox Sports Go from your network provider. In that case, you just need to log-in to Fox Sports Go with your credentials. But if you don't then you need to subscribe in order to access Fox Sports.
You're in luck. FastestVPN has a global network of 150+ high-speed servers – and it's incredibly easy to unblock the livestream. By using dedicated apps, you can get VPN working on your device with an easy-to-use interface. Moreover, router configuration allows you to extend that compatibility to more than 20 platforms.
Here's what you need to know.
How to Watch Formula E on FireStick
FireStick lets you stream from apps such as Fox Sports in high-definition, and on the big screen. Just plug it in and navigate to your favorite apps to start streaming.
How to Watch Formula E on Roku
Roku is similar to FireStick in terms of functionality. Though you'll need to do a bit of extra work by manually configuring FastestVPN in your router – it's easy though.
How to Watch Formula E on iOS/Android
Because iOS and Android both share a similar installation process, we'll avoid talking about them separately. The only difference is that you'll be downloading through their respective app stores.
Watch Formula E on PS4/Xbox One
Today's video-game consoles are more than just gaming systems. They are entertainment machines as well. Here's how you can watch the entire on Formula E on your Xbox One, followed by how you can do the same on PS4:
Follow the same for setting up FastestVPN for PS4. The only problem is that Fox Sports Go app is not available on PS4. You either will need to access it through PlayStation Vue subscription or access www.foxsportsgo.com from the web browser.
Watch Formula E on Apple TV
The latest generation Apple TVs allow you to download and install apps directly from the App Store. However, the method only works for Apple TV 4th generation and above. For lower versions, stream through an iOS device using AirPlay feature.
Watch Formula E on Kodi
Luckily for you, there's no need to scour the hundreds of Kodi add-ons. Fox Sports 1 is available officially.
Conclusion – Formula E Live Online
With all that said, you are prepared for the upcoming championship. Let's not forget that you can use the same to watch the last two races of the ongoing championship. Teams for the next iteration will be announced as we move closer to November.
You can expect to stream the entire Formula E live online through Fox Sports once again. Let FastestVPN unblock the live stream for you.
Take Control of Your Privacy Today!
Unblock websites, access streaming platforms, and bypass ISP monitoring.
Get FastestVPN