How to Use a VPN for Online Casino Gambling
How to Use a VPN for Online Casino Gambling
By Nancy William No Comments 7 minutes
In most parts of the Western world, online casinos are legal and represent a billion-dollar industry. In some regions, there are strict rules that need to be followed for games of chance, both in offline and online settings. As a result, many people who live in countries that have not yet opened up to online casinos have turned their attention to VPNs.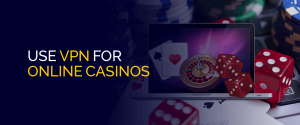 As playing with real money in online casinos can lead to major cash prizes, internet gambling has managed to grab the attention of millions of players around the world. In this guide, you will read all about how to use a VPN to play at online casinos, and what you need to take into account when playing online. This article is meant for readers 18 years and older.
Before we proceed with our how-to guide, here's a little briefing on online casinos and why most users go for a VPN while gambling online.
About Online Casinos
Online casinos, also known as internet casinos or online casino websites, are online versions of traditional ("physical" or "brick and mortar") casinos. Online casinos enable gamblers to play and wager on casino games through the internet. Since its introduction in 1994, online casinos have turned out to be a prolific form of online gambling. Some online casinos claim to offer higher payback percentages for slot games, explaining the popularity of virtual games in comparison with their offline counterparts.
Online casinos are regulated by domestic or regional gaming regulators and need a license to be authorized to offer their websites in their jurisdiction. Other than slots, players can also find online versions of popular table games in the casino lobbies. These are either offered online (RNG) or in a live dealer version. The minimum age to visit and play at online casinos depends on the country or region but requires least at 18 years.
VPN and Online Casinos
It is common for players from certain countries to make use of a VPN in order to get around censorship in their home country. An increasing number of players also want to be able to access international online casinos that might be blocked in their home country, without necessarily online gambling being prohibited.
This can be the case when a local gambling market only allows a limited number of operators to offer their services. Alternatively, you could be traveling to another country from where you are not able to access the casino in your home country.
Using a VPN allows all these groups of players to conceal their true country IP address which under normal circumstances would be used to stop them from playing at an online casino.
The advantage of using a VPN to access a casino website is that specifically geo-targeted customers can bypass restrictions so that they can access a website they otherwise would not be able to get to.
Wanting to visit and sign up at online casinos is therefore no different from how it works with other websites. Casinos can be bypassed in the same way. Most countries do not sue citizens for playing at international online casinos, although it is recommended to consult local rules before getting involved in online casino games.
Why Go for a VPN in An Online Casino?
Making use of a VPN is like visiting an online casino from another country. The reason to set up this alternative connection is simple. Not all online casino websites are available to all players from all countries.
This could be due to regulations in a specific country or region, which prohibit gambling enthusiasts from visiting restricted websites. This may be because it is banned or the choice of online casinos is heavily restricted to local operators.
By installing a VPN, the IP address that the casino operator's server will see is the one for which the VPN server is located. In theory, this would mean that you should be able to register and deposit at an online casino in the country to which the VPN is set to.
However, for smooth access to online casino sites in your country, always use the best premium provider. Free VPNs are always detected, which is why it's never recommended. Without further ado, head to the tutorial below, showing you how to use a VPN for online gambling.
How to Use a VPN for Online Casino Gambling
Below, we've listed the steps people commonly take to gamble online with a VPN. These are part of a very straightforward process and should be easy to follow:
Find a VPN: subscribe to FastestVPN in order to enjoy sports betting or online casino websites.
Download and install: our VPNs can be installed on a computer, tablet, or smartphone.
VPN server: look for a VPN server in a country that hosts the online casino you want to unblock. Next, choose the country you want to think of the casino you're accessing them from.
Visit: access the online casino of your choice. (You can find plenty of them on Kiwi Gambler)
Sign up: if you're new to the website, join the casino and create an account.
Currency: set the currency you want to play with.
Claim your bonus: read the bonus terms and conditions before you do this.
Deposit: choose your preferred payment method and deposit your funds.
Limits: set your limits. Do so for your session limits, deposit limits, and loss limits. Contact the casino if you want more information on their responsible play policy.
Play: remember to always play with a predetermined budget and stick to it.
A Few Minor Setbacks to Pay Attention To
VPNs clearly have the added advantage of obscuring your actual location as well as encrypting your internet connection, making it difficult for your activities to be tracked or monitored by others.
Technically, however, it is not allowed, which might be a reason not to do it. Despite the fact that most gambling sites don't allow the use of Virtual Private Networks (VPN), many people use a VPN for gambling as countries or gambling regulators do not tend to pursue players.
Instead, they focus their policy on gambling websites. Do remember that in order to sign up for a casino, you'll typically have to pass local ID checks to prove you're resident of a country. This means that, in most cases, you won't be able to use a VPN for playing in online casinos outside of your own country.
So, with that thought in mind, we recommend you always first check the laws of the country before using a VPN for online gambling at your own risk.
Final Thoughts
Many jurisdictions that prohibit online gambling rely on online casino operators to filter out offshore visitors based on their IP addresses and block them from signing up and playing. This is why using a VPN for online gambling has become very common: a VPN changes your IP address, meaning that you can effectively spoof your location.
In an increasing number of countries, websites use KYC (Know Your Customer) identity checks to verify your signup information. If you don't have any digital footprint in the country of the IP address you're wanting to visit, you might not even be able to complete your registration.
This only tends to be the case with online casinos that hold a license that is exclusively meant for a specific country or while you're using free VPN services that get detected instantly.
If this is the case, you may face an obstacle when it comes to withdrawing money. Many online casinos will request proof of identity before paying out a (significant) win. Online casino websites that accept international players will require the same proof of ID, but allow users from all over the world to sign up and join their casino. This tends to be the case with casinos that hold a license issued by the Malta Gaming Authority (MGA).
Take Control of Your Privacy Today!
Unblock websites, access streaming platforms, and bypass ISP monitoring.
Get FastestVPN