How to Secure Video Conferencing Apps
How to Secure Video Conferencing Apps
By Johan Curtis No Comments 6 minutes
Video conference apps have been around for quite some time now, but only recently received a lot of attention due to the Covid-19 pandemic. As a major chunk of the population is working from home currently, or attending online classes or catching up with their friends, they're all communicating through video conferencing.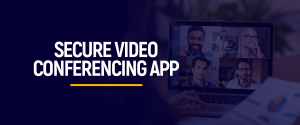 Video chat services have made our lives substantially easier, since now you can talk to as many as you'd like and even be able to see them live online.
Even though video conferencing seems fairly easy and harmless, there are a few security concerns that you should address. Today, we will enlighten you on how to secure video conferencing along with suggesting a few best video conference apps
What is Video Conferencing?
Video conferencing is known as the technology that allows multiple users to host face-to-face meetings from wherever they are in the world, without having to be in one place as it is done online.
It is widely used by large businesses to hold meetings as it is convenient, saves time, and is inexpensive. Similarly, ever since the quarantine extension and schools having to shut down, they also took this route by conducting classes online through apps for video conferencing.
How Video Conference Apps Work
Operating video conferences is a fairly simple task, even though it may look complicated, the steps are quite easy. You can join a video conference through your desktop, laptops, tablets, or mobile phones as long as the devices have a built-in camera or support the attachment of a webcam.
Normally, the users are required to download a specific video conferencing app or software, and a meeting is created by the host, who then shares a specific link with the rest of the members.
There are many apps that are made just for the purpose of video conferencing; a few of them stand out as compared to others due to their distinct features. If you're looking to download the best online video conferencing app, then look no further! We've compiled the very list for you.
The Best Video Conferencing Apps
If you're urgently looking to set up a video conference and need advice for which software to choose or which one is the best video conferencing app, then keep reading. The list below should provide you with the best video conferencing solutions.
Google Meet
Google meet is a great secure video conferencing app, which supports up to 250 people in HD video conferences. It is a free app and available to everyone. All you have to do is have a Google account, which you will eventually need to sign in. Creating and sharing meeting links is also fairly easy and quick; it is a great way to host office meetings, conduct an online session, or simply have a chat with your pals.
Zoom
Zoom Meetings is also one of the contenders in the list for best online video conferencing apps. It allows up to 100 participants in one meeting and has many features that attract the user; such as the app being completely free of cost, there is no registration fee, and the host does not have to pay to create a meeting. However, the only drawback in the free version is that meeting of 3 or more members are limited to 40 minutes only. If you wish to have unlimited time, you must upgrade to the paid version.
CISCO Webex Meetings
This another great option to host video conferences. CISCO allows up to 100 participants also and for unlimited time. It also supports features such as video recording, screen sharing, etc. What's better is that the app is completely free and offers you 1 GB cloud storage of no charge upon registration.
BigBlueButton
BigBlueButton is another completely free service that allows you to host a secure video chat. It offers the user with multiple features such as video recording, a whiteboard, screen sharing, etc. it is great for new users because of its user-friendly interface. BigBlueButton is one of the best online video conferencing solution out there, even though it can be a little tricky to set up. However, the numerous features make up for it.
Are Video Conferencing Apps Safe?
Since the process of video conferencing is particularly easy and accessible to all, it also creates a number of security concerns for the user.
Even though some software or applications offer great security measures, they can be susceptible to breaches. For instance, links can easily be spread and result in your meeting being compromised by uninvited guests.
Similarly, the record video options can also be used against you; hackers can hack into some software systems and get hold of your meeting's recording or the live transmission which could expose confidential information etc.
Now the question that arises is how we can secure video conferencing? Or can we even secure video conferencing? The answer is yes; keep reading to find out how.
How to Secure Video Conferencing?
Keep your Apps Updated
Older versions mean older security systems that are more prone to security breaches. Services are always introducing new updates to address bugs and vulnerabilities. Always keep the application updated to the latest version to ensure existing exploits have been patched.
Read Privacy Policy
With many new updates, most software apps have also updated their privacy policies to require the collection of user information. It is why you should pay extra attention while reading privacy policies, to make sure that you are not consenting to the collection of your private information, as software can easily pass on your info to third parties.
It may not be a mandatory step. However, a VPN will not only mask your identity but will also provide you with the security and privacy you require while attending a meeting. A VPN such as FastestVPN will guarantee you with complete security from its numerous features.
AES Encryption
The software you download and the hardware you operate on should always be AES Encrypted, preferably 128-bit encrypted or higher. FastestVPN utilizes AES 256-bit encryption, which guarantees maximum security.
Create Safe and Strong Passwords
The key to a private and safe meeting is strong passwords if you want to have no disruptions in between your meeting, make sure to set strong passwords and create private meetings. In this way, only the people you have assigned the select password and ID can join.
Also, make complete use of the waiting room, do not allow automatic entry if you are the host. Make sure to check who you are letting in.
Conclusion
With the sudden rise of the need to work remotely, video conferencing has been gaining quite the fame. Although, we do realize the certain security threats it possesses and we've tried our best to overcome those.
Take Control of Your Privacy Today!
Unblock websites, access streaming platforms, and bypass ISP monitoring.
Get FastestVPN