Is it legal to Use VPN on Online Casinos?
Is it legal to Use VPN on Online Casinos?
By Janne Smith No Comments 7 minutes
Technological advancement and the growing concern of online privacy often conclude a familiar solution – VPNs. Not only do they ensure online privacy, but they're cost-effective too. But, it often leads us to wonder, are VPNs legal, especially for online casinos?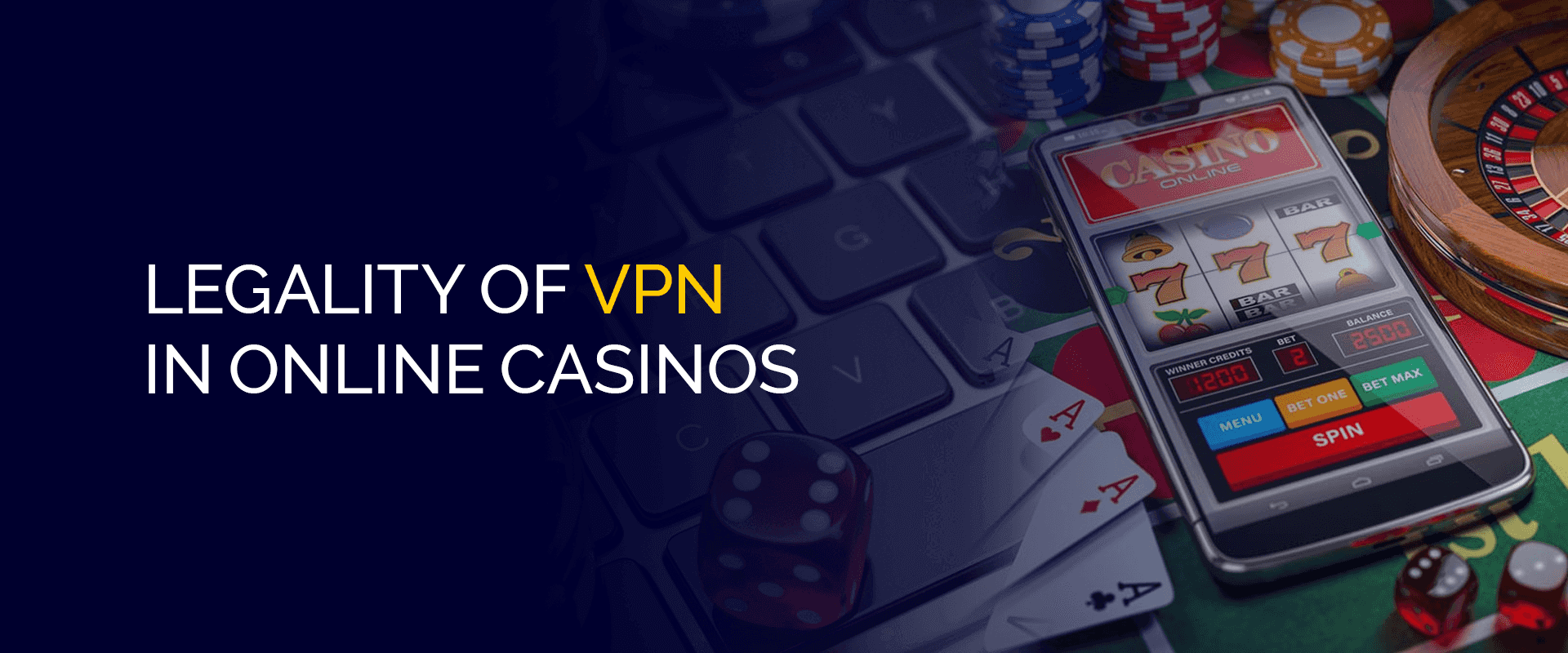 There are numerous misconceptions regarding Virtual Private Networks, but we're here to clear the air for you. 
VPNs Basic & Features
A VPN makes it easier to protect your privacy online, which almost every site, service, or application tries to expose. Ever heard of site cookies? Giving it additional permission without reading the conditions can provide sites with data you might not know. A VPN can keep you safe.
The basic functions of VPNs involve avoiding geographical restrictions, overcoming Internet bans, and connecting faster to speed-limiting providers. Additionally, they facilitate communication on the Internet, which is increasingly congested.
Also, VPN is used to secure the connection so that others cannot "sniff" what you searched, watched, or did on the Internet. With that in mind, using VPN to access gambling is quite a handy option. Besides no one knowing your location, the same applies to tracing jackpot winners. Many players appreciate their privacy more than being yellow-press stars.
Using a VPN, especially understanding how to set it up correctly, can be a challenging experience for beginners. Despite how technical VPNs sound, they're very easy to set up and use. And precisely because of the perception that VPNs are hard to use, PC/Mac software or mobile applications offer a very straightforward interface that is easy to navigate and understand. The VPN itself does almost everything automatically.
The Legality of VPNs on Online Casinos
Let's look at the situation in most of the world. VPNs are legal if you live in the United States, Canada, Africa, South America, or most of Asia and Europe. If you sign up for one and use it for whatever reason you need it, you won't have any problems with the authorities or your ISP.
Although VPNs are used for all sorts of dubious purposes, from downloading copyrighted files to committing cybercrime, most governments understand that VPNs have legitimate uses and thus have not acted against them. The experts even recommend using protection to access safe online casinos in Canada while on the open network. But again, the laws change from country to country. A few countries take strict action over VPN usage, and a few are completely fine with it.
Legal Solutions in Different Jurisdictions
In some countries, it is illegal to use a VPN, such as in North Korea, China, and Iran.It is advisable to have a VPN installed on your device before embarking on a tourist trip to any of these countries. Some IP addresses are banned in places like China, so checking the latest local laws regarding VPN use is adequate before using it there.
However, most other states do not consider this a crime. Business people often use different VPN services to shield their business presence on the Internet. Even certain institutions, such as hospitals and schools, use VPNs to enable patients or schoolchildren to use the Internet without violating privacy.
Let's be clear, if using a VPN is entirely legal, abuse, on the other hand, is not. Misusing a VPN and connecting to the Internet anonymously to do an illegal act doesn't mean you won't suffer the consequences. When betting online, read the fine print. It may turn out that even if online gambling is legal, using VPNs is still in the gray zone.
Using VPNs in Online Casinos Explained
Before registering a real-money online gambling account, confirm you're in a safe online casino. Scroll the footer down and check for licensing. Legit online casinos in Canada wear several badges to inform customers. 
First, you'll see their licensing system: Kahnawake, Malta Gaming Authority, UKGC, or Curacao. Top-notch legal casino listed on CasinosCanada.reviews cooperate with GambleAware, GamCare, and other player-protection organizations. Finally, the eCOGRA seal means you're in the right place.
Understanding you're starting a career at trusted online casinos, here are a few steps to follow when using VPNs:
Visit the casino's T&C page to discover the list of accepted countries.

If you're in an unlisted region, review the possibility of VPN usage to bypass the ban.

Download a VPN software or app.

Connect to an available country or region.

Enter the casino's lobby and start registering an account.
When registered, keep the VPN software up and running. Play games, claim legit online casino Canada bonuses, and act professionally. Upon returning home, where bans don't apply, continue from left off.
Pros and Cons of VPNs in Online Casinos
Gambling with a VPN is generally a fair idea. Still, we want to ensure you understand all benefits and risks of VPN usage for your gaming experience. Let's begin with improvements:
Some VPNs block ads and prevent malicious sites from infecting your device with malware and tracking tools. They allow you to enjoy websites like YouTube without annoying ads and protect you from hackers and trackers, which is very convenient when gambling with a VPN.

An added benefit is that they can bypass blocks on geo-restricted sites like Netflix. The type of content you can access on various platforms is dependent on the location of your IP address. Therefore, altering it can potentially lead to a wider range of available content.

VPNs grant access to international online gambling sites and unblock content with regional restrictions. This enhances your gaming experience by allowing you to compete with worldwide opponents. In addition, you even get bonuses that may not be available in the current region.
A VPN will also help you bypass online restrictions and network firewalls to regain online freedom. This even includes the Great Firewall of China. It overcomes these issues with obfuscation features and protocols that mask your VPN traffic and therefore pass through firewalls.
At the outset, you should know that the advantages of using a VPN significantly outweigh any possible disadvantages. However, you should know some things before considering a VPN for online sports betting or casinos.
It could slow down your speed. Your data needs to be encrypted and travel to the VPN server.

Some VPNs can compromise your privacy. It's best to choose a VPN that adheres to a strict no-logs policy that security companies have independently audited.

VPN costs money. On average, monthly subscriptions for a good VPN range from $5 to $15.
FAQs – VPNs in Online Casinos
Is using a VPN to gamble online legit?
Yes, Canadian players can freely use VPN to access gambling sites and enjoy all their benefits.
How can I use a VPN?
Download the PC/Mac software or install a mobile app. Follow on-screen instructions and you'll get distinct IP addresses promptly.
Why do I need a VPN?
VPN helps you remain private and safe at online sports betting and online gambling sites.
Final Note
The question of VPN legality relies on the country's laws, and it's recommended not to access sites that might contain malicious content until you use a reliable VPN that ensures data encryption. 
Especially for casinos, using a VPN can come in handy, and it's advised to have on switched on while playing in online casinos. Due to connection encryption, you can safely gamble without anyone tracking your original location.
Take Control of Your Privacy Today! Unblock websites, access streaming platforms, and bypass ISP monitoring.
Get FastestVPN