How Cloud Accounting Software Can Help Your Business
How Cloud Accounting Software Can Help Your Business
By Nick Anderson No Comments 6 minutes
Technology has had a significant impact on many parts of our lives, and how we operate our businesses is no exception to that rule. We have been able to benefit from many exciting advancements, such as online shopping, inventory management software, and increased online privacy and protection.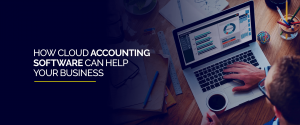 However, also making significant leaps and bounds is accounting software. Previously, business owners would have had to toil away with pen and paper, but we're now able to perform many necessary calculations with software and access our financial information from anywhere in the world.
If you are yet to experience the joys of cloud accounting software for yourself, now could be the right time to familiarize yourself with what it is and its benefits below.
What Is 'the Cloud'?
Before you can become familiar with cloud accounting software, you first need to understand what the cloud is. The cloud is where you can access your personal information from anywhere, regardless of the device you're using or your location.
For example, each time you log into your online banking to make a payment, you're using the cloud. Your information is stored on external servers rather than your own devices.
What is Cloud Accounting Software?
Now that you understand what the cloud is, cloud accounting software can become much easier to understand. You can subscribe to accounting software online, enter all your information, and access it from anywhere in the world.
Cloud accounting software is even accessible from an app on your mobile device, which means whether you're at home, work, or somewhere else, you're able to access the financial information you require securely.
Is Cloud Accounting Software Safe and Secure?
When you're exploring new technology for the first time, it's only natural to concern yourself with its security. After all, you want to make sure any personal or financial information is private and secure.
No system is ever 100% secure, but many threat defenses are in place to keep your cloud-based accounting information as safe as possible, including encryption and back-ups. You will also be pleased to know that cloud-based accounting systems are generally safer than traditional options with segregated networks, authentication methods, security audits, and more.
Why Traditional Accounting Software Is No Longer the Best Option
Before cloud computing was invented in the 1960s and made popular in the 1980s, many software options were only accessible through download. All information would remain on your computer and could only be accessed there.
While many people still rely on accounting software downloads, they are no longer the preferred option. Firstly, your data is at risk of loss if the computer or external storage you store it on experiences failure.
This can be reason enough to look at other options, but traditional software also has other drawbacks. Only one person generally has user access, which means other financial experts in your business can't easily access your information.
Compared to the advanced cloud software we have today, it's generally time-consuming to back up, upgrade, and keep safe from threats.
Avoid Installation Hassles
Installing new software can be time-consuming, and it can also take up the valuable hard drive space you need for other data. One of the most standout benefits of cloud accounting software is that you don't have to waste time downloading anything to your computer or mobile device.
As long as you know your sign-in information for your preferred accounting software, you can access your financial information from anywhere and on any device. However, as a safety precaution, use two-factor authentication each time you log in.
Allow Access for Multiple Users
Whether you have a small or large business, there is likely to be more than one person requiring access to your financial information. You might have hired someone to take care of accounts in your business, or you might rely on an accountant to file your returns.
The beauty of cloud accounting software is that you can allow multiple users to sign in to your account. They can access the information they need without you having to download anything onto a USB drive or email facts and figures.
Keep Your Financial Records Safe
You might think that storing your financial information on your computer or in books is the safest option you have at your disposal. However, that's not the case. Without the best antivirus software to keep your computer safe, any information stored on it can be at risk of falling into the wrong hands.
Even keeping paper records is not the safest option since damage from fire and flooding or even theft can see it become lost forever, with no backup options. Due to the multiple layers of protection cloud accounting software can provide, as mentioned above, it remains one of the safest options to give you complete peace of mind.
Remain Aware Of Your Financial Situation
Keeping track of your financial situation is not always easy. If you have multiple employees and rely on traditional bookkeeping and accounting methods, you likely only have a vague idea of your incomings and outgoings.
With accounting software, you can account for every dollar at all times of the day and night. With up-to-the-minute knowledge, you can be in a much better position to make financially informed decisions.
For example, you might need to purchase a large volume of stock to make up for everything you've just sold. Knowing that your books are balanced each day, the visible money owed to you and what's currently sitting in your bank account is reflective of what you actually have available to spend on that new stock. That is less likely to be the case if you keep manual records that don't take into account your most recent expenditure and invoices.
Complete Automation
With only so many hours in the day, your time is precious. You might save time with inventory management software and outsourcing tasks, but you can also save time by using cloud accounting software.
This is because many features are automated for your convenience. You can send automated invoices to customers on a set day and even pay vendors each month. Some business owners are also impressed by how you can link your bank accounts and match payments with invoices and bills. Such technology can offer you precious time to focus on other essential tasks.
Final Words
Even if privacy and security concerns are stopping you from making technological upgrades, it's clear how cloud accounting software is benefiting business owners. Cloud accounting can save time, provide safety, and give you complete awareness of your financial situation while you check your finances from anywhere in the world.

Take Control of Your Privacy Today!
Unblock websites, access streaming platforms, and bypass ISP monitoring.
Get FastestVPN