How to Install Pluto TV on FireStick with a Few Simple Steps
How to Install Pluto TV on FireStick with a Few Simple Steps
By Johan Curtis No Comments 5 minutes
The many modern wonders are services that have begun replacing the cable. Even wonderful are online streaming websites that deliver the latest movies and TV shows for free.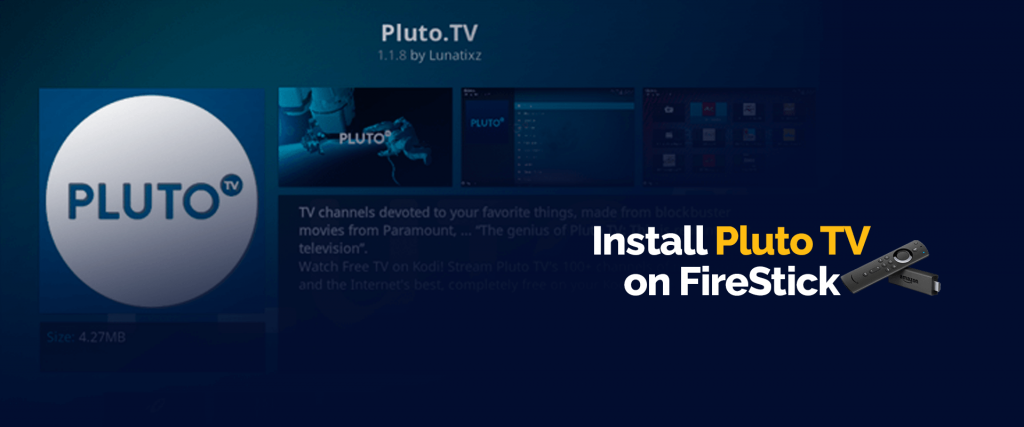 Although people get excited when they hear the words "free streaming", exposure to the internet have allowed them to expect some 'catch'. Many websites that claim to offer free online streaming either ask you to register first and provide credit-card details first or are downright proxies for advertisement. It's frustrating to find that one good link but it turns out to be an endless series of redirects.
Pluto TV is not one of them. It's a trusted and popular source for streaming TV – live and on-demand. Pluto TV app is free to use which is the best thing about it. And unlike other streaming websites, it is updated on a regular basis. Interested? Keep on reading as we explain how to install Pluto TV on FireStick.
Pluto TV Explained
Pluto TV is a website which provides live TV streaming for free from over 100 channels. The list includes both news and sports channels. As we pointed out, usually such services are too good to be true. Many of them downright don't work.
But Pluto TV actually works. The way it delivers content for free is by displaying ads to you. For the little cost of annoying ads, you get to enjoy favorite channels live from anywhere in the world without registration. It's literally very easy to begin watching live TV, just visit Pluto TV's website or launch the Pluto TV app, click on your preferred channel, and start watching.
On-Demand content makes the deal even better. Unlike the cable, where you have to wait for a show or movie to air, On-Demand feature lets you stream the same when you want.
If you've been waiting to move away from cable then give Pluto TV streaming a go. The icing on the cake is that Pluto TV is available in app form. You can plug in your FireStick and download the Pluto TV app for free online streaming on the big screen.
Why You Should Install Pluto TV on FireStick
The perks are many. First and foremost, Pluto TV streaming is completely free. And secondly, you can watch on-demand; allowing you to watch content at will.
Live channels available are categories under News, Comedy, Movies, Sports, Geek + Gaming, Chill Out, Entertainment, Life + Style, Curiosity, Music + Radio, including NBC News, CBS, and more for your viewing pleasure. The list of 100+ channels includes HD channels which enhance the experience and utilize that expensive HDTV of yours.
Pluto TV is available for the following platforms through their respective digital app stores:
iOS
Android mobiles
Android TV
Apple TV (4th generation)
Google Chromecast
Amazon Kindle
Amazon Fire Tablet
Amazon Fire TV and Fire TV Stick
Roku
Roku devices
Roku TV
How to Install Pluto TV on FireStick
Amazon's FireStick is one of the best devices for Pluto TV. It's the size of an average USB thumb-drive but its capabilities far outweigh its small size.
The process to install Pluto TV on FireStick is easy, follow the steps below:
From FireStick's Home Page, click on the search icon on the top-left corner besides Home
Type in "Pluto TV" in the text field
Click on Pluto TV from the search results and you will be directed to its app store page
Hit the download option and let the app install
Once the installation has completed, click on the Open option
You visit the app under installed apps or through Recent apps in Home tab.
Why You Should Use VPN
If you haven't invested in a good VPN service by now then it is highly recommended that you do so. Benefits of VPN are greater than the small price of admission. The two key pillars of the VPN are security and privacy; they are also metrics for evaluating the quality of a VPN service.
VPN works by assuming control of your internet traffic. Every request that you make, such as visiting a website on the internet, is handled by the VPN server instead of the Internet Service Provider (ISP). Consequently, online activities remain hidden from the ISP, and potentially activity recording.
And on top of that, a key feature of VPN is encryption. It's a way of securing data by scrambling it into an unreadable format. A special key is used to decipher data at the destination. This special key is exclusive to the sender and receiver, the device and receiver in this case. Decryption is impossible without the key and it's virtually impossible considering the amount of computing power required to crack AES 256-bit.
FastestVPN utilizes AES 256-bit which makes it a top choice for security and privacy.
You establish a connection to the VPN server and it grants you a private IP address. This private IP address is what lets you stay anonymous on the internet. Your actual IP address is masked with this new one, so servers read your virtual IP address and assume you are visiting from that region. It effectively unblocks geo-restricted content for you.
Final Words – Install Pluto TV on FireStick
Although Pluto TV is not geo-restricted and does not require a VPN to access, you should invest in a VPN anyway. Take advantage of FastestVPN's incredible deals that provide huge savings. Grab 5 years of FastestVPN for as low as $0.83 per month.
Take Control of Your Privacy Today!
Unblock websites, access streaming platforms, and bypass ISP monitoring.
Get FastestVPN