What is IKEv2 VPN Protocol
What is IKEv2 VPN Protocol
By Nick Anderson No Comments 4 minutes
IKEv2 is one of the widely used protocols for a Virtual Private Network (VPN). It's a robust VPN protocol that is reliable for certain cases. Protocols are a fundamental part of a VPN as they provide authentication and encryption between the client and the VPN server. There are several other VPN protocols in use, but IKEv2 is preferred for many reasons. We'll explore those as we explain what is IKEv2.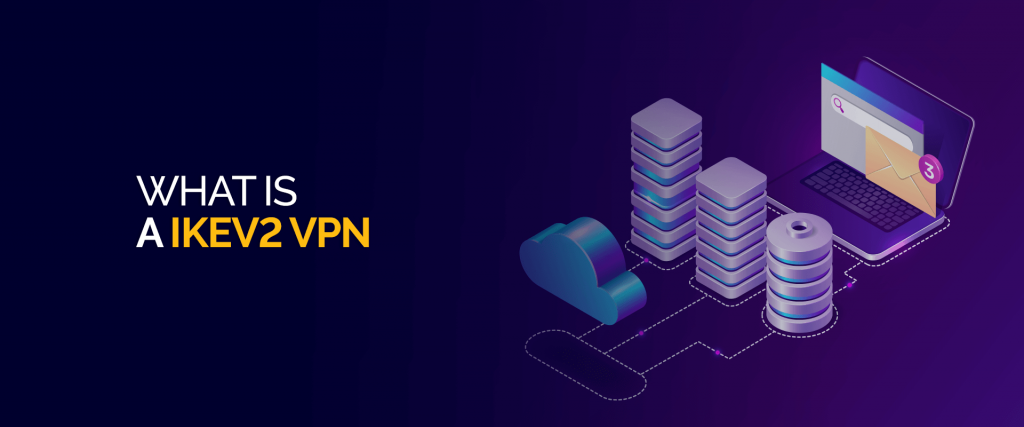 The workings of a VPN protocol are generally technical and may overwhelm the average user, but we'll simplify things in an effort to give a good understanding of how IKEv2 works.
What is IKEv2 VPN Protocol and How Does it Work?
A protocol defines a set of rules that two parties must agree upon to communicate. In the computing world, where there are so many different devices with different software architectures, protocols are meant to simplify things by creating a standard. It prevents conflicts when two or more devices communicate with each other.
Internet Key Exchange Version 2 (IKEv2) was developed by Cisco and Microsoft and established by the Internet Engineering Task Force (IETF). The second version was released back in 2005, more than 15 years ago. It has native support in Windows, iOS, and Android operating systems.
IKEv2 provides tunneling and a secure link to exchange keys, hence the name "Key Exchange). It uses Diffie-Hellman key exchange to establish a secure connection to share the session keys that will be used to encrypt data later on. For encryption, IKEv2 is paired with IPsec, which provides authentication and confidentiality in the form of encryption and data integrity by using hashing algorithms. IKEv2/iPsec uses X.509 certificates for authentication, which is how the client verifies the identity of the VPN server.
IPsec makes IKEv2 complete by giving access to a range of cipher suites.
When the client first tries to establish a connection, the VPN server will prove its identity by sending a digitally signed certificate. It will establish what's called an IKE security association (IKE) that predefined how the keys will be exchanged.
It supports multiple encryption standards such as AES and blowfish. IKEv2 in AES 256-bit mode provides very strong security that is more than enough for secure data transmission. FastestVPN also uses AES 256-bit for encrypting internet communication between the client and the VPN server.
When Should I Use IKEv2?
IKEv2 checks all the boxes for a reliable VPN protocol. It has a low CPU overhead, making it less resource-hungry and having native support in major operating systems. Its primary competitor is OpenVPN, which has its own unique attributes, but it is difficult to implement without native support.
It features MOBIKE (Mobility and Multi-homing Protocol), which makes it reliable under changing networks. It makes IKEv2 particularly suited for cellphones, where switching between networks is common while on the move.
For various reasons, IKEv2 is the default VPN protocol in all FastestVPN apps. Though, you can choose your preferred protocol at any time from settings. FastestVPN features PPTP, L2TP/IPsec, IKEv2, and OpenVPN UDP and TCP.
IKEv2 uses UDP port 500 to communicate. Ports are virtual gateways that all inbound and outbound traffic use. Your ISP may block traffic from that port to block VPN traffic. It's one situation where OpenVPN will prove to work. OpenVPN can operate over port 443, which is the port that's used by HTTPS web traffic.
Is IKEv2 Secure?
For the most part, IKEv2 is considered secure. It uses strong ciphers for encryption and uses the Diffe-Hellman algorithm for secure key exchange. It also supports Perfect Forward Secrecy (PFA), which is important for long-term data protection. PFA allows the client and VPN server to negotiate new keys for each session. Meaning that if the keys were compromised somehow, they cannot be used to decrypt data other than from the session they belong to.
There have been concerns around whether IKEv2 lives up to its reputation after leaked documents showed that NSA had cracked it. Technologies like SSL/TLS encryption prevent third-party intervention. Lawmakers have argued that the government should be allowed by companies to intercept and decrypt encrypted traffic.
So there's little doubt that an intelligence-gathering agency like the NSA has not spent its considerable resources to find vulnerabilities in technologies that allow them to monitor digital communication.
Final Words
As a FastestVPN user, you have the freedom to use the VPN protocol of your choice. Each VPN protocol delivers some functionality that could prove to be useful. For example, PPTP is the fastest, but it's not recommended due to several weaknesses. However, IKEv2 has proved itself as a reliable VPN protocol that also has open-source implementations as well such as StrongSwan.

Take Control of Your Privacy Today!
Unblock websites, access streaming platforms, and bypass ISP monitoring.
Get FastestVPN