VPN Protocols Explained
By Nick Anderson No Comments 5 minutes
VPN protocols is a subject that leaves many confused. Although the details are technical, learning about protocols is useful when establishing a VPN connection. VPN protocols make communication over the internet or intranet possible. They are used in every step of the way when we communicate between devices.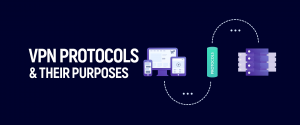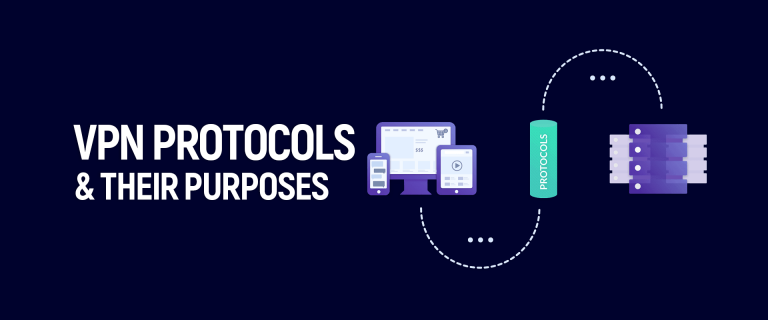 Each protocol has a distinct characteristic that gives it an edge over the other in terms of speed, reliability, and security. With that said, today we'll explain what internet protocols are and which ones offer the best connection for VPN.
How Internet Protocols Work
Protocols are a set of rules that provide a standard way of communication between devices. Today, there are billions of devices in the world, and there are certain factors that differentiate them. Protocols ensure a standard through which devices can exchange data.
The "P" in VPN standards for private. A VPN establishes a private connection between you and a VPN server. It acts as a proxy for you to relay data to its destination. Bypassing the Internet Service Provider (ISP) enables you to browse the web in anonymity while keeping data secure with the help of encryption.
It is where VPN protocols play a major role in dictating the reliability and security of the connection. Some VPN protocols offer strong security, but that comes at the cost of speed. The stronger the encryption and the more authentication that's required will translate to a comparatively slower experience. But some VPN protocols offer an ideal balance between speed and security.
So, let's take a look at the top VPN protocols that are used today.
Layer 2 Tunneling Protocol (LT2P)
A VPN encapsulates your data to hide it from third-parties such as your ISP. This part of a VPN is called tunneling, and it's what LT2P gives you. LT2P protocol is a tunneling protocol that creates a virtual tunnel between you and the VPN server.
But tunneling is one part of the equation; the other is encryption. Since LT2P does not provide encryption, it is paired with an encryption suite such as IPSec. Hence why you will see both of them used together.
Internet Key Exchange Version 2 (IKEv2)
Internet Key Exchange version 2 is a complete VPN protocol. It provides tunneling and Security Association (SA) between the device and VPN server thanks to IPsec's encryption suite. it provides strong asymmetric encryption based on Diffie-Hellman algorithms,including AES 256-bit encryption.
Since it uses UDP (User Datagram Protocol) for transport and port 500, it can keep latency down compared to other VPN protocols. UDP is faster than TCP connections so that an IKEv2 protocol will give better performance in applications such as gaming and video streaming.
It's very popular due to the fact that it demands less CPU performance and offers a reliable connection. It can maintain the integrity of the connection between changing networks, such as when the user switches between Wi-Fi and mobile data.
IKEv2 is the default VPN protocol in FastestVPN's iOS app.
PPTP
Point-to-Point Tunneling Protocol is the oldest VPN protocol in the list. It was developed by Microsoft and was the protocol used in Windows 95. Tunneling provides a communication pathway between two points over the network. It's easier to setup but is the least secure of all VPN protocols because of its weak security and authentication capabilities.
The MS-CHAP-v1 authentication method used by PPTP has known vulnerabilities.
OpenVPN
OpenVPN is one of the most popular VPN protocols today. It's designed to be fast and also secure, while also being flexible to run on both TCP and UDP. It's an open-source protocol, which means the underlying code is always available for audit. If there's a vulnerability, the community comes together to report it, which can then be fixed through an update.
It utilizes the OpenSSL library to deliver up to AES 256-bit level encryption. Furthermore, it has broad compatibility; it can run on any OS smoothly. Another noteworthy thing about OpenVPN is its ability to blend in regular HTTPS traffic through Port 443 to avoid detection by firewalls and the ISP.
Which VPN Protocol Should You Use?
IKEv2 and OpenVPN are both strong VPN protocols, but the nature of OpenVPN allows it to play nicely with every operating system.
For most users, choosing a VPN protocol shouldn't be a concern. FastestVPN supports OpenVPN, IKEv2/IPsec, PPTP, and LT2P/IPsec protocols in its app. Each platform's app is configured to run with the most-suited VPN protocol for that platform. For example, IKEv2 is the default VPN protocol in the iOS app.
But there may be instances where you may want to change the protocol, such as when connecting to FastestVPN's dedicated Netflix server, which runs through OpenVPN UDP.
Conclusion
Shifting to a different VPN protocol may give you a slight boost in speed. With the exception of PPTP, nearly all VPN protocols today have a moderate to a high level of security. FastestVPN allows you the flexibility to choose your desired VPN protocol, but the majority of users will find themselves satisfied with the default protocol chosen for the platform.
Take Control of Your Privacy Today!
Unblock websites, access streaming platforms, and bypass ISP monitoring.
Get FastestVPN