How to Choose the Best VPN Protocol for Mac
How to Choose the Best VPN Protocol for Mac
By Nancy William No Comments 5 minutes
Mac devices have increased in usage over the years, but not every device is 100% secure, nor are you allowed to make the most of your device due to several factors. For instance, even with a MacBook, you won't be able to access the best streaming service or apps for your device that are otherwise geo-restricted in your country. To get past these restrictions, the best Mac VPN is required. Although, there are still certain settings you need to make in order for the VPN to work better; that being choosing the best VPN protocol for Mac devices.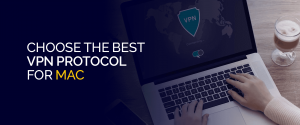 With increased online activity both in the personal, and professional landscape, security and privacy concerns have crawled to the surface. Owing to the ever-increasing popularity of the MacBooks or Mac devices in recent decades, due to the astounding package of performance and simplicity it offers, it becomes essential to ensure online safety and privacy for Mac users.
One way to tackle this issue is to employ a Virtual Private Network (VPN). However, to ensure that your VPN performs to the best of its ability means to choose the best VPN protocol, since they all work for different purposes.
What are VPN Protocols and Why Do You Need Them?
Naturally, the selection process comes after you're capable of selecting, and know what a VPN protocol is, and what factors you need to consider. To give you that answer, a VPN protocol is an amalgamation of rules and encryption techniques that dictate the VPN connection. The primary reason behind using a VPN is to make your online activity indiscernible by hiding your IP address, and, in turn, your online traffic. This can have the following benefits:
Your location is no longer trackable, as your IP address associated to your location is now hidden.
Your ISP can no longer track your online activity.
Allows you to connect to websites that are geographically restricted due to where you're located, as you can now connect using an IP address associated with another country.
Allows better speed performance.
Some protocols are better for encryption compared to other options.
The Importance of Choosing the Best VPN Protocol for Mac Devices
While opting for a VPN service, it's equally important to check if it's compatible with your MacBook, in addition to the VPN meeting your needs and preferences. This is crucial, because your choice may have an impact on your MacBook's performance and usability.
An incompatible VPN that's not optimized properly for your MacBook can place unnecessary strain on your Mac's processing resources causing it to overheat. It's therefore advisable to make a proper decision to choose a VPN service wisely, instead of taking countermeasures later, such as installing a third-party Mac cleaner, for your MacBook, to try cooling it down.
Additionally, an incompatible VPN can also result in slow connection speeds and frequent disconnections. A compatible VPN, in contrast, can provide a browsing experience, so seamless, it's hardly noticeable you're connected to one, especially if you choose the right protocol for it.
Best VPN Protocols for MacOS Users
Even though, it's advised to look at other options in the market, it's also important to explore some of the most frequently used VPN protocols by MacBook users:
OpenVPN: OpenVPN uses robust encryption techniques to offer a highly secure connection. Owing to its versatility, and ability to adapt to unprecedented network situations, and more so because of its compatibility to MacBook, it is an ideal choice for most Mac users.
IKEv2: Internet Key Exchange version 2 (IKEv2) is MacBook's native VPN protocol, due to which it has no rivals in terms of MacBook compatibility. Additionally, it offers fast, secure, and stable connections, and automatic reconnection capabilities, making it an ideal choice for MacBook users who find themselves frequently switching network connections.
WireGuard: Even though WireGuard is much newer compared to OpenVPN, it is the best in terms of creating faster speeds and better security. This is because it is designed to suit newer and more modern processors and devices.
What Should You Consider While Selecting a VPN Protocol for Your MacBook?
When making the choice of an ideal VPN and selecting the right protocol, you need to keep certain things in mind:
Connection Speed: Evaluate the performance and reliability specifications of each service to ensure you have high connection speeds. Connection speeds are usually, highly affected by encryption techniques. Therefore, you'll need to make a tradeoff between security and performance and go for a protocol that strikes that balance.
Location Span: Even though having a server near you is important if you need high-connection speed, having different locations under the belt is also important, especially if you're looking to bypass geo-blockers that come with each location.
Data Cap: This determines how much traffic you're allowed to cause online while connected to the VPN.
Security: Evaluate the VPN protocol's encryption techniques, and try to go for ones that employ strong cryptographic algorithms, such as AES-256, to ensure security is not compromised.
Price: Evaluate this based on what you can afford, but still meets your requirements.
User Friendliness: Try to opt for a service that isn't too complicated to set up, and has a friendly user interface.
Even though the price and user-friendliness of the VPN have nothing to do with choosing the best VPN protocol for Mac, the rest pan out exactly which area you need to target for the best protocol. For instance, for streaming, most users go for OpenVPN (UDP). Although, the best option for security matched with speeds would be WireGuard.
Final Thoughts:
VPNs are becoming increasingly essential to ensure anonymity online, and bypass geo-blockers. Therefore, if you are faced with the overwhelming task of choosing the right provider or the best VPN protocol, consider the factors discussed to make a fruitful decision.
Take Control of Your Privacy Today! Unblock websites, access streaming platforms, and bypass ISP monitoring.
Get FastestVPN