Best Ethical Hacking Software Tool in 2021
Best Ethical Hacking Software Tool in 2021
By Nancy William No Comments 6 minutes
This guide will highlight the best Ethical Hacking Software tools in 2021, or in general. There are currently a wave of various tools available, but how do you know which one is the best? We'll help you sort that out in no time!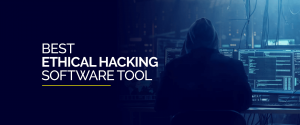 What is Ethical Hacking Software?
There's a lot that goes into online security or cybersecurity protection, and within that barrier is ethical hacking. Now, I know at first glance it might not sound like something that fits into the category of online protection, but in turn helps users, organizations, or companies, fight against unethical hacking. It is rather a "now" disciplinary regime followed by most in the industry.
Among many, we've tested and chosen only 5 of the best hacking software to fight against unethical hackings. You will be able to decrypt codes, scan, detect and manage vulnerabilities found in your computer system.
Its use also stretches on to detect issues present in web applications, servers, or your network. The hacking software tools mentioned in the list below are a mix between open source and commercial.
WARNING!
Websites often monitor, store and steal data! They can easily gain access to your IP address, your location, the internet service provider you're connected with and other classified information! So, we strongly suggest you use a VPN to protect you online! We recommend using FastestVPN, as it's affordable, secures your connection, encrypts your data, and creates speedier results!
The 5 Best Ethical Hacking Software in 2021
As mentioned above, there are many hacking software available, and for this reason, our team has shortlisted only 5 of the best among many. Here is the list of the more reliable and best ethical hacking software in 2021:
Netsparker is one of the best ethical hacking software till date mostly because of its reliable performance. It is both open-source and commercial hacking software. This security scanner will be able to instantly spot Cross-site Scripting, XXS, Local File Inclusion, SQL injections, and a couple of other vulnerabilities.
With the Netsparker exclusive Proof-Based Scanning technology, you will be able to detect vulnerabilities with extremely accurate results.
It further adds a feature towards detection of 404 error pages, bug tracking systems, a fully-featured REST API for automated scanning of web application security at every stage of SDLC. Other perks include wide-access scanning ability for over 100 web applications within 24 hours.
Nmap, short for Network Mapper is one of the more reliable, and free ethical hacking software. It was created back in 1997, for Security Auditing and Network Discovery, and works with all the popular operating systems like Windows, macOS, and Linux. It is used for detecting hosts and services over a computer network; sending data packets to analyze the responses.
Where its features are concerned, Nmap can get to the root of the cause extremely precisely for computer networks, host discovery and service, and OS detection. This hacking software can identify new software, detect vulnerabilities on a network. Nmap can also adapt and map out latency, congestion and other network conditions.
Next on the list for the best ethical hacking software, we have Burp Suite. It was developed by Dafydd Stuttard, and is known worldwide for its exemplary performance on security testing of web applications. The Burp Suit hacking software is both commercial and open-source.
It offers a free version called the "Burp Suite Community Edition", and then breaks into the "Burp Suite Enterprise Edition" that costs around $5595 a year. There is also the "Burp Suite Professional" that costs $399 a year.
There are a lot of features that come with the recommended Burp Suite hacking software. For starters, it can scan built-in and open-source software and applications, and offers an automated scanner called Login Sequence Recorder.
Other features are a built-in vulnerability manager for detecting vulnerable data, and detects them with 100% accuracy rates. Comes with an automated crawl and scan, a CSRF PoC Generator, interceptor for HTTP requests and more.
Acunetix is another one of the best ethical hacking software that is fully automated. It operates by imitating a hacker, staying one step ahead of the game, before the perpetrator can or aims to attack again.
In operations, Acunetix can scan single-page web applications, find cross site scripting among other vulnerabilities crossing over 4500+ that can expose sensitive data, and spot XXL, and SQL injections. Acunetix is super-fast, and can scale a whole number of pages with zero interruptions.
There is a free trial available, even though it is only for 14-days, with its premium account being over the top expensive. For instance, there isn't a set price mentioned, but will charge you according to the number of websites you'd like to scan. For sample sake, you'd be paying around $7000 for 1 website scan.
Got any vulnerable wireless connections? Then, Aircrack-NG will definitely be one of the best hacking software for the job. It's one of the more reliable sources in the industry right now, and, it's free! The software is powered by WPA, WPA 2 and WEP encryption keys, and supports quite a good range of OS like Linux, Windows, macOS, FreeBSD, and more.
Aircrack-NG can crack WEP keys using FMS, PTW, WPA/WPA2-PSK attacks, can decrypt encrypted files, and offers different tools to merge and convert files. With Aircrack-NG, this hacking software can also create encrypted packets for injection and so much more!
Bonus
Last but not least, we have the Angry IP Scanner that is widely known for its speed, and the ability to scan IP addresses and ports with accurate results. What's great is that there is no required installation process and can be freely used and copied on the move.
This open-source and cross-platform ethical hacking software is lightweight and regularly pings IP address to check functionality. Additionally, it scans ports, determines MAC addresses, resolves hostnames, and more. Other features include web server detection, NetBIOS information, and can export files in any format.
Is it legal to use an ethical hacking software?
In short, it is legal to use an ethical hacking software, as long as it's for controlled and whitehat hacking issues that revolve around fixing vulnerabilities and issues within a computer system. It is called ethical hacking software for a reason. Every user on the software needs to take permission from a site before activating any attacks or scans. If zero permission is taken, it automatically turns into unethical hacking, which then defeats the entire purpose of the software. By using the software illegally for personal gain, it could land you into some legal trouble.
To conclude
With the high-rise in cybercrimes and unethical hackings targeted towards companies or organizations, it's crucial to take equally active precautions. The technological industry is changing and growing overnight, and with that said, it's highly preferred to consider ethical hacking to secure businesses. An ethical hacking software is such a tool that is designed to help. We've helped cater towards your search, providing you with a list of the 5 best ethical hacking software above. Each unique and sturdy in its own ways!

Take Control of Your Privacy Today!
Unblock websites, access streaming platforms, and bypass ISP monitoring.
Get FastestVPN