Is Tinder Safe?
By Johan Curtis No Comments 5 minutes
We've all imagined ourselves getting the perfect fairytale ending on an app like Tinder, but is it safe? Who doesn't want to find the perfect match for themselves and live happily ever after?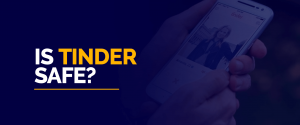 For people who are not as social and cannot meet people that easily dating apps have made socializing easier.
For those of you who are still foreign to the idea of dating applications, here's all you need to know about them.

The World of Dating Applications
An online dating application is an online dating service usually presented through a mobile application or a website which lets you create a social profile for you to find relevant or suitable matches for you. The application mostly relies on your smartphone's features to gather information for your online dating profile.
Dating apps have become a norm; everyone is using dating apps to find relationships, or just socialize.
What is Tinder?
Speaking of dating applications, one of the most popular dating apps to date is Tinder. Tinder is an online dating application which was developed in 2012 by Tinder Inc.
It is known as a geosocial networking or online dating application; it allows its users to find matches for themselves by reacting to other user's profiles which are mostly based on short descriptions of themselves, a few photos and shared interests or hobbies etc.
By 2019, Tinder was ranked the most popular dating application, with over 30 billion users. It is known for the variety of users and services it provides. As the Tinder team says that dating is not the only purpose of Tinder, you could sign up to the app to expand your social network, meet new people, make friends or have some fun.
How Does Tinder Work?
Before you decide to sign up on Tinder, you must understand how it works and if the app is safe or not.
You download the application, create an account, upload the pictures you like, update your location and your interests etc. and begin surfing.
Once Tinder has access to your interest and your location, the app then begins to find relevant matches for you, such as people who live close by and share common interests you so that you don't waste your time meeting just anyone. Tinder makes sure that your users are as relevant as possible.
You will be shown a bunch of profiles which you're supposed to swipe through. If you like someone, you're supposed to swipe right, or swipe left if you don't find a profile interesting. Similarly, when the same person is shown your particular profile, and the person swipes right, then it's a match!
It's a simple way to ensure that both parties are interested before matching. And that's pretty much it.
Advantages of Tinder
There are a lot of advantages of having a Tinder account; we get that most of you may be skeptical before signing up, so here's a list of benefits:
You are most likely to find a match within a few minutes of signing up; the app has a huge database, with billions of users. It is almost certain that you will find a match.
Tinder has many options; it's okay for you to not find someone immediately. However, you can easily keep looking for one as long as you'd like.
It caters to different sexual orientation. It doesn't matter what sexuality you identify as, Tinder is a diverse platform in that regard.
Is Tinder Safe?
People often tend to overlook the safety of using a service. It is of utmost importance to consider whether such online applications are safe or not, or the kind of security threats do they pose.
Have you heard of Tinder? It'll allow you to find a person of interest from anywhere in the world. Although what you need to evaluate certain risks.
In simpler terms, when you upload your basic profile information onto Tinder, your information is pretty vulnerable, as anyone could easily misuse it. Not everyone on Tinder is as genuine as they seem, a few profiles could even be fake and created only for scam or fraud.
I mean, have you heard about Catfishing? Most profiles are made to lure in users, ripping them off into sending either money or more.
Moreover, Tinder isn't particularly safe from hackers either. The application or your particular account could easily be hacked, and the hacker can easily gain access to your private information such as your phone number, address, personal photos, etc.
We advise that you stay extremely vigilant while browsing on Tinder and take all precautions necessary.
How to Protect Yourself on Tinder
Here are a few safety and privacy measures that you should take while using your Tinder account:
Don't overshare: it is really important for you to understand that you should only post information which is relevant and needed. Do not post every detail on Tinder as it can easily be tracked or recorded. Only post data which fulfils the basic requirement.
Don't your social media accounts: Tinder describes in their privacy policy that they may use information from your social media accounts if you allow synchronisation. It is best not to link your accounts to Tinder as that gives almost every user who comes across your profile an easy gateway to reach your social media profiles. Try to make separate social media profiles for Tinder, if you wish to connect.
Avoid haste: It's natural to meet a person of interest. However. with catfish being a serious concern; you should avoid revealing too much in the first few interactions.
Conclusion
It is our responsibility to educate you and make sure that you are aware of the security and privacy risks present around. Your safety is of the utmost importance to us! We encourage you to download and sign up to Tinder; while also taking all the necessary privacy precautions.

Take Control of Your Privacy Today!
Unblock websites, access streaming platforms, and bypass ISP monitoring.
Get FastestVPN