Is Tinder Safe? Tips to Stay Safe on Tinder in 2023
Is Tinder Safe? Tips to Stay Safe on Tinder in 2023
By Nancy William No Comments 8 minutes
There are many apps for online dating, but Tinder, right now, is on the top of the list. On Tinder, you can find various people from around the world, or within your region, or even those located within close proximity to you. However, Tinder comes with major security warnings, despite being the most popularly used app for online dating. So, is Tinder safe?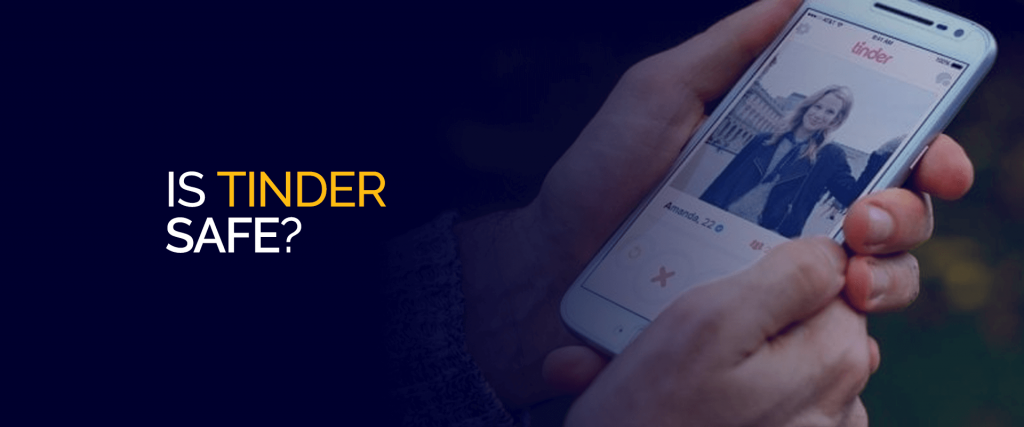 People join Tinder for hookups, speed dating, or just for the conversation, however, they aren't aware of the security and privacy concerns on Tinder.
Literally, anyone can get personal information from you while impersonating another person. Catfishing is one of the higher threats on a dating app like Tinder. So, before you meet up with a potential Tinder date, make sure you're aware of what you're getting into.
This guide will highlight all the possible risks on Tinder, and how you can stay safe while using the app.
The Tinder app itself is safe, but meeting someone for the first time can be a huge problem; what if they turn out different from the profile picture? What if you're talking to a cyberstalker?
Tinder may have changed the face of online dating, where casual sex is the number one motive, but how safe is it most of the time? We'll cover this in great detail!
Table of content
What is Tinder?
Speaking of dating applications, one of the most popular dating apps to date is Tinder. Tinder is an online dating application that was developed in 2012 by Tinder Inc.
It is known as a geosocial networking or online dating application; it allows its users to find matches for themselves by reacting to other user's profiles which are mostly based on short descriptions of themselves, a few photos and shared interests or hobbies, etc.
By 2019, Tinder was ranked the most popular dating application, with over 30 billion users. It is known for the variety of users and services it provides. As the Tinder team says dating is not the only purpose of Tinder, you could sign up to the app to expand your social network, meet new people, make friends or have some fun.
Is Tinder Safe?
If you talk about the app itself, Tinder is as safe as most dating apps or websites, but there are other risks you need to be aware of. Sure, by creating a Tinder account, you can chat with strangers within the area, send pictures, flirt, and eventually meet up. But, is everyone really who they say they are?
There are countless times people who use any dating app, forget about the security aspects of it. It's a rule, before using any dating app, you need to look up every detail about what you're getting yourself into and what security threats they pose. For starters, users often delete Kik or other social apps for the very same reason.
In the case of Tinder, it'll allow you to find a person of interest from anywhere in the world, or within your area, depending on which country you're using the app in.
Scams, Catfishing, murders, and bots on Tinder
In simpler terms, when you upload your basic profile information onto Tinder, your information is vulnerable, as anyone could easily misuse it. Not everyone on Tinder is as genuine as they seem, a few profiles could even be fake and created only for scam or fraud.
I mean, have you heard about Catfishing? Most profiles are made to lure in users, ripping them off into sending either money or more.
There have been numerous reports on murder cases, kidnapping, and other crimes linked to Tinder, where the attackers meet their victims – which was the saddening case of Sydney Loofe.
Moreover, Tinder isn't particularly safe from hackers either. The application or your particular account could easily be hacked, and the hacker can easily gain access to your private information such as your phone number, address, personal photos, etc. This is a major concern and a high risk of online dating.
We advise that you stay extremely vigilant while browsing on Tinder and take all precautions necessary.
How to stay safe on Tinder?
There are only a few things you can do, to stay safe while using a dating app like Tinder. Take a look below:
Run a background check on your Tinder date
If you're planning on meeting up with your Tinder fling, make sure you run a background check. Since you're meeting the person up, the least they can do is give you a name, and more details.
If there's no bio, no details on the person, that's a red flag right there! Make sure you at least ask the opinion of one friend before meeting up.
Don't overshare personal information
It's a cardinal rule that one should never overshare anything online, be it pictures, address, family, or anything personal for that matter. You never know what the scheme is.
It is really important for you to understand that you should only post information that is relevant and needed. Do not post every detail on Tinder as it can easily be tracked or recorded. Only post data that fulfills the basic requirement.
Get to know and understand your Tinder date before meeting them
Tinder might just be for hookups, but it's wise to wait it out a little before meeting anyone up. Get to know the person for a longer period before making your decisions. It's natural to meet a person of interest. However, with catfishing being a serious concern; you should avoid revealing too much in the first few interactions.
Don't synchronize your social media accounts with Tinder
Tinder describes in their privacy policy that they may use information from your social media accounts if you allow synchronization. It is best not to link your accounts to Tinder as that gives almost every user who comes across your profile an easy gateway to reach your social media profiles. Try to make separate social media profiles for Tinder, if you wish to connect.
Inform a friend about your Tinder data and whereabouts
Always inform someone about your date, even if you're trying hard to remain secretive. It can save your life in more than one way possible.
If you're still wondering "Is Tinder safe?" maybe go through these pointers and enforce it. Other than that, there are other threats at bay that involve hacking and scams. Make sure you use security software for online protection.
How Does Tinder Work?
Before you decide to sign up on Tinder, you must understand how it works and if the app is safe or not.
You download the application, create an account, upload the pictures you like, update your location and your interests, etc. and begin surfing.
Once Tinder has access to your interest and your location, the app then begins to find relevant matches for you, such as people who live close by and share common interests so that you don't waste your time meeting just anyone. Tinder makes sure that your users are as relevant as possible.
You will be shown a bunch of profiles that you're supposed to swipe through. If you like someone, you're supposed to swipe right, or swipe left if you don't find a profile interesting. Similarly, when the same person is shown your particular profile, and the person swipes right, then it's a match!
It's a simple way to ensure that both parties are interested before matching. And that's pretty much it.
Also Read – How to get Unbanned from Omegle
Advantages of Tinder
There are a lot of advantages of having a Tinder account; we get that most of you may be skeptical before signing up, so here's a list of benefits:
You are most likely to find a match within a few minutes of signing up; the app has a huge database, with billions of users. It is almost certain that you will find a match.
Tinder has many options; it's okay for you to not find someone immediately. However, you can easily keep looking for one as long as you'd like.
It caters to different sexual orientations. It doesn't matter what sexuality you identify as, Tinder is a diverse platform in that regard.
FAQs
Is Tinder actually safe?
Tinder is safer than most dating or social applications but, the same cannot be said as far as bodily harm or harassment goes. Since users are meeting strangers without any information on them, it is labeled as risky. This is particularly true based on past instances and deaths related to Tinder.
Is bumble really better than Tinder?
Yes, Bumble is better than Tinder. Bumble offers users better relationships and more qualitative conversations other than just meeting up for casual sex. In fact, Bumble was also created as a more "Women-safe" app by one of Tinder's founders. If you're in for just casual hookups, Tinder will be down your alley.
Can you be tracked on Tinder?
Yes, you can. Tinder among many other dating apps are said to be vulnerable to data hacking and tracking. For security reasons, we recommend connecting to FastestVPN to remain anonymous.
Is it safe to use your credit card on Tinder?
Not really. There have been multiple reports regarding Tinder being a hub of scamming user's for their money. Multiple users were charged from their credit card multiple times with just one purchase.
How do you know you're talking to a Tinder scammer?
You'll know when you're talking to a Tinder scammer: There's only one picture, the conversation seems very bot-like, there's no bio or real details on the person, offers you links or downloads to click on, asks a lot of unnecessary and personal questions, the answers are very vague. A Tinder scammer will also ask you for money, and avoid meeting up.
Is Tinder worth paying for?
Your free account allows you to get matched, but paying for Tinder gold offers other perks, like swiping right multiple times, get to see who liked you, and to upgrade your profile. However, that is certainly not worth the risk, considering many users complained about extra charges sent to their account.
Conclusion
It is our responsibility to educate you and make sure that you are aware of the security and privacy risks present around. Your safety is of the utmost importance to us! We encourage you to download and sign up for Tinder; while also taking all the necessary privacy precautions.
Take Control of Your Privacy Today!
Unblock websites, access streaming platforms, and bypass ISP monitoring.
Get FastestVPN