The Affordable and Best VPN for ChatGPT | FastestVPN
The Affordable and Best VPN for ChatGPT | FastestVPN
By Nick Anderson No Comments 8 minutes
If you're making use of Chat GPT, you're undoubtedly well aware of how crucial it is to protect your personal information while chatting online. As so much private and sensitive data is transmitted via the internet, a VPN is essential for privacy and security. However, how do you pick the best VPN for ChatGPT from all the available options? In this post, we'll go through what to look for in a VPN and evaluate the best VPN. Whatever your VPN needs for ChatGPT may be speed, security, or cost. Gladly, we have you covered.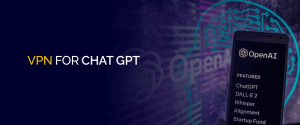 What is Chat GPT, and Why is it so Popular?
You've probably heard about ChatGPT if you're intrigued by artificial intelligence and language technologies. So what makes ChatGPT so popular, and how does it operate? ChatGPT is OpenAI's language model that employs deep learning to imitate human replies to textual questions. ChatGPT can deliver conversational replies and insights on a wide variety of topics since it employs powerful natural language processing (NLP) algorithms to read and respond to user input. In order to improve its responses to user queries in real-time, the system makes use of deep learning techniques. Moreover, its open-source nature allows anybody to utilize and enhance its technology, making it a promising future field of innovation and study.
ChatGPT is a chatbot powered by AI technology. It was created by OpenAI, a firm specializing in AI research, and launched in November 2022.
The modern communications capabilities of ChatGPT contributed to its meteoric rise in popularity. Thereby, companies are utilizing it for a variety of purposes, including individualized customer service, content creation, language translation, and beyond. Students might also benefit from ChatGPT in terms of studying and essay writing.
In the first five days after its release, OpenAI's CEO Sam Altman claims the technology attracted more than 1 million users. According to research conducted by the Swiss bank UBS, it has surpassed this threshold faster than any other application yet.
Countries where ChatGPT is not currently accessible
Despite its widespread popularity in the field of artificial intelligence and Analytics, ChatGPT is still unavailable in some countries. It could be because of censorship by the government or technical restrictions, among several other factors. As of right now, ChatGPT has reportedly been blocked in countries like 
China

Iran

North Korea

Russia

Venezuela

Belarus

Egypt

Hong Kong
However, because of the changing circumstances at hand, access may alter in the future. In addition to that, countries like the United States, Australia, France, and India have instituted ChatGPT usage restrictions in schools but not on a national level.
Lastly, if you still want to get around restrictions like these, using a VPN service like FastestVPN is your perfect solution. You can start using ChatGPT immediately after connecting to a server in a permitted country.
How to use ChatGPG with a VPN?
Utilizing a VPN with ChatGPT is a breeze. Here's a quick tutorial on how to do it:
Choose a VPN you can trust for ChatGPT, like FastestVPN, which is currently giving away a lifetime offer for $40.

Install the VPN app and follow the instructions.

Sign up for a VPN account, sign in to an existing one, and then join a server supporting ChatGPT.

Clear the previous cache and cookies from the browser, or use a private browsing window.

Navigate to the ChatGPT website and create an account. You may need to use VoIP numbers if you're in a country where the service is unavailable.
By following these steps, you'll be able to use ChatGPT without any restrictions while keeping your privacy and security safe with a VPN.
Why do you need a VPN for ChatGPT?
If you're into AI and language technologies, ChatGPT is a must-have. ChatGPT's capacity to simulate human responses to text queries will be invaluable whether for work or play. Yet, there are a few circumstances in which you might want to connect to ChatGPT using a virtual private network.
Firstly, a VPN adds security to your online actions. A VPN encrypts your data while it's being sent over the internet, making it unreadable to anyone but the person you want to send it to (like your ISP or hackers). This is especially crucial when communicating sensitive or private information using ChatGPT.
Secondly, a VPN allows you to bypass regional restrictions. You may fool a website into thinking you're visiting it from another country. FastestVPN is useful if you're visiting a country where you can't use ChatGPT.
Thirdly, anonymity is another benefit of using a VPN. Without users' consent, many websites and online services collect data. You may hide your online identity and prevent prying eyes by using a VPN.
Lastly, a VPN can make your connection faster and more reliable. It is possible to avoid slowdowns and connect at higher speeds by connecting to a server in a different country. This is especially helpful if your connection to ChatGPT is slow or you frequently lose it.
Using a VPN with ChatGPT has many benefits, such as increased safety, anonymity, and access to content that would otherwise be hard to access. So, a trustworthy VPN is essential to making the most of ChatGPT while keeping your online activities safe.
How to sign up for a VPN with a ChatGPT account
ChatGPT has skyrocketed since it was launched. Regrettably, some places haven't been able to use these technologies because of government restrictions or rules about censorship. 
Connect to FastestVPN's US server.

Launch a new incognito window in your browser and go to the OpenAI signup page.

Fill in all the details. 

You'll get a text message with a security code.

Register successfully by entering the security code.
Why FastestVPN is Best for ChatGPT
| | |
| --- | --- |
| Data limit | Unlimited |
| VPN server locations | 39+ countries |
| Customer support | 24/7 live chat |
| Activity logging | Never |
| Simultaneous connections supported | 10+ |
| Device support | Apps for every device |
| Ad-Blocker | Yes |
| Money Back Guarantee | 15 Days |
FastestVPN for PC, Mac, iOS, Android, and more
FastestVPN is compatible with all devices and works flawlessly on them. You may use the combo of ChatGPT and FastestVPN to browse anything available on the internet, thanks to the breakneck servers of FastestVPN. 
FastestVPN has apps for every device, from computers to game consoles to smart TVs like Apple TV, Android TV, and the Amazon Fire TV Stick.
Should I use ChatGPT with a free VPN?
Even though free VPNs may seem like a good choice, they often have a number of problems that can potentially harm your privacy and security online. Here are a few reasons why you should avoid using a free VPN for ChatGPT:
Bandwidth limits and slow speeds: Most free VPNs have bandwidth limits and slow speeds, which can be annoying when using ChatGPT. Slow speeds can make it take longer to load pages and interrupt your conversation, which isn't very helpful.
Inadequate security features:  Free VPNs usually don't have the advanced security features that paid VPNs to do, like encryption protocols and kill switches. This might make your computer and online accounts susceptible to hackers.
Advertisements and data collection: Most free VPNs make money by showing ads and collecting data, which can be terrible for your privacy. Ads may be annoying and slow down your connection, and data collection might make your online activities visible to unsolicited vendors.
Fewer server locations: Free VPNs tend to have fewer server locations, which can make it harder to get around geographical blocks. This can be a big problem if you're trying to use ChatGPT from a country where it's not available.
Using a free VPN for ChatGPT may seem like a good way to save money, but it often comes with a number of problems that can hurt your privacy and security online. If you want to make sure you have the best ChatGPT experience possible, you should use a reliable paid VPN service.
FAQs – Best VPN for ChatGPT
What is the purpose of a VPN for ChatGPT?
A VPN can be useful for ChatGPT in a number of ways. Firstly, it can help protect your privacy by encrypting your traffic over the internet and hiding your IP address from prying eyes. This can be especially important if you're sharing sensitive information over the internet. Additionally, a VPN can help you bypass internet censorship and geo-restrictions, allowing you to access content that might otherwise be blocked in your location.
Should I use a free VPN for ChatGPT?
While there are free VPN services available, they often come with limitations such as slower speeds, data caps, and fewer server locations to choose from. Additionally, some free VPNs have been known to collect users' data and sell it to advertisers. For the best possible VPN experience, we recommend investing in a premium VPN service like FastestVPN.
What is the best VPN for ChatGPT?
FastestVPN is a great choice for ChatGPT users, as it offers fast and reliable speeds, strong encryption, and a large network of servers around the world. Additionally, FastestVPN has a strict no-logging policy, meaning your online activity is not tracked or stored.
Why should I use a VPN for ChatGPT Plus
Using a VPN for ChatGPT Plus can be beneficial for several reasons: Access to geo-restricted content: ChatGPT Plus may be available in certain regions, and a VPN can help you bypass these geo-restrictions by allowing you to join a server in a different location. Privacy and security: A VPN encrypts your internet traffic and hides your IP address, which can help protect your privacy and stop third parties from watching what you do online. Protection against hackers: Using a VPN can help protect you from potential hackers who might try to steal your personal information while using ChatGPT Plus, especially if you are connected to a public Wi-Fi network. Avoiding Internet Censorship: A VPN can help you bypass these restrictions and access ChatGPT Plus from anywhere in the world.
Can you use ChatGPT with a VPN?
Yes, you can definitely use ChatGPT with a VPN. In fact, using a VPN can help enhance your security and privacy while using the platform.
Can I unblock ChatGPT Plus with a VPN?
If ChatGPT Plus is a premium version of the ChatGPT platform that is only available in certain locations, then yes, a VPN can potentially help you bypass any geo-restrictions and access ChatGPT Plus from anywhere in the world. However, it's essential to note that not all VPNs are equal in performance, and some may not be able to unblock certain platforms or services. This is why it's crucial to choose a reliable VPN like FastestVPN that has a track record of successfully bypassing geo-restrictions.
Final thoughts
Despite its immense popularity, ChatGPT is still inaccessible in several regions across the world. These regions include countries like China, Iran, North Korea, Russia, Venezuela, Belarus, and Egypt. Additionally, some schools in the US, India, Australia, and France have also prevented students from using ChatGPT so they can't cheat.
Fortunately, there is a solution that allows you to bypass these restrictions and access ChatGPT from anywhere in the world – using a VPN. By using a VPN, you can connect to a server in a different location and access ChatGPT without any restrictions. Our top recommendation for a VPN service for ChatGPT is FastestVPN.
FastestVPN protects your online activities and data with lightning-fast speeds and cutting-edge security features like AES-256 encryption, a kill switch, and dedicated servers. Thanks to FastestVPN, you may use ChatGPT freely and securely from anywhere in the world.
Take Control of Your Privacy Today!
Unblock websites, access streaming platforms, and bypass ISP monitoring.
Get FastestVPN