The Best Firestick Channels for 2021
The Best Firestick Channels for 2021
By Christine Margret No Comments 9 minutes
Find the best Firestick channels to alleviate your everyday entertainment. Firestick is one of the cheapest yet powerful entertainment devices that sets you free to watch unlimited content of your choice.
There are several FireStick apps for streaming sports, TV shows, and movies.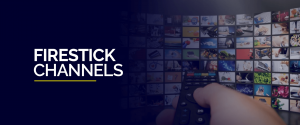 Amazon Firestick is the plug-and-play device that is deemed as the best source of entertainment today. It comes with a list of some pre-configured Firestick channels, including Amazon Prime Video, YouTube, Netflix, Apple TV, Pluto TV, and HBO.
However, all these channels follow a subscription model, meaning you need to pay a monthly subscription before accessing the content.
In this blog, you will explore the list of the best Firestick channels 2021  to access unlimited paid and free content.
Note: Many of these services are geo-restricted or unavailable worldwide. FastestVPN's global VPN servers let you access Netflix and such from anywhere in the world.
Best Firestick Channels – Index
Best Firestick Channels for Movies and TV Shows
Netflix (Paid)
Although Netflix is a paid Firestick channel, the content it offers is worth your money. Right now, Netflix is bursting with a wide range of TV shows and movies, and more added every month. There are Netflix Originals that are exclusive to the platform. All in all, it's one of the best Firestick channels to multiply your entertainment pleasure.
Pluto TV (Free)
It's a completely free app that offers hundreds of channels to watch. Plus, you can stream tons of on-demand TV shows and movies too. It's an ad-supported service with unlimited free hours of entertainment.
AMC (Paid)
AMC is a paid Firestick channel that lets you stream AMC copyrighted shows and AMC originals. You can log in to the AMC app by using the AMC satellite subscription.
HBO Max
HBO Max is an all-in-one Firestick channel that lets you watch HBO originals, documentaries, movies, TV shows, comedy, and sports.
ABC (Paid)
ABC is a paid service powered by America's leading cable TV Network. You can watch on-demand content and live streaming of ABC by subscribing to the participating TV provider.
A&E (Free)
A&E is a free channel to stream a huge collection of A&E series including deleted and extra scenes. The best thing is A&E also offers full episodes of popular shows like 60 Days In, Ghost Hunters, and much more.
Hulu (Paid)
Hulu Firestick channel is paid and gets you access to Hulu originals and an on-demand catalog of movies and TV shows. You can watch news, sports, Cinemax, and HBO if you're willing to pay a few extra dollars.
Hallmark Movies Now (Paid)
Hallmark is a paid service with lots of entertainment options like TV shows, movies, and Hallmark specials. It's the best source to watch  Hallmark content hassle-free.
Fox Now (Free)
FOX Now is a Firestick channel for on-demand and live content. You can watch the most sought-after TV shows like The Masked Singer, Empire, and MasterChef, 9-1-1.  Explore Football, MLB, and much more for free. To unlock unlimited content, try its in-app purchases.
CBS All Access (Paid)
Get the best sports events including NFL live TV shows plus, 150,000 on-demand movies and shows from the CBS network with CBS All Access for Firestick TV.
Comedy Central (Paid)
Comedy Central Firestick channel is a good way to access complete episodes of Comedy Central TV shows. With its in-app purchases, access the most popular videos. Enjoy the best Comedy Central shows on Firestick, including South Park, The Daily Show with Trevor Noah, Detroiters, and more.
Starz
Watch Starz network movies, originals, TV shows, and more with Starz Firestick channel. Subscribe Starz to login into the app to download and stream movies and other stuff.
What Are the Best Jailbroken Firestick Channels?
Jailbroken Firestick channels are the ones that you can install from sources other than the official Amazon App Store. Some of the best jailbroken Firestick channels are: 
Cinema HD is a great on-demand streaming app that works best with Firestick. It offers a huge catalog of movies and TV shows. 
FreeFlix HQ allows you to enjoy tons of free movies and TV shows. You can also watch various live channels and anime cartoon collections are also available. 
Another popular Firestick jailbroken app is Mobdro that offers you a collection of TV channels from different countries including the USA.  It's one of the best third-party Firestick channels that works well with any Fire TV device. 
Sapphire Secure IPTV gets you 4000 live TV channels for $5 per month only. It's an affordable way to access cable TV from your respective region. The best thing about this app is that it has quick navigation and works smoothly with the Fire TV remote. 
Bee TV is a top third-party Firestick channel bursting with various high-quality streams of movies and TV shows. 
Titanium TV is an on-demand streaming app that is full of free movies and TV shows. It is compatible with all Fire TV devices and gets you the high-quality links of your favorite content.
Best Firestick Channels for Sports
DAZN (Paid)
Get DAZN Firestick channel to explore the wide range of major sporting leagues including UEFA Champions League, UEFA Europa League, League Soccer, NFL, NHL, Premier League, and a lot more.
Fox Sports Go (Paid)
Fox Sports Go  allows you to access original programming and local sports to watch your favorite teams in action. It is free for users who paid for Fox Sports via cable TV.
FuboTV (Paid)
Watch FOX, NBA TV, beIN SPORTS, Univision, and other exclusive sports with FuboTV.
ESPN (Paid)
Sports and ESPN go hand-in-hand. With the ESPN app, you can access SEC Network. ESPNU, ESPN, ESPN+, ESPNews, ESPN2, ESPN3, ESPN Deportes, and a lot more. And stream live sports and shows hassle-free.
NFL (Free)
NFL  gets you access to the latest news and highlights of the NFL events. It has in-app purchases too for upgrading your streaming experience.
UFC Fight Pass (Paid)
Watch MMA, PPV, UFC Fight Nights, UFC fight library, and UFC highlights and shows with UFC Fight Pass.
Bleacher Report Live (Free)
Install Bleacher Report Live to view live sports shows like UEFA Champions League, UEFA Europa League, NBA League pass, and All Elite Wrestling.
NBA for Fire TV (Paid)
Enjoy the latest updates and live coverage of all the seasonal NBA matches with NBA for Fire TV.

Best Firestick Channels for Health and Fitness
Beachbody on Demand (Paid)
Beachbody on Demand is a fitness brand that covers an assortment of fitness exercises and workouts for everyday.
Peloton (Paid)
Peloton is a paid channel that gets you live workout sessions and pre-recorded sessions for yoga, cycling, stretching, cardio, running, and more.
NEOU (Paid)
This channel has everything from fitness training to boxing, from cardio to yoga, and a lot more.
Best Firestick Channels for Kids
Nick Jr. for Fire TV (Free)
Nick Jr. is among the best Firestick channels for kids, featuring some of the top kids shows like HobbyKids Adventure, Top Wing, Ryan's Mystery Playdate, and others.
Pokémon TV (Free)
Want to relive some Pokémon memories? Install Pokémon TV for Firestick and enjoy access to unlimited Pokémon movies and full episodes for free. More importantly, this channel needs no sign-in for content streaming.
PBS Kids (Free)
Watch free episodes of PBS Kids shows live with PBS Kids Firestick channel. Note, its important to  create a PBS Kids account to log in to the app.
Best Firestick Channels for Education
GooNoodle (Free)
GooNoodle is a channel for education and kids' activities. It is free and you can find hundreds of learning activities and information. GooNoodle is quite a reputable US educational service.
Ted TV (Free)
Ted TV offers a well-organized menu that helps you find Ted Talk videos about career and life improvements. It's one of the best sources of information and education.
NASA (Free)
NASA has an app that allows you to access special content easily on your screen. The channel is full of educational stuff including astronaut interviews, live videos of the space environment, and much more.
Best Firestick Channels for Food
Cooking Channel GO
Food Network GO
Best Firestick Channels for Live TV
AT&T TV
Sling TV (Use a Sling VPN to access it)
Best Firestick Channels for News
CBS News-Fire TV
Fox News
CNN
NBC News
Sky News
USA Today
Best Firestick Channels for Music Entertainment
Spotify Music and Podcast for TV
Pandora Music for TV
How to Install Firestick Channels via Amazon App Store
Two ways to install Firestick channels available on the Amazon App Store are explained below:
Method #1 – Search Individual Firestick Channels
To follow this method, use the steps outlined below:
Head to the Home Screen and click on the search icon in the top-left corner.
Pick a Firestick channel
Select the Download/Get option to install the app on your device.
Now, open the channel and watch.
Method #2 – Look up Firestick Channels by Browsing
To follow this method, use the steps outlined below:
Head to the Home screen and select where you see Apps.
Find and select from Categoriesg. Movies, Sports, TV.
Find and choose a channel
Now, select the option for Download/Get.
Head to the channel and stream.
What is Firestick Jailbreaking?
Jailbreaking allows you to sideload blocked Firestick apps and features of your choice.
Is Jailbreaking illegal?
well, it's not proven that jailbreaking is illegal. It only allows you to access locked features and apps yet,  using third-party apps to stream copyrighted content is illegal.
How to get local channels on Firestick?
You can get local channels on Firestick by three means, the first one is to use network-specific apps like FOX. The second way is to use standalone streaming services and the third is to rely on third-party streaming services.
FAQs
Is there a Monthly Fee for Firestick?
Firestick doesn't incur a monthly fee. All you need to pay is for the device itself, and for the channels you subscribe to.
Can I Watch Free Netflix on Firestick?
No. You have to pay for the Netflix subscription to stream it on your Fire TV.
Conclusion
The list of the best Firestick channels 2021 comes to the end now. Hopefully, this comprehensive list will help you pick the best sources to satisfy your entertainment desires.

Take Control of Your Privacy Today!
Unblock websites, access streaming platforms, and bypass ISP monitoring.
Get FastestVPN