What Is Wave Browser? And Why You Must Remove It Now
What Is Wave Browser? And Why You Must Remove It Now
By Nancy William No Comments 8 minutes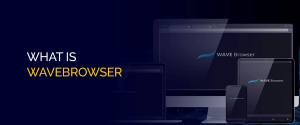 Are you curious to find out what is Wave browser or is Wave browser safe? It's perhaps not what you've thought. To burst the bubble, it has been identified that the web browser Wave is a potentially unwelcome program (PUP). 
PUPs are computer software applications that are installed without your knowledge or agreement. Although the WaveBrowser isn't a virus, it might nonetheless harm your machine. 
This potentially unwelcome program can compile your personal information, such as browsing and search history. Additionally, they can install advertising and ad-supported browser extensions.
Now that you're already hooked, let's take a deep dive into what is Wave Browser, the ins and outs of it, the Wave browser uninstall process, and Wave browser alternatives. Buckle up!
What Is Wave Browser? Should I Remove Wave Browser?
Wavebrowser replicates Chrome browser – but unlike Google, it's unsafe. And, referring to "Is Wave browser safe?" it has a few privacy and security risks because of its number of malicious ads. 
It's used to enter various search engines on the internet and functions similarly to other browsers. However, the setback is that it works in the background. It can access your device and change your device settings. Simply put, it performs device actions without user consent. 
Meanwhile, expect to get bombarded with ADs – mostly malicious ads. When users click on it, unknowingly, just about anything can go wrong, from malware infections or data compromisation. 
Conclusively, the answer to "Is Wave browser safe" is a "

NO

." But fret not; there are various Wave Browser alternatives that you can leverage. And we'll discuss that in the further section of this article.

Here's your

cut-to-the-chase

link for Wave Browser alternatives.
How Do You Uninstall Wave Browser From Your Device?
Now that you know "what is Wave browser" and "Is Wave browser safe," here's how to uninstall it from your device. Deleting WaveBrowser from your device is more complex than it looks. However, once you uninstall it, your settings will be restored to the original default settings. We'll show you the "Wave browser uninstall process" from multiple devices and browsers. Short on time, here are the devices we'll be covering – click on the device links and directly read about the Wave Browser uninstall process:
Uninstall Wave Browser From Windows

Uninstall Wave Browser on macOS

How to Delete Wave Browser From Chrome

How to Delete Wave Browser From Firefox
Uninstall Wave Browser From Windows
Click on the

Windows

key and type

Apps and Features

.

You now have a list of installed apps; look for the Wave browser.  

Tap on the three dots on the side of it. Select

Uninstall

. 

Hold the

Ctrl + Shift + Esc

keys to launch the

Task Manager

.

Click on

Processes

and find

Wave browser

.

If you find multiple Wave Browser options, right-click on each and select

End task

.

Check to see if you have the

Open file selection

. If you do, select it to delete the process.
Now the next step is for you to disable any startup tasks acquainted with this browser. To start that, you must: 
Click on the

Startup tab

found within the Task Manager. 

Again, search for any Wave browser-related processes and click

Disable

.

To remove any trails of the wave browser from the Windows registry, you must open the

Run

window by pressing the

Windows

and

R keys

. 

When the window opens, type

regedit

and click

OK

. 

Click on

Edit

when the

Registry Editor

window opens, followed by

Find

.

Look for

Wave browser

, and if you find a match, click

Delete

by right-clicking on it. 
Uninstall Wave Browser on macOS
Removing or a simple Wave Browser uninstall from Mac is simpler than Windows. Here's how to get started: 
On your Mac, click on the

Go

tab and then on

Applications

. 

From the drop-down menu, locate the

Wave Browser

and drag it to the

Trash/Bin

. 

Click on

Finder

from the Apple taskbar and click on

Empty Bin

. 
Now, your devices aren't only affected by the Wave Browser virus. You must ensure the Chrome and Firefox browsers you use aren't infected. 
How to Delete Wave Browser From Chrome
It's a fact that the WaveBrowser can take over and install malicious add-ons on Google Chrome without your consent. So, before that happens, here's what you can do for a Wave browser uninstall process: 
Open the Chrome browser and type

chrome://extensions

on the address box. 

Click on the

Wave browser extension

. Next, click on the

Remove

button.

Type

chrome://settings

in Chrome's address box to reset your Chrome browser. This is to ensure there aren't malicious settings done on Wave's behalf.

Click the

Reset and Clean up

tab on the left-side panel.

Click on

Restore settings to their original defaults.

 

That's all. 
How to Delete Wave Browser From Firefox
Type

about:addons

in the Firefox address box.

Search for the Wave browser extension, and when you find it select "Remove" by clicking on the three dots next to it. 

You can reset the settings by typing

about:support

in the Firefox address box.

Click

Refresh Firefox

and then

Confirm

in the upper-right corner. 
How Does the WaveBrowser End up on Your Device?
Firstly, you might've intentionally or unintentionally installed it yourself. The WaveBrowser app looks utterly similar to the Chrome or Firefox browsers. This confuses the user, and you can end up installing it on your device, and the installation could've been done that way. However, the second reason could be that the WaveBrowser might've let its way to your device when you installed other unknown apps. Most third-party apps come with unwanted programs like the WaveBrowser. 
Your computer performs slower than usual or shows signs of malware or a virus if or when your device is infected with the Wave Browser virus. This happens because of its malicious nature. You will see many more unwanted apps or programs on your OS menu when this happens. It's even worse when you don't see them hidden in unobvious folders.
How to Protect Your Device From Wave Browser Intrusions
Now that you know "what is Wave browser" and how to remove its installation on your device, the last step is to ensure your devices and data are protected from future attacks. Here are some tips on how to go about it: 
Install a good VPN and antivirus – not every software can help defend you from Wave Browser malware, but a VPN and antivirus can. Make sure you get the best options to prevent further attacks. FastestVPN is the best affordable VPN that gives you all-around security and malware protection. 
Update your system and software

– another point is that you must always run updates on your device and software. It includes security flaws, vulnerability patches, bugs, and more. This helps prevent malware attacks. 

Don't click on random links

– WaveBrowser has many ads, most vulnerable and susceptible to cyberattacks. When or if you click on these ads, it could spread malware and other intrusions throughout your device. 

Use an Ad-blocker

– an Ad-blocker is something to consider. This helps you prevent clicking on ads if they pop up unexpectedly. FastestVPN comes with an ad-blocker feature that restricts ads from constantly popping up.

Password-protect everything

– not only should you password-protect your devices and social media accounts, emails, etc., but your passwords need to be strong.
What Are the Top 3 Wave Browser Alternatives?
Here's a quick look into the top 3 Wave Browser alternatives:
Mozilla Firefox
With the release of Firefox Quantum, the cherished Firefox browser has surpassed Google Chrome in several performance tests. With a brand-new, powerful engine that offers quick performance, Firefox Quantum has been completely redesigned. 
Therefore, users benefit from quicker and better loading times using less computer memory. Additionally, Firefox addresses memory use, one of the main issues we have with the Google Chrome browser.
Safari
Apple has focused many of its recent efforts on user privacy features, making Safari a haven for people worried about privacy. 
In the first place, Safari preemptively prevents ad trackers from tracking you throughout websites, obstructing their attempts to obtain your browser history. As a result, you won't see any shoe-related adverts for the next several days when searching for shoes on Amazon.
Microsoft Edge
Microsoft has put much effort into Edge to make it feature-rich and resource-efficient. Edge is far more power-efficient and uses much less RAM than Chrome. In addition, Microsoft just included the Bing AI sidebar in Edge, which is undoubtedly one of its most remarkable features.
FAQs - What is Wave Browser?
Is Wave browser safe?
No, the Wave Browser is not entirely safe for your computer. The wave browser app or extension is generally labeled as PUP (potentially unwanted program). It's not typically a virus but a housing ground for them. This web browser is a copycat version of other browsers but is unsafe. It can enter into your computer without your consent and make changes in settings.
Should I remove wave browser?
Yes, you should. The Wave browser is known to be unsafe for many reasons and is said to pose as a hijacker that often regulates several malicious ads. Plus, since the Wave Browser can creep its way on your device without you knowing, that itself is counted as suspicious and unsafe. It tracks and keeps tabs on all your private information and can hack into your devices without your permission. So, yes, if found, it's best that you remove wave browser completely.
Is wave browser illegal?
At first glance, Wave Browser does appear to be an authentic source since it looks like just any other browser. However, unlike browsers like Chrome, Firefox, or Safari, the Wave Browser is unsafe. It's called to be a browser hijacker. In short, it is malicious software that alters all activity over the browser and invades your devices, steals data, or even prompts constant malicious ads.
How do I get rid of Wave Browser on my computer?
In a nutshell, go on your PC and click on the Windows Start button. Type and search for "Apps and Features" followed by "Wave browser." Then click on the three dots on the right side of it and select "Uninstall."
Is Wave browser a virus?
No, the Wave Browser is not a virus but is malicious software that hijacks browsers and spreads viruses and other intrusions on your device. It can create changes on your device even if not authorized.
What is Wave Browser used for?
Wave Browser is just like every other browser that lets you access search engines or the internet. However, it's not similar to browsers like Chrome or Firefox for the sole reason that it is unsafe.
Is Wave Browser a trojan?
Yes, the Wave Browser is a trojan that disguises itself as a regular browser. When installed on your device voluntarily or involuntarily, it tracks your sensitive data and spreads viruses throughout your device. This is why we recommend uninstalling Wave Browser from your device.
How did wave browser get on my computer?
There are two ways that could've happened. Firstly, you might've intentionally downloaded the browser on your PC, assuming it was safe. Alternatively, you might've gotten the software on your computer unknowingly. You may have downloaded third-party apps that already have the Wave Browser attached to them.
Wrapping Up
If you've skipped to the bottom and are still wondering, "What is Wave Browser?" or "Is Wave Browser safe?" or even the removal process – we've highlighted everything in our guide. However, if you accidentally installed the WaveBrowser app on your device, always use an ad-blocker, a VPN, or an antivirus.
Take Control of Your Privacy Today! Unblock websites, access streaming platforms, and bypass ISP monitoring.
Get FastestVPN