Watch Shakur Stevenson vs Miguel Marriaga on Firestick
Watch Shakur Stevenson vs Miguel Marriaga on Firestick
By Johan Curtis No Comments 5 minutes
Join us as Top Rank Boxing returns to the arena on Saturday, 14th March when the "Pride of Brick City" Newark, N.J., Shakur Stevenson fights to defend his WBO Featherweight title against the three-time world champion Miguel Marriaga.
The 22-year-old, Stevenson won 4-0 in 2019, winning against Jessie Cris Rosales, Christopher Diaz, and Alberto Guevara, even Joet Gonzalez until finally; he defeated Oscar Valdez for the featherweight championship.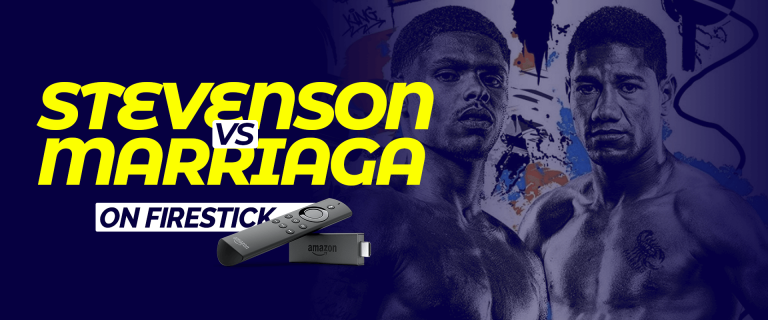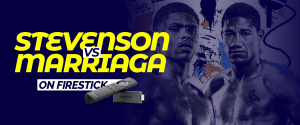 He is clearly the next emerging star and ESPN is backing him fully as the next headliner. Even Top Rank's chairman Arum is pretty excited about the fight himself. "What a great two nights of boxing on ESPN and ESPN+, as we get to see Shakur Stevenson defend his title against the big-punching Marriaga and Mick Conlan continue one of boxing's great traditions."
"This is my fourth fight at Madison Square Garden, but my first as a world champion and it will be my best performance yet. I know all of my East Coast fans will come out and support on March 14." said Stevenson.
Marriaga, one of the best punchers in the division is all set to battle it down with Stevenson for the belt. Even though he doesn't have many wins in the bag, but a ton of experience which we're hoping will come to good use in this fight!
Miguel further says "I always wanted this fight, and the time is right now that he's a world champion, he speaks often about how people are ducking him, but here I am. Colombia will have a new world champion on March 14."
This is sure going to be a thrilling match; we can't wait for it to unfold! Don't miss it, tune into Shakur Stevenson vs Miguel Marriaga. Here's a tutorial on how to watch it on Firestick.
Shakur Stevenson vs Miguel Marriaga Date, Time and Venue
Date: 14th March 2020.
Time: 6 pm GMT
Venue: Hulu Theater at Madison Square Garden in New York, New York, USA.
Watch Shakur Stevenson vs Miguel Marriaga on Firestick
As the date of the fight creeps closer tickets are being sold pretty quickly with prices as high as $200. Now if you're like the rest of us and would rather spend in a budget, then you're best option is to stream the match online through Firestick!
Firestick has multiple applications that you can select and download by your choice and watch whatever your heart desires. For this match, in particular, the broadcasting rights have been given to ESPN where the match will air live on cable and online.
You can view the fight online on ESPN+ all you have to do is get a subscription for a small fee of $4.99 per month and gain access to their entire library of content.
However, the problem which arises with ESPN+ is that it is only available in certain regions and not internationally. So in case, you are not from the United States or any of the specified regions, you will be unable to access ESPN+ unless you have access to an effective VPN. A VPN will help you surpass the geo-restrictions by masking your location from the ISP.
Selecting a good VPN is vital in order for the best experience, and what better VPN than FastestVPN, with its numerous servers- all you have to do is subscribe to FastestVPN and connect to any USA server in order to start live streaming!
Here's a step by step tutorial on how to subscribe to FastestVPN and how you can watch the match on Firestick:
Subscribe FastestVPN
Install FastestVPN app for FireStick
Open FastestVPN and get connected to the USA server
Go to ESPN.com and search for ESPN+
Open ESPN+
Subscribe to the service and watch Shakur Stevenson vs Miguel Marriaga.
Fight Records
Shakur Stevenson
Weight(s): Featherweight
Height: 5 ft 8 in (173 cm)
Nationality: American
Born: June 28, 1997 (age 22) Newark, New Jersey, U.S.
Boxing record
Total fights: 13
Wins: 13
Wins by KO: 7
Losses: 0
Miguel Marriaga
Weight(s): Featherweight, Super featherweight
Height: 173 cm (5 ft 8 in)
Reach: 170 cm (67 in)
Nationality: Colombian
Born: 31 October 1986 (age 33) Arjona, Bolívar, Colombia
Stance: Orthodox
Boxing record
Total fights: 32
Wins: 29
Wins by KO: 25
Losses: 3
Conclusion
We can't wait for the day of the fight to arrive, neither can the audience. Anticipation levels are rising quickly and the predictions have begun! Who will win this match? What will happen in the first few rounds? Our fans and experts have started their predictions and are already certain of who will win and who won't.
The odds are in Marriaga's favor by 5/1 and Stevenson at 1/7. Our critiques are saying that Stevenson currently is in not in too good of shape to beat Marriaga. After all, Marriaga is known as the best puncher in the division. However, these are just our guesses, who will win that can only be told with time.
Don't forget to catch Shakur Stevenson vs Miguel Marriaga on Firestick, and remember to be subscribed to FastestVPN in order to bypass any geo-restrictions!
Take Control of Your Privacy Today!
Unblock websites, access streaming platforms, and bypass ISP monitoring.
Get FastestVPN