Watch Vasiliy Lomachenko vs Teofimo Lopez on Firestick
Watch Vasiliy Lomachenko vs Teofimo Lopez on Firestick
By Johan Curtis No Comments 5 minutes
Are you ready for the most exhilarating matches of the season? Top Rank has finally come to the public with news of one of the biggest and most awaited fights; Vasiliy Lomachenko vs Teofimo Lopez!
Due to the global pandemic and the coronavirus situation, the fight kept on being delayed but Bob Arum has finally locked down a date and a venue for the match. "Lomachenko-Lopez is the best fight that can be made in boxing, and we are delighted that it will be available to fans for no extra charge live on ESPN," Top Rank chairman Bob Arum stated.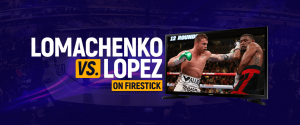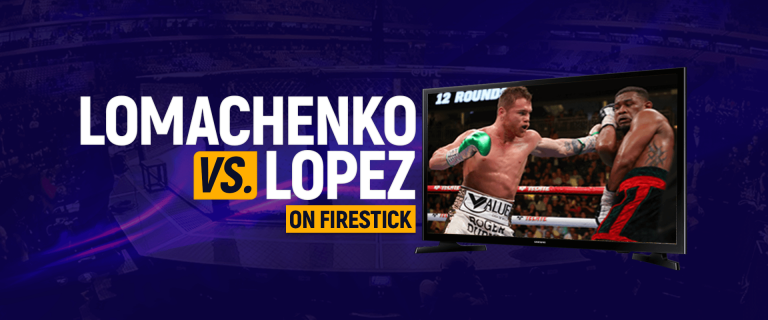 With Lomachenko and Lopez's rivalry, this match is bound to be packed with entertainment! Teofimo has already made it clear that he respects Lomachenko's ambition to fight however, he has no real respect for his opponent otherwise.
"Him and I both are going for the glory, we're trying to make a legacy, trying to build our legacy, and we hang up the gloves, we want to be satisfied that we left our footprints in this world, that's all I can take my hat off to him about, but when it comes to us being in the ring, I don't like him, he doesn't like me, and I don't respect him. I'm sorry, I don't respect him. That's just what it comes to. I'm a hungry fighter, he's a hungry fighter as well, and it's going to be a great fight. But I'm younger, I'm smarter, and we're going to see on Oct. 17."
Lomachenko was quick to respond and handled Teofimo like a true professional, he didn't seem to care what Lopez had to say about him. He chose to stay calm and stated that they can only find out who's best and who's not in the octagon.
"Teofimo Lopez can talk all he wants. He's very good at talking. He has done nothing but says my name for the past two years. I am a fighter, and my goal is to win another world title. Good for Teofimo. When we fight in Las Vegas, he will eat my punches and his words. I will be the better man, and four world titles will come home with me to Ukraine."
You wouldn't want to miss this, now you can stream the Vasiliy Lomachenko vs Teofimo Lopez on Firestick. Keep reading for more.

Vasiliy Lomachenko vs Teofimo Lopez Date, Time and Venue
Date: 17th October 2020
Time: 10:00 p.m. ET
Venue: MGM Grand in Las Vegas, Nevada, USA.
How to Watch Vasiliy Lomachenko vs Teofimo on Firestick
With the Covid-19 global pandemic barely improving, we've been forced to embrace this new normal where almost every other match planned is being executed behind closed doors. In other words, even though the match will take place at MGM Grand in Vegas, no people will be allowed to come to watch the match physically.
However, as Bob Arum mentioned, he is happy about the fact that the match will be aired live from ESPN instead of it being a pay per view match; this means that it will cause the audience way less than normal pay per view fights and might even be able to raise a large online crowd.
The people can just stream it live online through ESPN or ESPN+. All you have to do is subscribe to ESPN+, choose a pricing plan, and log into your account on the day of the match! We believe, ESPN+ is truly a great purchase, with its vast media library and considerably cheap prices, you're in for a bargain!
Normally ESPN+ costs you $4.99 per month, or you could choose to subscribe at $49.99 per year. Moreover, they even have a bundle where you could subscribe to ESPN+, Disney Plus, and Hulu for $12.99 per month.
Although, there is one major drawback when it comes to ESPN+; if you are an international viewer ESPN+ is probably unavailable in your location because of the geo-restrictions they apply. This means that it is only available in selected regions and not worldwide; to surpass such geo-restriction, you will need a VPN.
A VPN such as FastestVPN will mask your identity online and disguise your IP address as one which matches the ESPN+'s requirements, it will make you seem like a user streaming from within the USA. Moreover, FastestVPN also promises to provide you with the very best of privacy and security services!
Here is a step by step tutorial on where to watch the match on Firestick:
How to Watch Vasiliy Lomachenko vs Teofimo Lopez on Firestick
Subscribe FastestVPN
Install FastestVPN app for Firestick
Open FastestVPN and get connected to the USA server
Go to ESPN.com and search for ESPN+
Open ESPN+
Subscribe to the service and watch Vasiliy Lomachenko vs Teofimo Lopez
Fight Records
Vasiliy Lomachenko
Nickname(s): The Matrix, Hi-Tech, Loma
Weight(s): Featherweight, Super-featherweight, Lightweight
Height: 5 ft 7 in (170 cm)
Reach: 65 1⁄2 in (166 cm)
Nationality: Ukrainian
Real Name: Vasyl Anatoliyovych Lomachenko
Born: 17 February 1988 (age 32) Bilhorod-Dnistrovskyi, Ukrainian SSR, Soviet Union
Stance: Southpaw
Boxing record
Total fights: 15
Wins: 14
Wins by KO: 10
Losses: 1
Teofimo Lopez
Real name: Teófimo Andrés López Rivera
Weight(s): Lightweight
Height: 5 ft 8 in (173 cm)
Reach: 68 1⁄2 in (174 cm)
Nationality: American
Born: July 30, 1997 (age 23) Brooklyn, New York, U.S.
Stance: Orthodox
Boxing record
Total fights: 15
Wins: 15
Wins by KO: 12
Losses: 0
Conclusion
We simply cannot wait to watch this fight unfold, not only us but the management seems just as excited! Bob Arum, Top Rank chairman, termed this fight a 'modern boxing classic.'
"Teofimo and Vasiliy demanded the fight, and we are glad we could make it happen. Vasiliy has never backed down from a challenge since he turned pro under the Top Rank banner, and Teofimo is a fearless young champion daring to be great. This has all the makings of a modern boxing classic."

Take Control of Your Privacy Today!
Unblock websites, access streaming platforms, and bypass ISP monitoring.
Get FastestVPN