Watch Anthony Joshua vs Kubrat Pulev on FireStick
Watch Anthony Joshua vs Kubrat Pulev on FireStick
By Johan Curtis No Comments 5 minutes
On 2nd March, Matchroom's Eddie Hearn and Top Rank's Bob Arum declared that the match between Anthony Joshua and Kubrat Pulev had been fixed and was set to take place on the 20th of June, at the Tottenham Hotspur Stadium in London.
This would've been the first-ever boxing match in the Tottenham Stadium as they normally host football league matches, NFL, etc; this was surely going to be an event that one could not forget.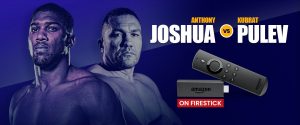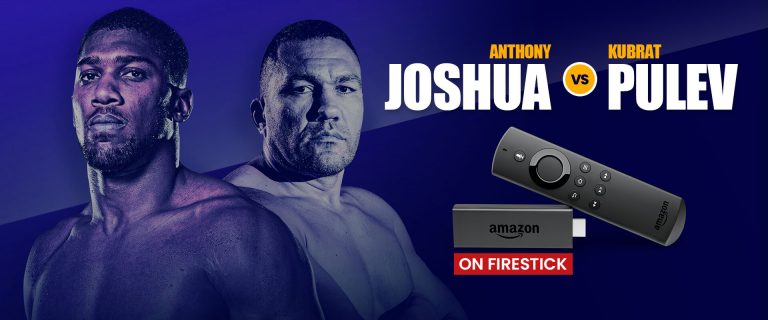 Similarly, the match held high importance for Joshua as well since the Brit would be performing in his hometown after two years, with his last match being the victorious bout against Alexander at Wembley in September 2018.
AJ is all set to face the mandatory IBF challenger Pulev, he claims that this match will make history and he will emerge victorious, once again, with all his belts.
However, a setback that they had to come across was the rescheduling of the fight. On 3rd April, the management announced that the match had to be postponed from 20th June due to the Covid-19 pandemic.

Will The Fight Take Place?
The short answer is, YES!
Eddie Hearn, however, is determined to make this match happen. He has said that no matter what it takes he will get this fight to take place, their initial target was to have the match at the same venue, although, they were looking at other possibilities such as Croatia, Middle East etc. Now, it is set in England!
Similarly, a tentative date of 25th July was floating around but now it is on the 12th of Dec. "We do have a date of July 25 held at Spurs as well, which is more realistic. It is five weeks after June 20. But we haven't gone on sale with that, we haven't made an official announcement in terms of seat details and on-sale dates, so we have got less pressure on that."
Pulev seems to agree with what Hearn has to say. He believes that the match must go on, and there is no harm in fighting without an audience.
"I'm ready for June 20, July 25, whenever they say," Pulev said. "You see, what the situation is, the whole world must adjust to it. There's no problem (if the fight is) to be without spectators. Everyone would be at home; they can pay-per-view, so I don't see any problem financially. The show could be lost a bit without fans, but it can still happen. After all, it's a world championship, which must take place."
If you're looking to watch the match live, then look no further because now you can watch Anthony Joshua vs Kubrat Pulev on FireStick!
Watch Anthony Joshua vs Kubrat Pulev Date, Time and Venue
Eddie Hearn is in hopes to be able to sell tickets at a fraction of the venue's capacity of 20,000. However, All of this is reliant on Covid-19 and the guidelines placed due to it.
Date: 12th December 2020
Time: 10 p.m. ET
Venue: The O2, London, United Kingdom
How to Watch Anthony Joshua vs Kubrat Pulev on FireStick
This year the broadcasting rights for the fight have been given to Sky Sports. The match will be aired live from the official Sky Sports website, in order to gain access to the fight all you have to do is subscribe to Sky Sports.
Just visit their website and click on Get Sky Sports. You can avail a subscription for a low fee of £30 per month, with the option to customize your package by adding more to it, such as add Sky Entertainment for £55/month, or subscribe to the complete Sky Sports package for £40.
We for one think this is a great deal, given that you will be granted access to Sky Sports vast media library and can watch whatever you want, whenever you want right from your homes.
The only problem that you are most likely to face is a location block. Sky Sports is geo-restricted which means that it is only available in the UK and other selected regions. In order to get past this restriction, it is essential for you to download a VPN.
A VPN such as FastestVPN is the right choice, with its multiple international servers and guaranteed protection; it ensures immediate access to any and all blocked websites. All you have to do is subscribe to FastestVPN and begin streaming!
Here's a step by step guide on how to subscribe to FastestVPN and watch the match on FireStick.
How to Watch Anthony Joshua vs Kubrat Pulev on FireStick
Subscribe FastestVPN
Install FastestVPN app for FireStick
Open FastestVPN and get connected to the UK server
Go to skysports.com and click on Get Sky Sports
Subscribe to the service and watch Anthony Joshua vs Kubrat Pulev
Fight Records
Anthony Joshua
Real name: Anthony Oluwafemi Olaseni Joshua
Nickname(s): AJ
Weight(s): Heavyweight
Height: 6 ft 6 in (198 cm)
Reach: 82 in (208 cm)
Nationality: British
Born: 15 October 1989 (age 30) Watford, Hertfordshire, England
Stance: Orthodox
Boxing record
Total fights: 24
Wins: 23
Wins by KO: 21
Losses: 1
Kubrat Pulev
Real name: Kubrat Venkov Pulev
Nickname(s): Kobrata ("The Cobra")
Weight(s): Heavyweight
Height: 1.94 m (6 ft 4 in)
Reach: 202 cm (80 in)
Nationality: Bulgarian
Born: 4 May 1981 (age 39) Sofia, Republic of Bulgaria
Stance: Orthodox
Boxing record
Total fights: 29
Wins: 28
Wins by KO: 14
Losses: 1
Conclusion
This may be a tough time, and we understand that not all of us have been able to go out and do the things we like such as being able to watch Anthony vs Kubrat live from the stadium.
Don't worry though, we're in this together! Whether you go watch the match live or not, we have a solution ready for you. So don't forget to tune in and watch Anthony Joshua vs Kubrat Pulev live on FireStick.
More importantly, make sure to subscribe to FastestVPN in order to bypass any blockades.

Take Control of Your Privacy Today!
Unblock websites, access streaming platforms, and bypass ISP monitoring.
Get FastestVPN