Watch Ryan Garcia vs Luke Campbell on Smart TV
Watch Ryan Garcia vs Luke Campbell on Smart TV
By Johan Curtis No Comments 6 minutes
The year 2021 is off to a great start with one of the most exciting matches of the season lined up on 2nd January! Fans will finally get to witness Ryan Garcia and Luke Campbell compete for the WBC interim lightweight championship at the American Airlines Center in Dallas.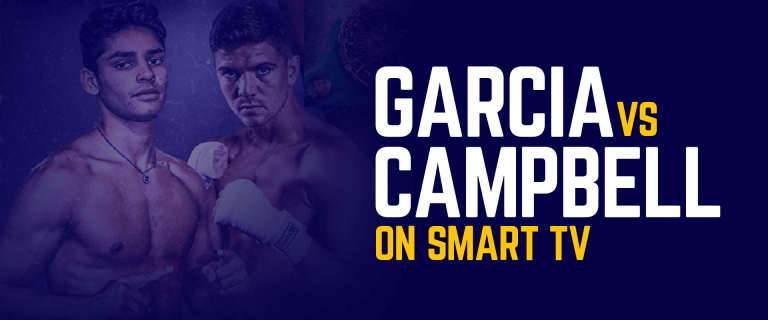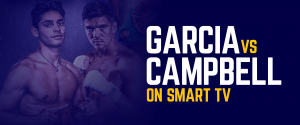 Both players have been preparing exceptionally hard for the fight and are ready to face whatever comes their way. Even though Garcia was originally set to fight Linares, but Linares was unable to reach the Untied States due to the COVID-19 travel restrictions and Campbell was chosen as a replacement.
The fight was then further pushed to 2nd January from 5th December since Campbell tested positive for corona. However, Garcia did not let that phase him; he says no matter what the time, he's ready to defeat Campbell. "They really haven't affected me," Garcia said of the date and opponent change. "I've been training hard. If anything, it's making me a little stronger. Luke Campbell, it's inevitable for him. He's just going to his ass whooped. Whether it be Dec. 5 or Jan. 2, his fate is the same."
He made it clear that he's not intimated by Luke Campbell or his prior experience, he believes that he is in excellent shape and his skills are much better than Campbell's. "I don't even know what they are talking about," Garcia said. "What experience does he have? Every time he stepped up, he lost. He even lost to a guy we never heard of. Whose Yvan Mendy? He talks a lot about me and saying he's going to KO me. But to be honest, anytime a guy who shouldn't have been in the ring with me, I got him out of there quick.

Campbell Says Garcia is Just Some Other Kid
Moreover, Ryan Garcia's opponent, Luke Campbell, fires back and in an interview with ESPN, he mentioned how Garcia just some other kid with a lot of followers on social media which is why he keeps posting such content, to keep them entertained.
"I don't know a lot about him except that he's got a huge profile on social media, a hell of a lot of followers," Campbell told ESPN. "When you have that number of followers, you have to keep them interested with stuff, videos. For me, I prefer to just live my life. I've not followed his career. I've had no reason to."
If you wish to watch Ryan Garcia vs Luke Campbell, you can now stream the event live from your Smart TV, here's how:
Ryan Garcia vs Luke Campbell Date, Time, and Venue
Date: 2nd January 2021
Time: 6 p.m. ET
Venue: American Airlines Center in Dallas, Texas, United States of America.
How to Watch Ryan Garcia vs Luke Campbell on Smart TV
Recently, Dallas has been opening up its arenas and allowing public gatherings, however, in limited or restricted numbers to follow COVID-19 guidelines and ensure social distancing. The good news, though, is that some of you may be able to go watch the match live from the American Airlines Center!
However, for those of you who are not in Dallas or simply cannot go watch the match, there's no need to fret. You can always stream the fight live online on DAZN! The process is simple, all you need is a DAZN subscription to view the event live online.
Just open the DAZN website and click on subscribe to purchase a subscription package. Buying DAZN is very easy, and comparatively inexpensive compared to the amount of content they provide you with. In the United States, a monthly subscription costs $19.99, and an annual subscription costs $99.99.
Moreover, DAZN is also available in Canada, and a monthly subscription costs $20 CAD, and an annual subscription costs $150 CAD, and Canadian users can also avail a 30-day free trial.
The only problem that some of you may face is that DAZN is unavailable in your region or that you are unable to access the website. This is because DAZN uses geo-restrictions and it is only available in certain regions and cannot be accessed worldwide.
To get through such location blocks you will need a VPN. A VPN will hide your IP address and provide you with a temporary one which will match the website's requirements. An effective VPN like FastestVPN will not only unblock all location restricted websites for you, but it will also provide you with an additional layer of security and privacy by making sure that your activity online remains anonymous and untraceable throughout your session!
Here's a step-by-step guide on how to watch the match on Smart TV:
Subscribe to FastestVPN
Download FastestVPN app (for Android TV only)
Setup FastestVPN with your Router using US IP address
Connect your Smart TV to Router
Open the browser and search for the DAZN website
Or open an installed app for your Smart TV.
Search and click at live Ryan Garcia vs Luke Campbell and watch the show.
Fight Records
Ryan Garcia
Nickname(s): The Flash, KingRy
Weight(s): Super featherweight, Lightweight
Height: 5 ft 10 in (178 cm)
Reach: 70 in (178 cm)
Nationality: American
Born: August 8, 1998 (age 22) Victorville, California, U.S.
Stance: Orthodox
Boxing record
Total fights: 20
Wins: 20
Wins by KO: 17
Losses: 0
Luke Campbell
Nickname(s): Cool Hand
Weight(s): Lightweight
Height: 5 ft 9 in (175 cm)
Reach: 71 in (180 cm)
Nationality: British
Born: 27 September 1987 (age 33) Hull, East Yorkshire, England
Stance: Southpaw
Boxing record
Total fights: 23
Wins: 20
Wins by KO: 16
Losses: 3
Conclusion
Start your new year with watching one of the most exhilarating fights of the season; Ryan Garcia vs Luke Campbell is going to keep you on your toes! With both fighters having a stellar record and outstanding training, it is hard to say who has the upper hand and who doesn't.
Critics also seem conflicted, while Matchroom Boxing's, Eddie Hearn, believes Luke Campbell will outperform Ryan Garcia due to his upper hand in experience, Timothy Bradley believes that Ryan Garcia will outshine Campbell because he's bigger, stronger, younger, and faster!
So, don't forget to tune into Ryan Garcia vs Luke Campbell on your Smart TV and make sure to subscribe to FastestVPN to get immediate access to DAZN!

Take Control of Your Privacy Today!
Unblock websites, access streaming platforms, and bypass ISP monitoring.
Get FastestVPN