The Role of VPNs in Modern Online Games
The Role of VPNs in Modern Online Games
By Nancy William No Comments 5 minutes
Online games play a key and integral role in the entire gaming industry. However, some projects have strong regional restrictions due to the political or cultural situation. To get around various territorial restrictions and fully enjoy the gameplay, you can use VPN.
VPN is a virtual change, or hiding of the IP address, which gives out your location and in fact provides the server with information on which it is decided whether to grant you access to content or not.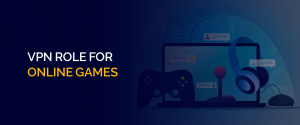 Thanks to VPN, you can artificially change the place from which you log in and gain access to the desired application or service with security.
VPN applications for Security Over Gaming Platforms
Skycoach is a popular service for providing various services to gamers. Leveling, boosting, coaching, and selling game currency in all popular online games.
For example, when ordering a boosting service from professional Skycoach players, you need to transfer your game account to the performer in order to complete the order. By transferring your data to other people, you are always at risk, even if Skycoach guarantees the safety of account data and works only with verified players, there is still a risk and VPN provides additional protection against external data interception and other troubles by simply hiding the entry point.
Additionally, VPN reduces the risk of getting banned for ordering a service that contradicts the policy of the developer company by masking the place where you logged into your account.
Using a VPN solves several problems at once, both in terms of security and gaining access if your country has restrictions on content for any political or cultural reason
What you need to know about VPN
A VPN usually comes both paid and free, however, free VPNs are not the best option. It is easy to guess that since a large number of users use servers with free VPN, the speed will be significantly reduced so that the servers can cope with the influx of people who want to get VPN.
Free VPNs may not have a standard of protection and encryption, and in fact, all the data that you transfer through them can fall into the hands of attackers. This applies primarily not to social network accounts, but to banking data and full information about the card used, including three important numbers on the back of the card, so be careful.
An important role is also played by the country, on behalf of which the VPN provides access. The free rate will offer only one option for Europe, one for Asia, and one for the Americas. For Europe, this is most often the Netherlands.
If your physical place of residence is far from the proposed version of the VPN server, then the speed will be cut further, and if this is enough to access the social network, then you can forget about serious activities like watching movies or playing various online projects.
It's always a wise decision to go for VPNs that are premium and that offer the best benefits. Right now, FastestVPN is not only affordable, but it offers industry-leading features and high-end performance.
Moreover, most popular VPN providers offer their paid services at minimal prices and even give additional discounts on them.
By choosing a paid rate in VPN, you will receive a huge selection of countries to use a hidden connection on their behalf, and if your country has restrictions, and you cannot receive the desired content, then simply switch to a neighboring country to maintain the overall speed, but at the same time receive a hidden and a secure IP address that will be cached and encrypted from potential intruders.
The use of VPN in mobile gaming
Some projects for mobile platforms, such as Hustle Castle, have an interesting feature – in some countries they work much better with VPN than without it.
The solution is quite simple – you need to download the VPN application – choose a tariff that suits you, or stay on the free version, start the game and go through the launch stage.
This often helps to skip long download steps if the developer imposes a download limit for players from different countries.
VPN when surfing the Internet
Do not underestimate the information collected on the Internet. Many large companies secretly collect all information about users.
Of course, the main data concerns only information for sale, and search for contextual advertising, but there may be more serious leaks, especially financial and intimate data.
To protect yourself and your monitoring on the Internet, it is better to use VPN. A VPN allows you to hide the history of searches and visits to sites and ensure complete anonymity.
Of the minuses – there will be no traces of your monitoring in the browser database and cache, and you will not be able to save your session, but you can also resort to VPN if necessary to protect the most important searches and surfing.
Frequently Asked Questions 
How does VPN work?
Between the user's computer and the server, there is an intermediary in the form of a VPN that receives data and converts it to the desired format. In our case, it changes the IP address and assigns the desired country. The quality of the connection depends on the physical location of the broker server.
Does VPN help in online games?
Yes, especially if the player contacts RMT and works with services providing various ancillary services, or periodically transfers the account to friends. The gaming administration may impose sanctions if the IP address is constantly changed. With VPN, such actions remain untraceable by administrations and data collection.
Is VPN safe?
Absolutely, if you choose a trusted service provider, with good secure servers. FastestVPN is not just one of the most secure, but it is also the most affordable VPN for gaming. 
Take Control of Your Privacy Today!
Unblock websites, access streaming platforms, and bypass ISP monitoring.
Get FastestVPN