VPN in Gaming and Gambling – Elevating Online Security
VPN in Gaming and Gambling – Elevating Online Security
By Janne Smith No Comments 4 minutes
While people explore the best VPN in gaming and gambling, numerous options exist to filter out the best one. This exhilarating popularity of  VPNs comes from the benefits they offer. It's the ultimate solution for all, from online anonymity to dodging digital security threats. In addition, VPNs are a gambler's best bet when disguising their original location, i.e., a player can join their preferred casino location through a unique IP address.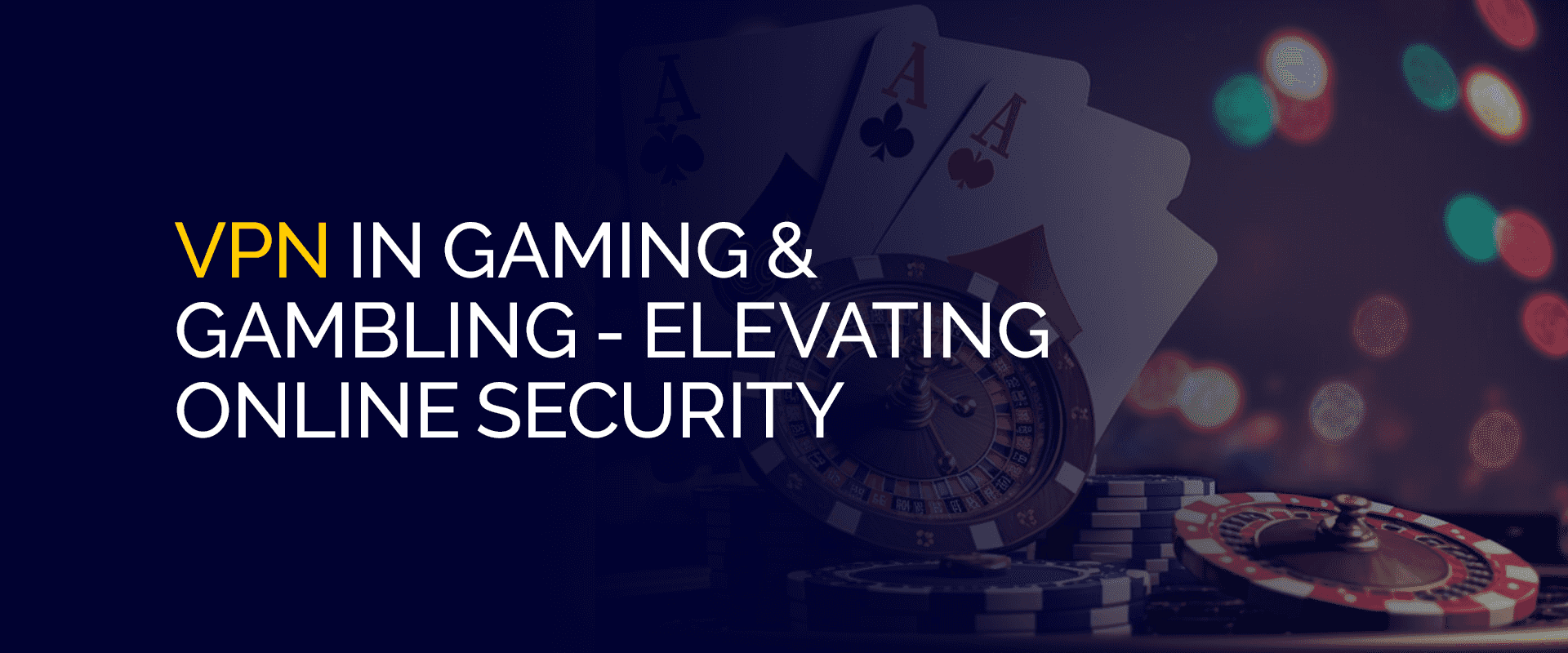 But that's only a glimpse of a VPN's benefits – there's an entire trail sitting unexplored! To learn about it all, let's delve into the perks and downsides of using the best VPN for gambling.
What Are the Benefits of Using VPN in Gaming and Gambling?
Here are the perks of using a VPN for gaming:
1. Enables Accessing the Geo-Restricted Casinos
One major limitation to gambling at any casino you choose is that they may not be licensed to be operational in your country of residence. For example, it is commonplace to find that UK casinos are inaccessible to players from African countries.
By using a VPN in Gaming and Gambling, such players can bypass the system and enjoy some of the top-rated casinos' packages.
2. Allows Multiple Account Creation
With VPN, users can create identities by registering from different locations and using different signup credentials. Why would someone want to create a different betting account? One of the most common reasons many players do so is to take advantage of the attractive bonus offers available at different casinos.
3. Allows Access to Specific Promotions
Some casinos are accessible to many countries with promotions specific to players from certain countries. Suppose you are a resident of one of those countries. In that case, you cannot enjoy such offers, and you are only limited to enjoying the gaming services.
However, with a VPN, you get to maximize the gains of a casino to its full potential, especially if it is an offshore casino.
What Are the Disadvantages of Using a VPN?
There are a lot of disadvantages associated with using VPN for gambling. In this section, we will discuss some of the main ones.
1. Top UK Casinos Can Easily Detect Users Using VPN
About 76% of UK casinos are incompatible with VPN use for safety reasons dictated by the UKGC. Using software like that when a bonus is active means losing the bonus funds. This is especially disadvantageous when activating rare casino bonuses. Taking the case of rare live casino bonuses discussed by kingcasinobonus.
UK, 1 in 45 promotions are tailored to live dealer games, so losing it would decrease your chances of making wagers and might even suspend your account.
2. Account Suspension
Players using VPN in gaming and gambling platforms stand a higher risk of account suspension. With the use of superior technology to detect players accessing with VPN, it is not surprising that they take drastic measures by banning the account immediately.
The suspension could be associated with their use of VPN and abusing some of the bonuses offered by the VPN. The casino may even go as far as banning the user from ever opening another account.
3. Inability to Make a Withdrawal
These days, many casinos make the registration process very easy. So, it is unsurprising that many casinos get away with registering an account using fake addresses, names, and other details. However, a significant challenge is verifying identity, which is mandatory for many casinos (especially UK casinos) when trying to withdraw.
In this case, the casino will require you to provide IDs and documentation to prove that you are a citizen, live in that location, and sometimes want to verify your banking details. This can't be bypassed since these are documents you can access only if you are in that location.
This could further cause you to lose money from betting on that account.
Is it Worth it to use a VPN to Gamble?
No. While there are some advantages to using VPN in gaming and gambling, the cons outweigh the pros. VPN makes you vulnerable to losses, which you can't appeal to because you are not within your rights to do so, making it a worthless venture. What's the point of accessing a casino when you can't make a withdrawal?
We highly recommend you stick to legalized casinos to be operational in your jurisdiction, as you are more protected and enjoy hassle-free gambling.
Wrapping Up
Even though a VPN can pave the path to illegal casinos, numerous opportunities, and your chance to leverage the top-tier geo-restricted casinos – a VPN might only sometimes be the legal option. However, it's best to use a VPN to reach geographically unavailable casinos or bypass online security threats.
Take Control of Your Privacy Today!
Unblock websites, access streaming platforms, and bypass ISP monitoring.
Get FastestVPN