All You Need To Know About SASE vs VPN
All You Need To Know About SASE vs VPN
By Nick Anderson No Comments 6 minutes
SASE is a term that's gaining popularity, especially after the COVID-19 pandemic that pushed people to work from home. Companies are relying on technologies such as a VPN to let employees connect remotely and access the resources that they relied on for production. But with time, modern technologies may not be enough, and that's where SASE comes in. Allow us to explain how companies are leveraging SASE to improve remote access without compromising on security.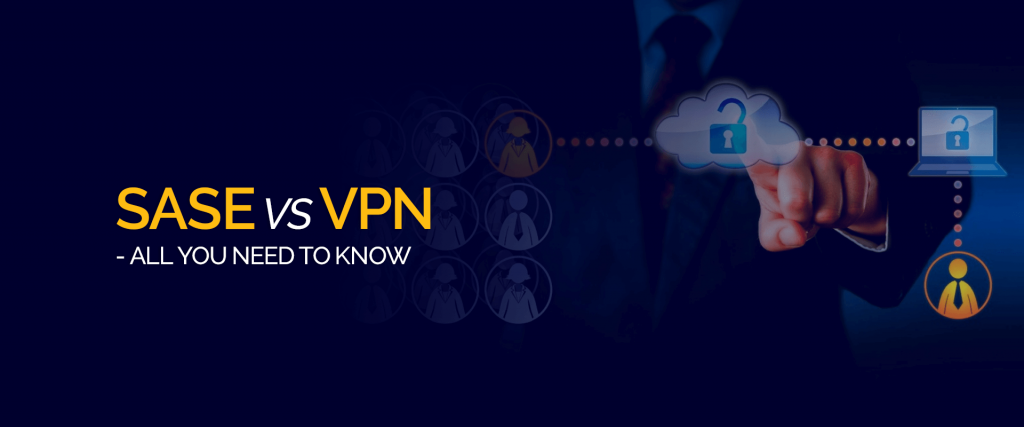 Remote Access is the Need of the Hour
The transition from doing everything natively to using the cloud to get things done is thanks to the explosion of cloud services in recent years. Companies no longer have to spend a fortune on developing infrastructure to facilitate production at work. Cloud services have leveraged the opportunity of providing companies with computing resources that they can access at any time from anywhere in the world.
Working on the cloud opens the flexibility of connecting different platforms for cross-functionality.
Remote work was the need of the hour when the COVID-19 pandemic hit the world. As people distanced themselves and businesses, schools, and just about every other organization mandated a work-from-home policy. It meant that people were relying on remote technologies such as a VPN more than ever. Businesses needed a way for employees to access the resources they had on the premises or on the cloud.  However, if you're wondering what is a VPN used for in business, it provides a secure way for employees to access the resources as if they were at the office.
But with the convergence of demands of work from home and growing reliance on cloud services, businesses needed something that speeds up remote access while maintaining the security that is essential to keep confidentiality and threats at bay.
What is SASE?
Secure Access Service Edge (SASE) brings security frameworks such as Zero-Trust Network Architecture (ZTNA) and SD-WAN together.  The term was conceptualized by Gartner, who believed there would be a need for this kind of software-defined, context-based, security-in-the-cloud approach. The idea is to combine internal networks and resources and cloud services.
Traditionally, any time someone wants to connect to a company's resources, it will be through the company's network and then out to the internet. It presents a bottleneck for performance. The client would need to connect to the company's network to access the services hosted on the internet. But SASE changes that by bringing processing closer to the user's geographical location.
What Does SASE Include?
SASE is a combination of different technologies that form the basis of SASE's network architecture. It adopts a multi-vendor approach, allowing two different services to be integrated together.
SASE includes several components that make up its framework. It is platform-agnostic, which means that technologies can have interoperability without conflict, and businesses can scale the infrastructure accordingly. It includes the capabilities of SD-WAN with security services, such as:
Software as a service (SaaS)
Firewall as a service (FaaS)
Zero-trust network access (ZTNA)
Cloud access security brokers (CASB)
Secure Web Gateway (SWG)
How Is SASE Different?
The traditional network relies on a strict data path and policies that are no longer feasible in the SaaS (Software-As-A-Solution) revolution. As computing is moving to the cloud and workforces are distributed globally, traditional networking presents a bottleneck in terms of performance. It makes no sense to have a user connect to a central data center.
SASE integrates different technologies and security policies without forcing the users to connect to a central location before accessing the internet. Organizations can set the policies for individual users and the SASE framework will handle the rest by processing data at the network edge closest to the user.
Instead of restricting access based on IP address or location, SASE allows administrators to set policies based on user and device.  The zero-trust policies ensure that only authorized users are able to access specific resources such as applications and groups of a corporate network, all while ensuring performance and security.
Does SASE Make VPNs Obsolete?
A Virtual Private Network (VPN) allows users to connect to a central server and access an organization's network remotely from anywhere in the world. An employee residing in a different country cannot access a company's local network because the IP address is foreign and not recognized. A VPN creates an encrypted virtual link between a client and a VPN server.
All internet traffic must pass through the VPN server, which then reroutes the data to its destination. VPNs have been in use for two decades now, allowing remote connections to existing networks over the internet.
But VPN is limited in its scope and functionality; SASE is much more robust. Compared to VPN, SASE delivers a real-time context-based approach that also delivers lower latency. Since the COVID-19 pandemic, companies have been hard at work to facilitate the growing numbers in remote work, ensuring that bottlenecks do not hinder access to resources. From a security point of view, SASE also incorporates ZTNA and FaaS, which is important because remote employees don't have the same level of security.
When it comes to performance, SASE pushes internet traffic to the nearest edge from the user. Whereas, a VPN must always send data to a central server which could be located too far from the user's location, before going to the internet.
However, a VPN is not by any means an obsolete solution. A VPN is an ideal solution for consumers who simply want to hide their web activity or access streaming services. It does not require expertise to set up and maintain. FastestVPN makes it simple to connect to the internet anonymously; download the app and connect to a VPN server – it's that easy. Moreover, the cost of using a remote VPN service to access the web is significantly lower than SASE.
Conclusion
SASE is a reminder of how technologies are shaped by the need of the hour. A decade ago, most companies invested in expensive on-premise solutions that were difficult to scale. But the advent of cloud-based solutions has introduced philosophies like SASE that put security, performance, and scalability at the forefront.

Take Control of Your Privacy Today!
Unblock websites, access streaming platforms, and bypass ISP monitoring.
Get FastestVPN