Nude AI & Photoshop Crimes Are Growing Tenfold!
Nude AI & Photoshop Crimes Are Growing Tenfold!
By Nancy William No Comments 6 minutes
AI generator apps and Photoshop technology is growing at an increasingly rapid pace. You could call it the godfather of editing images and twisting real pictures into modified versions, even explicitly. The Photoshop culture is now the leading advertising market and has been around for almost 30 years. However, sadly many AI and Photoshop apps are now free to access even for the general public. For this reason, nude AI & Photoshop crimes are increasing.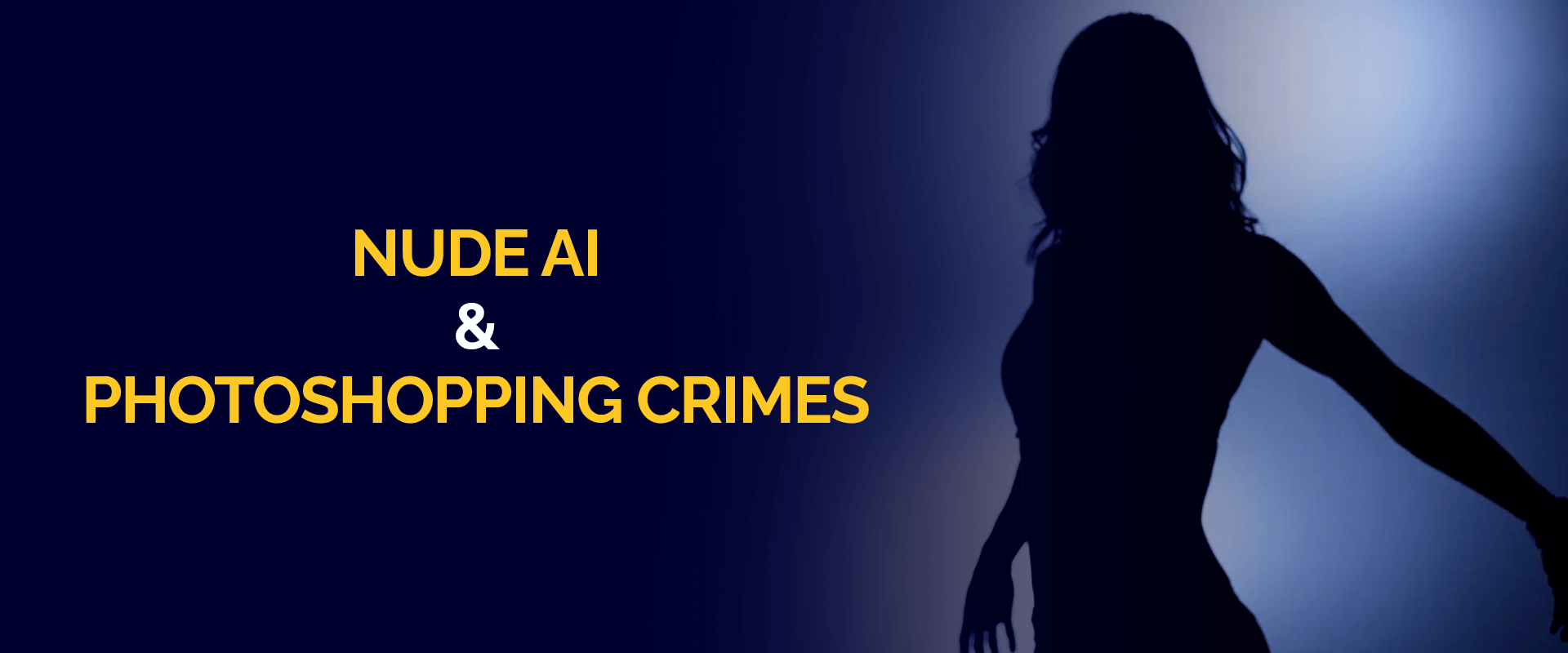 Most of the images you see online are just highly edited versions of the actual shot, and the sad part is that the edited images are incredibly believable. So, what happens when someone steals your photo and photoshops it into nude images? 
Abobe (For Real?) Forbids the Use of Photoshop for Nudity or Sexual Content
It's been under notice that Adobe's last updates for 2023 included heavy but rightfully structured user guidelines regarding how the service can be used. In its legal license terms and conditions, there were several rules on how anyone can utilize the service. They stated: 
Do not use Adobe's generative AI features to attempt to create, upload, or share abusive, illegal, or confidential content. This includes, but is not limited to, the following:

Pornographic material or explicit nudity

Hateful or highly offensive content that attacks or dehumanizes a group based on race, ethnicity, national origin, religion, serious disease or disability, gender, age, or

sexual orientation

Graphic violence or gore

The promotion, glorification, or threats of violence

Illegal activities or goods

Self-harm or the promotion of self-harm

Depictions of nude minors or minors in a sexual manner

Promotion of terrorism or violent extremism

Dissemination of misleading, fraudulent, or deceptive content that could lead to real-world harm

Personal or private information of others (like full name, home address, phone number, email address, government-issued IDs, or any other information relating to an identifiable individual)

 Please note that we may report any material exploiting minors to the National Center for Missing & Exploited Children (NCMEC).
However, no one is completely sure whether Adobe's guidelines detect all explicit content created with their service. Although these guidelines are taken into account and action, there are still more and more AI apps cropping out in the market that is easy to get your hands on, and that is extremely disturbing. 
What Do You Do if Someone Modifies or Photoshops Nudity into Your Pictures?
Right now, there are over 50 AI nude generators, some of which are free to use, and that's the plain and scary truth. One of the most commonly used AI apps for creating explicit images is DeepFake, which hits the benchmark for nude AI & Photoshop crimes. 
If you stumble upon an AI-created nude picture of you, never panic, and most certainly never share them with friends or acquaintances unless you completely trust them. This could leak and spread further like Internet wildfire. 
First, you need to get a hold of the real image and take a screenshot of the fake nude photo that you found or was sent to you. This will help strengthen your case. Next, contact the cyber police; most countries have one unit. Make a list of all the people that could've created it, and even note down the media profile you found the picture from, if there is one. 
If contacting the police isn't an option for you, many authentic websites offer that service. However, make sure you conduct proper research on that too. Why? Because there are fake websites offering to take down nude photos but hold those very same pictures at ransom. 
Some notable websites take down nude photos and even track the IP address of the device that it came from. One authentic source that has been circulating on Facebook and LinkedIn is https://www.stopncii.org/. They will require you to fill in a form asking about the kind of picture circulating, your age, and whether the picture had you engaging in sexual content. 
This is regardless of whether your nude photo was created fakely or whether it actually leaked out from your phone. 
How to Prevent Your Nudes from Leaking
Don't take nude pictures! It's no secret that 80% of people have nudes saved on their phones or other devices. However, the harm it can cause if ever in the wrong hands can possibly ruin your life. 
According to a poll survey, there are over 2000 Americans who have sent out nude photos in a day. Other than that, around 79% of people take nudes and store them for personal use on multiple devices that may or may not be password protected. Now, just imagine when you send out a nude to someone; studies prove that almost 73% of those nudes are leaked further on without permission.  
Sometimes, nudes leak without even sending them out. No device is safe from it, regardless if it's password protected or stored on the Cloud. Leaks occur when you click on unknown links, leave your Bluetooth running, download unsecured apps, or even connect to public WiFi networks that might actually be WiFi Pineapple-compromised. 
For this reason, it's recommended never to click nudes or delete them immediately in any way possible. You could even use security software to secure your devices, like a VPN or an Anti-virus.
FastestVPN gives you AES 256-bit encryption and other features that protect your device from nude AI & Photoshop crimes. Our ad-blocker feature prevents you from entering explicit websites that are unsecure. This is one of the sure-safe ways to lower the rates of your nudes leaking out. 
FAQs - Nude AI & Photoshop Crimes
Does Photoshop AI allow NSFW?
No, Photoshop completely bars down on using the new AI features for nudity.
Can AI generated images be illegal?
No, it's not considered as illegal if there is no copyright protection over it. However, using AI generation to create nude pictures is considered illegal.
Is there an NSFW filter on character AI?
Yes, the new NSFW filter is specifically active when detecting the creation of inappropriate content using the Character AI tool.
Does Photoshop have AI masking?
Both Photoshop and Lightroom has the ability to use AI masking, but not for illegal uses.
To Conclude
As mentioned, nude AI & Photoshop crimes are at an all-time high, and the rates are still plunging. If ever you're a victim of such a heinous crime, make sure you contact cyberpolice services or check only for authentic websites that take them down. Never show vulnerability or fear towards the attacker, nor offer them money. This could lead to no solution. If there are other solutions that you would like to add, feel free to comment below. 
Take Control of Your Privacy Today! Unblock websites, access streaming platforms, and bypass ISP monitoring.
Get FastestVPN