How to torrent safely?
By Johan Curtis No Comments 5 minutes
We live in a pretty incredible time. A few years ago, if you told someone that any movie, TV show, album, or computer game would be available on demand, it would have been hard to believe. However, thanks to technologies like torrents, a vast amount of content is now readily downloadable.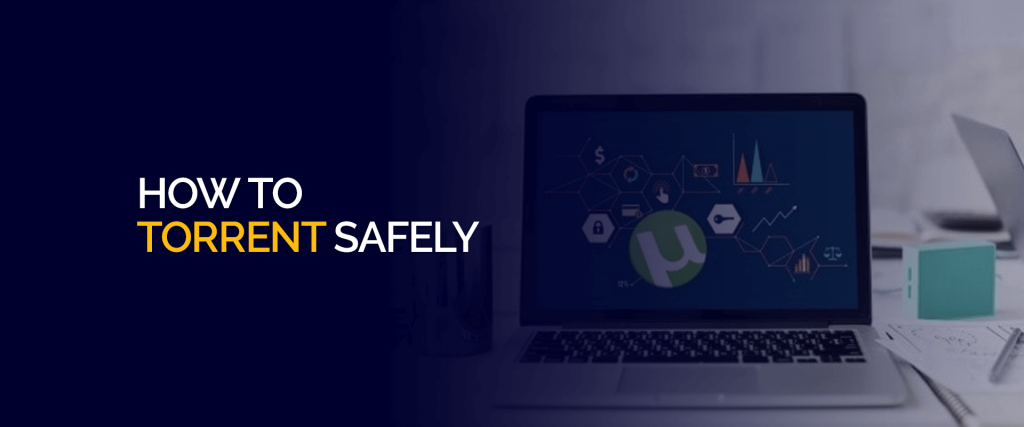 But should you venture into the world of torrenting? This article will look at what torrenting is all about, how it works, and whether it's safe. So read on if you have any worries, and learn how to torrent safely.
What is torrenting?
At their simplest, torrents are just files which let you download movies or TV shows from other web users. However, they aren't like files stored on FTP servers. Instead, torrents work by connecting users in peer-to-peer networks (P2P).
These networks take a variety of forms, but in torrents that are knitted together by what are called "trackers." These tools gather information about which users hold specific torrents. This information allows you to connect to multiple uploaders when you start a torrent download – vastly improving transfer speeds.
Before you can download torrents, you'll need an app called a client. Popular options include uTorrent and Bittorrent, which both offer clear interfaces to manage downloads.
And it's also advisable to install a Virtual Private Network. We'll talk about that more in a bit, but for now, read the review of Fastest VPN from VPNpro archives for the lowdown on a high-quality provider.
Why is torrenting a controversial issue?
All of this might seem fairly innocent, but torrenting is actually one of the biggest online controversies around. The reason is simple: across the world, millions of people are sharing copyrighted content like movies, games, and TV episodes. And copyright holders aren't happy.
However, the legal situation varies by country:
USA – In the US, torrenting is totally legal, but sharing copyrighted data isn't. ISPs have a responsibility to take action to minimize the use of their networks for illegal activity, and regularly penalize torrenters. And thousands of torrenters were served with lawsuits in the USA in 2018. So it's not a safe torrenting environment.
UK – In the UK, the same legal situation applies. In 2017, ISPs started sending out warnings to prolific sharers, and most torrent trackers have been blocked.
Germany – German authorities have their own weapons against torrenting. In Germany, users are more likely to be fined than prosecuted, and the authorities routinely send out thousands of penalty notices every year.
China – China is a good example of a jurisdiction where the laws disapprove of torrenting, but enforcement is quite rare. In China's case, copyright is a lower priority than censorship. So if you avoid politically sensitive material, you should be fine.
Australia – Again, in Australia torrenting is legal, but copyright violation isn't. In fact, Aussie law mandates that ISPs must block torrenting sites (although the strength of those blocks is not necessarily very impressive.)
Am I at risk if I use torrent clients?
As we've seen, most countries have now passed legislation to crack down on torrenting. So the short answer is yes: anyone who downloads a torrent which breaches copyright laws could theoretically fall foul of the law.
This isn't just a theory, either. In the UK, the government has long been pushing for 10-year jail sentences for P2P pirates. Moreover, back in 2012, a Birmingham University study reported evidence that virtually all Bittorrent users were being actively monitored.
So don't underestimate the risks. Take action to protect yourself.
How to protect yourself when torrenting
Thankfully, we have a few ways to ensure that torrenting is relatively safe.
A VPN will do two things. Firstly, it will encrypt the data you send over torrent networks, rendering it almost impossible for law enforcement agencies to see what you are downloading. If they can't see this, they have very weak grounds to launch a prosecution.
More importantly, a VPN will apply anonymization to your P2P connection. VPNs take your IP address (which identifies your location and device to eavesdroppers) and convert it into a totally new identity. That way, you could appear to be a user from Bangkok, while downloading the latest Game of Thrones.
However, choosing a reliable VPN is essential. Don't go for free providers, as they often provide flawed IP anonymization and encryption. Pick a paid-for service which blends security and speed.
It also helps if your VPN has a kill switch. With this feature, your internet connection will automatically drop if VPN coverage fails. This is particularly useful for torrenters who can't be near their computer during overnight downloads.
Of course, the only way to remain totally safe is to avoid illegal torrents entirely. But if not, a VPN needs to be part of your P2P setup. Period.
Take Control of Your Privacy Today!
Unblock websites, access streaming platforms, and bypass ISP monitoring.
Get FastestVPN