Buy All Bitcoin – Is it Possible for One Person to Buy All?
Buy All Bitcoin – Is it Possible for One Person to Buy All?
By Nancy William No Comments 4 minutes
Bitcoin's popularity has increased since its introduction to the world by Satoshi Nakamoto in 2009. While some people have invested in this cryptocurrency, others are skeptical. Skeptics ask several questions about this virtual currency. One vital question might linger when considering investing in it: Can one person buy all Bitcoin? How would it be if that happened?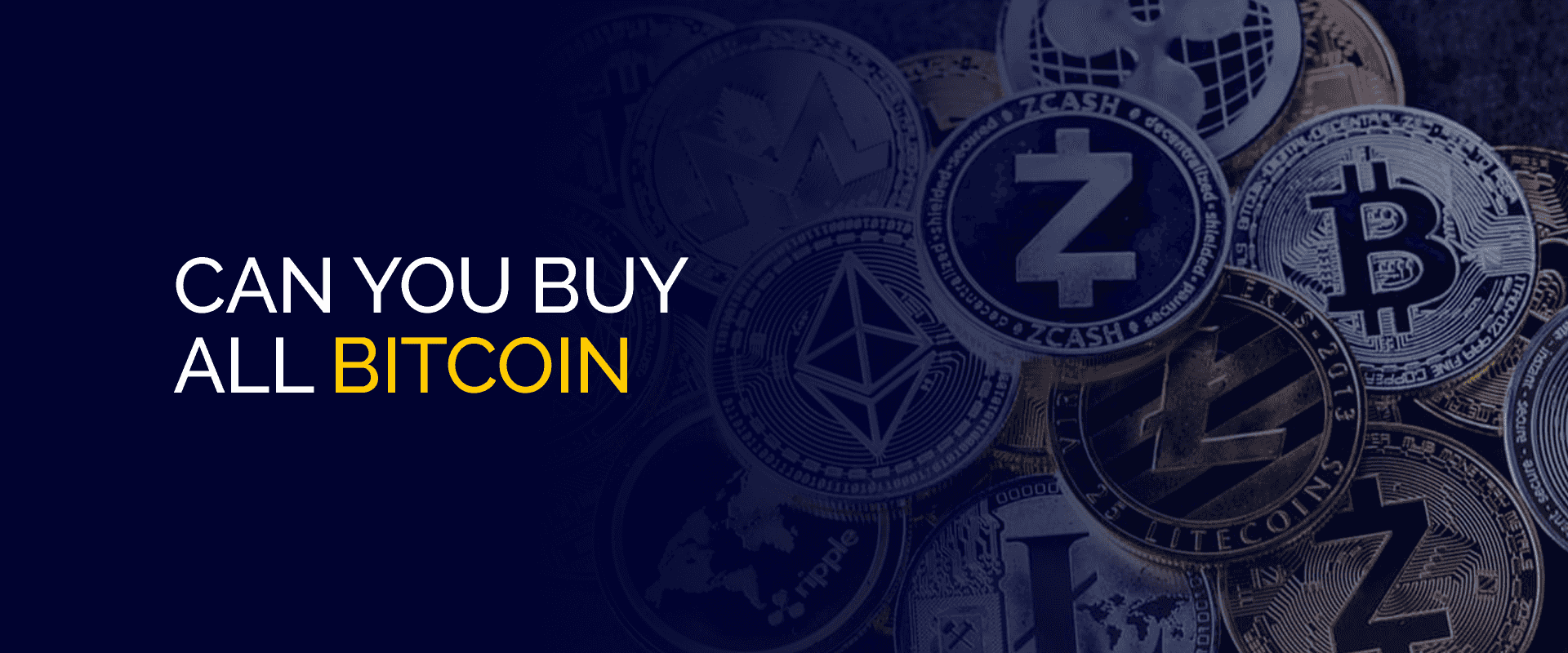 For instance, they can create an account with a platform like Immediate Peak and make an outstanding offer to those willing to sell their Bitcoins.
While this is a hypothetical question, a billionaire like Elon Musk or Jeff Bezos can decide to acquire all the Bitcoins in circulation. Also, several billionaires can join hands to buy all Bitcoin circulating in the world at the current rates. So, what would happen?
Bitcoin's Value Would Increase
Anybody willing and capable of buying all Bitcoins must know the number of tokens available worldwide. Remember, users have lost some of the Bitcoins miners have generated due to faulty storage devices or lost private keys.
Others are cold storage, with owners unwilling to sell them. Some people invested in Bitcoin long ago and are only interested in selling their coins once miners generate all the 21 million coins. Thus, Bitcoin's availability and the willingness of the owners to part with them are some of the challenges anybody must deal with when planning to acquire all the Bitcoins in the world.
To capture all Bitcoin holders' and users' attention, anybody willing to buy all the Bitcoin must increase the price. They must flood all crypto exchanges with lucrative buy orders. Consequently, the cost of Bitcoin would increase as other buyers also make their offers. Also, they may offer more purchase methods, including over-the-counter buying.
Regardless of their approach toward acquiring all Bitcoins, their buy orders would devour the Bitcoin liquidity on crypto exchanges, blocking the potential for further purchases. Bitcoin price could skyrocket to a point where the billionaire's fortunes would be insufficient to gobble up all Bitcoins in cold storages.
Remember, some die-hard Bitcoin holders have sworn never to sell their BTCs, regardless of how low or high the price gets. Thus, it's doubtful that one person can ever acquire all the Bitcoins in the world.
Determining the Bitcoin Price Would Be Impossible
What if somebody magically acquires all the existing Bitcoins? Determining the cryptocurrency's value would be impossible if that person decides to hold all the Bitcoins. Bitcoin's value depends on the market forces of demand and supply.
Somebody must be willing to pay somebody to acquire Bitcoin. So, if one entity attempts to buy all Bitcoin and is unwilling to sell, most people and organizations would do away with Bitcoin. Thus, they would use other cryptocurrencies to complete transactions they would otherwise execute with Bitcoin. And if Bitcoin no longer interests people, determining its value would be challenging.
On the other hand, the person owning all the Bitcoins will be at liberty to set the cryptocurrency's price. For instance, they may sell one Bitcoin at $1 or even $10 billion. They may even never sell Bitcoin.
Parting Shot
People trade Bitcoin in a free, open market. So, demand and supply drive the Bitcoin market. When its demand increases, the price rises. Usually, Bitcoin has value because people are willing to pay for it. While acquiring all the Bitcoins in the world is challenging in the first place, buying all the coins wouldn't make economic sense.
If one person owns all the BTC coins, they have the monopoly to price this cryptocurrency. Moreover, they may decide not to sell Bitcoins. Consequently, people would turn to other cryptocurrencies and use them in transactions where they would otherwise use Bitcoin.
Take Control of Your Privacy Today! Unblock websites, access streaming platforms, and bypass ISP monitoring.
Get FastestVPN