Unblock Disney+ Outside USA
Unblock Disney+ Outside USA
By Johan Curtis No Comments 6 minutes
Video-on-demand streaming service is a relatively new media delivery system that has taken the world by storm. Following the incredible popularity garnered by Netflix and Hulu post-2007, there are now almost 17 different subscription-based streaming services available in the market. Of these, Disney+ is a relatively new contender that is gaining popularity due to Disney's ability to connect with audiences.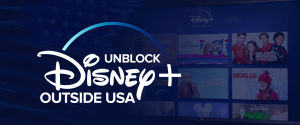 Unfortunately, however, it is only possible to access Disney+ from within the USA even if you have a paid subscription. Therefore, in this article, we discuss why Disney+ is so popular, how to unblock Disney+ outside USA using a VPN and everything in between.
What is Disney+ and what is available?
As mentioned earlier, Disney+ is a subscription-based video-on-demand media streaming service owned and operated by the Walt Disney Company. It features content from all of Disney's affiliated organizations such as Pixar, Marvel, Star Wars, National Geographic, 20th Century Fox and, of course, Disney itself. Furthermore, Disney+ offers new movies and shows, old classics and even exclusive content released specifically for Disney+.
Why do you need to unblock Disney+ outside USA?
If you go to the Disney+ website when outside the USA, the page will say "sorry, Disney+ is not available in your region". In this case, all streaming from Disney+ is geo-restricted. The company controls who can use their services depending on the country from which the user's IP address originates. Now even if you are already a paying customer with a subscription, if your current location is outside these regions, there is no point also trying. Unless of course, you use a VPN to mask your location and make Disney+ think you are in the correct region.
How to unblock Disney+ outside USA using a VPN?
Using a VPN to unblock Disney+ outside USA is probably the best choice. However, the experience of using a VPN varies greatly depending on the selected VPN service and the features it offers. In this case, use a premium, risk-free VPN service like FastestVPN.
What is FastestVPN
FastestVPN is a premium VPN service that specialises in providing maximum security and privacy when using the internet. These features include a built-in ad-blocker, anti-malware protection, DNS leak protection, WiFi security and an AES 256-bit encryption system that keeps your connection more secure than Fort Knox. Furthermore, FastestVPN offers exceptional versatility and flexibility in terms of device compatibility with more than 20 devices, up to 10 simultaneous connections, multiple protocols, unlimited bandwidth and unlimited server switching.
Most recently, FastestVPN also offers a smart tunnelling feature which allows routing specific apps and software to access the internet through the VPN without having to turn it on in advance. It does this automatically. Similarly, the smart connect feature means FastestVPN selects the best server in each situation automatically.
In this context, however, the most crucial element is the company's expertise in masking the IP address and helping users change their location. FastestVPN achieves this by merely rerouting your internet traffic through a selected server and then to your target website or app. In doing so, the VPN hides the source and tricks the website or app. In other words, if you select a USA based server when connecting, Disney+ will assume your traffic is coming from the USA and not wherever you happen to be.
How to use FastestVPN to unblock Disney+
Using a FastestVPN is relatively straightforward and painless. Just follow these steps:
Log on to fastestvpn.com from any device;
Purchase a subscription that fits best;
Navigate to https://support.fastestvpn.com/tutorials and look for the relevant setup procedure;
Download and install FastestVPN to the selected device;
Once operational, select a USA IP address and server.
How to sign up for Disney+ outside USA?
In case you live outside the USA, you will not be able to sign up for Disney+ without using a credit card based in the four regions mentioned above. Ideally, ask around your friends and family to see if anybody has a credit card you can use. If not, try visiting websites like Amazon that often list pre-paid credit cards with a limited credit limit. It operates more or less like a burner phone.
Alternatively, you can try using a Google Play or App Store and iTunes gift card from Amazon to work around the region issue. All you have to do is install FastestVPN, select a USA server and then create a new email ID while making sure to select US as the region (depends on the operating system of the device you wish to use to stream from Disney+). Then add the new account to your devices and the relevant app store. Then purchase the applicable gift card from Amazon ($25 is the minimum you need to start a free trial for Disney+ for a month.
If you intend to purchase a 1-year subscription, then just buy a more expensive gift card). Then send the gift code to your new email address and redeem the code received. When asked to enter a zip-code, just look up a valid US zip code and use it. Then go back to the app store and download the Disney+ app. Once you launch the app, click on 'Start Free Trial' and choose whichever subscription models suit you and use the available balance in your app store to make the purchase. Finally, find your favourite Disney movie or show and enjoy.
How much does Disney+ cost?
As of 2020, Disney+ subscriptions cost $6.99 per month for a monthly subscription or a yearly plan for $69.99, which comes down to about $5.80 per month.
What are the compatible devices for Disney+ and FastestVPN?
Disney+ offers compatibility with a wide range of devices and platforms. Therefore you can stream from a Windows, Mac, iOS, Android, or even Linux systems. Furthermore, you can use TV devices such as Firestick TV, Apple TV, Google Chromecast, or even smart TVs with built-in operating systems. Similarly, FastestVPN offers apps, support, and guides for all of these devices and more.
Conclusion
What you require, when all's said and done, is a video-on-demand streaming service that you can access from anywhere outside the USA. Given that you can access Disney+ only from within the USA, your only option is to use a premium, risk-free VPN like FastestVPN to mask your IP address and bypass geo-restrictions. Unblock Disney+ outside the USA and enjoy uninterrupted video streaming with impenetrable security systems and foolproof privacy measures.
Finally, make sure to keep to the steps outlined above for getting a Disney+ subscription outside the USA and your viewing experience should go off without a hitch.
Take Control of Your Privacy Today!
Unblock websites, access streaming platforms, and bypass ISP monitoring.
Get FastestVPN