Free YouTube Proxy
By Christine Margret No Comments 4 minutes
YouTube is banned in certain parts of the world. YouTube's content varies depending on the countries and areas. The country-specific YouTube content is not accessible in other locations. Similarly, many universities, schools, and offices block access to YouTube.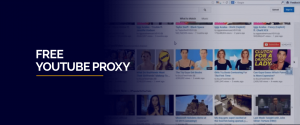 Yet, with the help of a YouTube VPN, you can bypass the restrictions hassle-free.
What is a Proxy and How Does it work?
A proxy is software built to mask a user 's IP address to unblock websites like YouTube. Proxies are easy to use and can work with all the major operating systems, i.e., Android, iOS, Linux, and Windows.
However, free YouTube proxies impose bandwidth limits that ultimately slow down your connection speeds while watching YouTube videos. Nevertheless, a good VPN for YouTube will save you from bandwidth issues.
FastestVPN is the best YouTube VPN that never imposes bandwidth limits nor slows down connection speeds.  You can watch unlimited YouTube videos that are otherwise blocked in your country.
How Does a Proxy Unblock YouTube?
A proxy connects you with a remote server that spoofs the IP address and makes it look like you're browsing from another location. This is how you get to watch region-specific YouTube content.
Proxy Types Explained
Generally, users use traditional YouTube proxies to support users for downloading movies and videos from the platform. Mostly, users rely on the following YouTube proxy types:
A reverse proxy is a common proxy used to redirect users to the specific web server as per the client's request. The reverse proxy is open for external users; it gets security and reliability for its client.
A transparent proxy doesn't hide or modify user responses. This proxy works as a website cache to allow users to share media on several servers without masking the client or IP address.
A web proxy connects YouTube with other externally hosted servers to make HTTP requests for movies and videos. Web proxies refer to the firewalls that monitor and control traffic coming from various servers on a single network.
Do Proxies Help You Access YouTube Content Safely?
If you're using free proxies to access YouTube content, your privacy is at risk. Proxies mask user IP addresses, but the internet connection is not completely secure without certain encryption. It means that the ISP can see the activity and could block or throttle your internet speed.
For a truly anonymous and secure experience, use the FastestVPN app and connect to any VPN server.
Why Does Free Proxy Slow Down My Connection Speeds?
While using free YouTube proxy services, you will often experience buffering or a slow internet connection.  It is because free proxy solutions are not reliable, and many users are using the same servers simultaneously. Due to the excessive server load, the connection speed suffers. Free proxies also impose bandwidth limits that ultimately slow down your connection speeds while watching YouTube videos.
In contrast, FastestVPN has 350+ global servers responsible for giving a consistent experience. FastestVPN is the best YouTube VPN that does not impose bandwidth limits.
What Are Other Alternatives to Proxies?
Free YouTube proxies help you access blocked content; however, the risk begins when there's weak or no encryption for your internet communication. This is where you need the best alternative to proxies like a virtual private network.
FastestVPN gets you robust encryption protection for your online security. It forms a secure, encrypted tunnel that routes all your online traffic safely; a proxy doesn't give you this level of protection. A proxy can only handle HTTP traffic, but a VPN can protect every type of traffic leaving your device. FastestVPN uses AES 256-bit encryption on all servers.
Conclusion
It is always recommended to use a premium VPN service to unblock YouTube safely. A proxy service can help you access blocked content, but connection security is not guaranteed. Therefore, if you want YouTube browsing without bandwidth limitations or online threats, then connect to the FastestVPN app for high-security and seamless streaming.

Take Control of Your Privacy Today!
Unblock websites, access streaming platforms, and bypass ISP monitoring.
Get FastestVPN