Why You Need A Personal Website In 2023
Why You Need A Personal Website In 2023
By Nick Anderson No Comments 5 minutes
Every business needs a website. If that wasn't already clear, the pandemic has made this fact unavoidable. There are almost no surviving businesses that don't have websites now.
But it is not just businesses that need a website in 2023. A large proportion of individuals would benefit from having a website. This is both for career and personal reasons.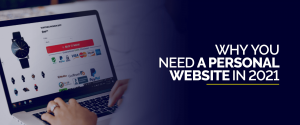 It helps that building a website is easier than ever. You can use a website builder like Wix with free website hosting and create an attractive landing page in minutes. From there, you can gradually edit and design your website until it is everything you need.

Reasons you should have a personal website in 2021 and what it can use for.
The Most Effective Resume
The idea of a CV or resume is becoming increasingly defunct. After all, most job applications ask applicants to input past job information and references themselves. Furthermore, LinkedIn is a suitable platform to portray everything you have done in your career.
A website serves as an even more effective resume. This is because you are not only using it to display your work history, but also to express yourself. Through writing blog posts and articles, you can share the thoughts you really value, and any future employers will be able to learn about you on your own home ground.
This is particularly true if you are able to write high-quality thought leadership articles. Thought leadership refers to ideas that look to the future of your industry rather than reporting on what is already true. Thought leadership articles are incredibly useful for your own personal branding and will give you the advantage when trying to find a new job or get funding for a business.
Self-Expression
You may have no intention of ever applying for a job again. Maybe you've even retired. Do you still need a website?
It depends. If you don't have a means of self-expression you can tap into, you almost certainly have a build-up of thoughts and feelings that needs to be relieved. Platforms like Twitter and Facebook are only likely to make it worse, pulling you into arguments with people who only invalidate how you feel.
Using a website as a personal blog gives you the opportunity to express yourself however you want to. It is a means of expression that is entirely yours. You don't even need to permit comments if you don't want to engage in toxic discussion. You can also build on your personal brand by creating a free business logo and showcasing it on your site.
Of course, if you are in the business world or workforce, you do need to be careful with what you say online. Employers now check out your social media pages and any websites you own when deciding whether to hire you. Companies that try particularly hard to portray a clean public image will definitely take your writing into account. But if that is your concern, write anonymously or use a pen name.
Share Your Art
There are millions of artists who all have one thing in common: they are scared to actually call themselves artists. There are musicians writing songs in their bedroom that they play for no one, painters with artworks no one else has ever seen, and writers typing up poetry with no audience in mind. All artists can benefit from a website where they share their art.
This is not to say that you should make public something that you appreciate for being personal. But just as you might tape a drawing to your wall, a website can be your personal vision board. No matter what art form you are engaged in, you can have access to it at all times by simply typing in your URL.
Keep Track of What's Important
Do you always feel like you're forgetting something? We are all constantly neglecting something important in our lives. It is simply impossible to give the right amount of attention to every single thing you care about.
To alleviate the anxiety and guilt about the parts of your life you need to put on pause at the moment, use your personal website as a kind of journal. Have a page for each creative endeavor in your life. Have a page for the photos you love. When you have time, work on a page you feel you need to give more time to. This way, you ensure that all your priorities are in order without forgetting about things you know you want to get back to.
Conclusion
Having a personal website is a good idea for most people in 2021. Even if you have nothing to sell, you can benefit from a digital space that is all your own.
And don't forget to pay website security the attention it deserves. Finding the right platform to build and host the website is important, but It's equally important to enable HTTPS on your website to provide visitors a safe experience and improve your search ranking.

Take Control of Your Privacy Today!
Unblock websites, access streaming platforms, and bypass ISP monitoring.
Get FastestVPN