Here's Why FastestVPN is Best for Torrenting
Here's Why FastestVPN is Best for Torrenting
By Nick Anderson No Comments 4 minutes
Torrenting is one of the best ways to download content off the internet. It's built on the P2P protocol and gives users the convenience of downloading large files at fast speed and with accuracy. Direct downloads off a central server can often be slow due to an overwhelmed server with too many requests.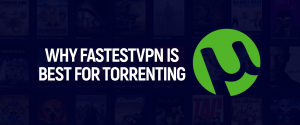 A P2P involves multiple "peers" that are users who are acting as hosts on the network. The idea behind torrenting/P2P is that no central server hosts the complete file. Instead, multiple users download it off an uploader then begin sharing parts of the file with other new users, and thus a swarm of users is created. Users become uploaders and downloaders at the same time, also known as seeders and leechers, respectively.
The design allows users to download large files without overwhelming a central server. Downloading a file in parts also results in an error-free download. The integrity of the packets can be checked and pieced together as the download continues.
Why Are Torrents Notorious
Over the years, torrenting has become so popular that every unblocking service offers torrent-unblocking as a feature.
The nature of torrent websites is a bit complicated. Torrenting itself is not illegal or frowned-upon. It's just downloading something off the internet just like from any other website. The problem lies in torrenting platforms. It's safe to say that every torrent platform online right now hosts thousands  – if not millions – of content that has been obtained illegally. It includes movies, TV shows, ebooks, software applications, and mobile apps.
Because of that, torrenting websites are constantly under heat from law enforcement agencies. Several websites have been shut down in the past, and the pursuit continues. Users receive DMCA notices if they are caught downloading content that is protected by copyright laws.
Several countries, including the United States, have blocked many popular torrenting websites.
How to Unblock Torrents
As we explained, torrenting is inherently not illegal; it's the content that you download that can land you in trouble.
Internet Service Providers (ISP) block DNS requests or filter out certain keywords to prevent you from accessing torrent websites. However, with the help of a VPN, you can gain access instantly.
Connect to any FastestVPN server and browse the torrent website you want – it's simply that easy. Now that you are connected to FastestPVN's server, it allows you to bypass the block easily. Moreover, the encrypted communication between you and the VPN server means that the ISP cannot see what websites you are visiting.
It now falls on to you to download torrents that are not protected by copyright laws. Always use torrents most safely.
Why FastestVPN is Best for Torrenting
FastestVPN has a satisfied userbase that's using the power of the VPN to unblock their favorite torrent websites. Several reviewers have tested FastestVPN and here's what they say:
"FastestVPN allows P2P, and the combination of the high bandwidth and reliability makes this service perfect for torrenting." – VPNServicePro
"Small Network, But Great for Streaming and Torrenting" – VPNMentor
"We feel that FastestVPN is an ideal choice for P2P file sharing as not only is torrenting permitted on all their servers, they offer unlimited bandwidth and ultrafast connection speeds at all times allowing users to benefit from some extremely high download/upload speeds." – Compare My VPN
"Our overall speed performance was great. There were no ups and downs or any kinds of stability issues." – VPNxd
"Ultimately, I'd choose FastestVPN over BlackVPN due to the increased torrenting abilities and the better performance on speed tests" – Security.org
"If you love to download massive files than you'll be happy to know that FastestVPN does not have a bandwidth cap so you can torrent till your heart's content." – Blokt
"It allows for torrenting and streaming and it helps bypass internet censorship and helps you stay anonymous online." – VPN Store
"I use this service for torrenting and watching media around the globe. It has worked well for both." –Russel Oddel from Trustpilot
These are just some of the impressions critics and users have of FastestVPN. Experience it yourself!
Conclusion
FastestVPN delivers the kind of freedom you expect. With a VPN connection, you can unblock any torrent website and surf anonymously. Subscribe to FastestVPN today to avail top features that truly make your internet experience unrestricted.
Take Control of Your Privacy Today!
Unblock websites, access streaming platforms, and bypass ISP monitoring.
Get FastestVPN