WhatsApp Privacy Concerns – Explanation on What Happened
WhatsApp Privacy Concerns – Explanation on What Happened
By Nick Anderson No Comments 9 minutes
Last month, WhatsApp users were greeted with a notification that was an update to its Privacy Policy and required the user's consent for continued use of the platform. Many were swift to accept the message. But those who acted responsibly and read through noticed a particular language that sparked outrage and WhatsApp privacy concerns for the weeks to come.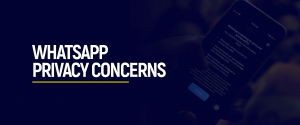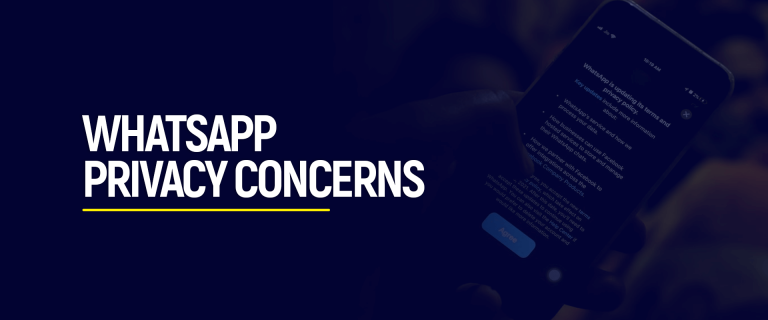 The new policy dictates that WhatsApp will deepen its integration with its sibling platform Facebook. The change drew much criticism from people who think the new policy is a breach of their privacy. However, there is some confusion, and to be fair, even a misrepresentation of what's actually happening. The public outcry is just, but it's also important to navigate through the details on how Facebook and WhatsApp operate in order to point criticism in the right direction.

What is WhatsApp Privacy Policy?
WhatsApp rolled out a new Privacy Policy update in January. The update log included the following three points:
WhatsApp's service and how we process your data.
How businesses can use Facebook hosted services to store and manage their WhatsApp chats.
How we partner with Facebook to offer integrations across the Facebook Company Products.
The third point irked suspicion that Facebook will now have access to user data, including chats. Unlike its siblings Instagram and Facebook, WhatsApp has operated as a separate platform. It has remained largely the same as it was before Facebook acquired it in 2014.
Over the years, Facebook has been making additions and revising the WhatsApp privacy policy. This new update in January is not surprising and nothing new. In fact, WhatsApp announced changes to its privacy policy back in 2016, where it stated that the platform would share metadata with Facebook. Moreover, WhatsApp's July 2020 update also outlined that the platform shares specific information about you with Facebook.
But users had the option to opt-out of this cross-platform data sharing. The new WhatsApp privacy policy in question provides no such relief to the user. It's a 'take it or leave it' agreement.
After the backlash, WhatsApp responded that there had been a mass confusion around its new update. Subsequently, it publisheda long FAQ to answer all the WhatsApp privacy concerns.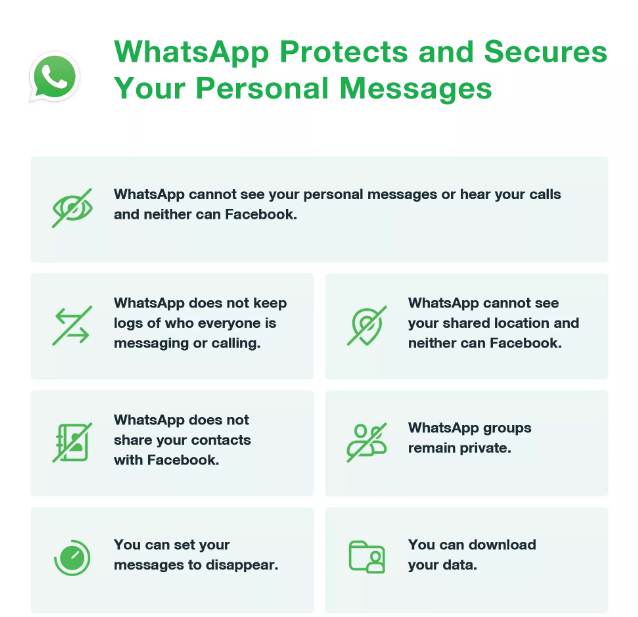 WhatsApp has also delayed the privacy policy update; it will not come into effect until May 15, which was previously set for February.
What Information Does WhatsApp Collect?
WhatsApp launched a series of campaignsto shoot the misconceptions the internet was going crazy over. It also added an official status in WhatsApp's status area with similar messaging. But, what does WhatsApp really collect?
The most basic information about you is a phone number and your name. This is the minimum requirement to hold a WhatsApp account. It collects things such as the contacts you have chosen to upload to WhatsApp, your status, payment details such as credit card info, and transaction history. WhatsApp generally does not store chats; it is stored on your device. In certain situations, your message may be retained on the servers. Undelivered messages are stored on the servers in an encrypted form for 30 days, after which they are deleted if they remain undelivered. Similarly, storing a message that contains a picture or video on the server allows WhatsApp to deliver the message faster if you forward it. Think of it as caching.
WhatsApp says that chats on its business app are also end-to-end encrypted. But Facebook does not guarantee the privacy practices of the businesses. For example, a business may collect information on your preferences and use Facebook for marketing. WhatsApp also states that it does not considers businesses using its WhatsApp business API with third-party servers to be end-to-end encrypted, neither when a business uses a third-party to handle its service.
WhatsApp's latest privacy policy states that it "receives information from, and shares information with, the other Facebook Companies" for marketing "our services and their offerings". It helps the platform in "personalizing features and content" and "showing relevant offers and ads across the Facebook Company Products".
But perhaps the chats are what you want to know about. WhatsApp ensures that chats are end-to-end encrypted. So, no one sitting behind a computer screen on WhatsApp headquarters can read your chats, as some memes on the internet would have you believe.
What is End-to-End Encryption?
Encryption is one of the most important things when privacy and security are concerned. It enables security to serve as the foundation for privacy. FastestVPN uses encryption to protect your data and activity, giving you security on unsecure public Wi-Fi and preventing various risks that come without it. The presence of encryption ensures that no one – between the user and the VPN server – can intercept or alter the data.
End-to-end encryption takes it up a notch. It guarantees that no one except the sender and the recipient of the message that read the contents. In TLS-based encryption, like in VPN, the data travels to the VPN server where it's decrypted, then encrypted back and sent to the destination. In end-to-end encryption, as the name implies, the data is protected from one end (the user) to the other (the recipient). So, how does it happen? Similar to TLS encryption, it requires keys to encrypt and decrypt the data.
When the user signs up to WhatsApp, the app automatically creates a private key and a public key. These two keys are a pair, but only the public key is reliant on the private key. The public key is available to anyone who wishes to connect with you, and the private key is your closely-guarded secret that never leaves your device. A friend who wants to send you a message will use your public key to encrypt the message, and then you will use your private key to decrypt it. The neat thing about the process is no one can use the public key to decrypt it; only the matching private key can do that.
End-to-end encryption has been a massive thorn in the way of intelligence agencies and governments trying to snoop in personal chats and web browsing history.
WhatsApp uses the Signal protocol to encrypt communication end to end. Signal is a well-known open-source protocol that is vetted and approved by security experts worldwide. Encryption is enabled for all chats by default on WhatsApp. It is the biggest WhatsApp security feature.
Should You Consider a WhatsApp Alternative?
One of the first things that happened was a growing interest in finding an alternative to WhatsApp. WhatsApp has about 2 billion users worldwide. So if a competing platform gained even a small chunk of that install base, it would be significant. And that's exactly what happened.
Shortly after Elon Musk tweeted about Signal, WhatsApp users began flocking to the platform. Many hadn't heard of the platform, but the widespread backlash was an easy trigger to bypass that unfamiliarity barrier. It didn't help WhatsApp's case when media outlets started running headlines covering the new privacy policy and its reception.
Signal experienced a huge uptick in the number of new users. The massive wave of new users overwhelmed Signal's servers, which prevented users from receiving their activation code. It has now surpassed 1 million installs on Google Play Store.
In another camp, Telegram was also experiencing exponential growth. Telegram is another WhatsApp alternative with a focus on privacy. The platform announced that more than 25 million users had joined in 72 hours, propelling Telegram to 500+ million active users.
If the growth of the two WhatsApp alternatives seems explosive, that's how much criticism WhatsApp garnered.
So, should you jump? The answer is not as straightforward. WhatsApp has 2 billion users worldwide, so you are much more likely to cross paths with someone who uses WhatsApp than Signal or Telegram. The messaging app enjoys success and popularity like no other. Imagine leaving behind the long history of chats and the people to a new platform. Although Telegram allows you to import chat from WhatsApp, moving users to another platform with the same confidence as you is difficult.
Facebook and Privacy
Facebook is notorious when it comes to privacy. The social media giant has made headlines several times over a span of 5 years. It was subjected to anti-trust law in the United States. In 2018, Facebook CEO Mark Zuckerburg had to appear infront of the U.S Congress over allegations pertaining to user privacy, handling of user information, propagation of fake news, and anti-competitive moves.
Most recently, Facebook drew implicit criticism from Apple over its tracking practices. Facebook has strongly opposed Apple's new anti-tracking technology that allows users to opt-out of Facebook's tracking that is used to serve personalized ads. The social media platform even went out to publish an ad in a newspaper, alleging that Apple's move will hurt small businesses.
It is hard to believe that Facebook has the interests of the user in mind. The social media platform thrives on ads. For the longest time, WhatsApp has remained relatively independent from the rest of Facebook's properties. But there definitely seems to be a time in the future when WhatsApp will be more integrated with Facebook. Regardless if WhatsApp cannot read chats, it can use other information such as what businesses you interact with on the service.
WhatsApp started as a startup that caught the interest of Facebook when it grew in popularity. Shortly after, WhatsApp co-founder, Jan Koum, left the company after reportedly having a disagreement over the direction Facebook was planning for WhatsApp. After some time, fellow co-founder Brian Acton left WhatsApp as well. In an interview years later, he revealed that Facebook wanted to monetize WhatsApp and introduce businesses to WhatsApp; the latter is something WhatsApp has already done.
It would interest you to know that Brian Acton is the founder of Signal. It operates as a non-profit service with a focus on privacy.
Despite what Facebook would publish in its blogs, history has suggested that Facebook is unreliable when it comes to handling user privacy. Its entire business strategy revolves around gathering as much data on users and deliver that to advertisers. To give you perspective, Facebook generates about 98% of its revenue from ads.
Final Words
History does not put Facebook in a good light. We have communicated the several risks to privacy, including cross-site tracking, through our blog to keep you informed. Transitioning to other apps like WhatsApp comes down to how much you are willing to give up. Eventually, Facebook's integration with WhatsApp will deepen, and you will be a product of Facebook's advertisement ecosystem even if the actual chats remain encrypted.

Take Control of Your Privacy Today!
Unblock websites, access streaming platforms, and bypass ISP monitoring.
Get FastestVPN