What is VPN on iPhone
By Christine Margret No Comments 8 minutes
Compared to other smartphones, the iPhone has been considered the most secure device. It has a default end-to-end encrypted iMessage app, active notifications about the apps' location requests, and other advanced security features like FaceTime.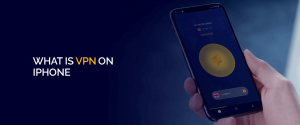 Even after being coupled with all the advanced security features, the iPhone is not a 100% secure device. It has some vulnerabilities, and hackers can exploit those security loopholes to deliver viruses, malware, or other types of cyber threats.
Over time, our smartphones have evolved, and this is the only device that contains a lot of personal data, including private pictures, emails, financial data, and passwords. Therefore, security-focused individuals are obliged to wonder whether, or not they should use a VPN on their iPhone.
This blog is all about that. I will explain in detail what is VPN on iPhone and do you need one. Let's dig deeper to find out more about it.
What is a VPN?
A VPN refers to a virtual private network. It is software that works as an online security tool. A VPN completely hides your virtual location, IP address, and online activities.
It conceals your traffic by routing it to a remote VPN server, in this way, your online activities remain encrypted from your ISP, government, advertisers, hackers, and other third parties. No one can snoop, or intercept your traffic. Therefore, all your sensitive information, including emails, passwords, banking information, and photos are safe.
In recent times, using a VPN is extremely an easy job. It doesn't require any technicality. You can simply download a VPN app on your device, and connect to it with just a single click.
Some devices don't support VPN applications, for such devices, you can connect your VPN to a router, and protect all the connected devices on the same network.
What is a VPN on an iPhone?
A VPN on an iPhone is an online security software that dedicatedly protects your iOS device. It mainly secures your iPhone data with robust encryption. When you connect an iPhone VPN, all your data gets encrypted, and travel via the VPN servers. All your iPhone data is now safe from cybercriminals and data snoopers.
Moreover, a VPN on iPhone will also conceal the IP address of your device. It means that hackers or malicious websites cannot track your device's location. This is an added layer of protection while using the internet.
Do I Need a VPN on My iPhone?
If you're wondering do you need a VPN on your iPhone, then the answer is Yes. Here are the true reasons why you should always use a VPN on your iPhone:
VPN Encrypts your iPhone Traffic
VPNs are popular for their encryption power. When you connect a VPN to your iPhone, it encrypts your web activity while browsing online. iPhone users better understand that most iPhone apps regularly connect to the internet to refresh updates and notifications. Moreover, data crunching in the cloud also happens online.
All these activities don't require any browser, but it doesn't mean that they are safe from threat actors.
Vulnerable, poorly configured apps or apps with weak encryption are a risky plus, it is very difficult for a common user to differentiate between secure or unsecured apps.
Although Apple itself is great at managing bad applications, however, a VPN completely wraps all the lope holes that come in between your online security. In short, a VPN smartly covers the gaps in your app's encryption.
VPNs prevent ISPs/ Mobile Carriers from Selling your Data
Many users don't know that their ISP or mobile service carrier are making money by violating their privacy.
Your ISP and mobile service carriers, including Verizon, AT&T, and T-Mobile in the USA monitor your internet activities, your downloaded apps, and your preferred services.
These ISPs and mobile carriers then compile all your browsing data in a profile form and then sell it to the advertisers without your consent.
This really sounds unfair and illegal, but you can be safe from this biased practice by installing a VPN on your iPhone.
A VPN will hide your internet activity from your ISP, or mobile carrier service. So that, these services cannot look into your activities, nor they can sell them to advertisers.
A VPN on your iPhone will surely boost your security and privacy by protecting your data from such service providers.
Allow you to Access Geo-Restricted Websites
There are many benefits of iPhone VPN. Besides providing you with the best online security. It also allows you to select, and connect to your preferred server location.
When you connect to a server location of your choice, a VPN hides your IP address and assigns you a new IP address for your chosen location.
In this way, you can easily access geo-restricted content. Mostly, streaming platforms are geo-restricted.
Even if you have an active subscription to any platform just as Netflix, you will lose access to it once you travel abroad.
In this case, a VPN will be a lifesaver and will restore your access safely and anonymously to all your home services, and international services or channels like BBC iPlayer.
Protects you on Public Wi-Fi Networks
Public Wi-Fi Hotspots are the best place for security breaches. These networks are unsecured and open to anyone. Many hackers attempt to steal data or deliver malware on such weak networks.
However, when you connect a VPN to your device, it keeps you secure by routing your traffic from an encrypted tunnel.
Having a VPN on a public network is a blessing, so next time when you use Wi-Fi in a coffee shop, shopping mall, or even at the airport just don't forget to turn on your VPN.
How Does VPN on iPhone Work?
A VPN is installed on your iPhone as a mobile app. Using the VPN app, you can connect to any server location. To connect to a VPN server, you first have to select a location, then tap on connect.
Just when you tap on connect, a VPN starts working. It encrypts all your data and routes it via a secure and encrypted VPN tunnel.
Due to heavy, military-grade encryption, no one can read, spoof, or access your information, and your data safely travels from your device to the VPN server, then to the open web.
How to use a VPN on iPhone or iPad?
Some VPN services don't support an app, therefore, it gets difficult and time-consuming to configure a VPN on iPhone. However, VPN providers that offer a dedicated app for iPhone or iOS are the best and easy to use.
FastestVPN has an app for iOS/iPhone. Firstly, you have to sign up for the VPN service. Since it is a paid VPN, therefore, you can subscribe to FastestVPN directly from its website. Once you get your subscription,  here's how to use FastestVPN on iPhone or iPad:
Head to the App store, and find the FastestVPN app for iOS
Once you find it, tap install to get the VPN on iPhone
Now, open the VPN app and tap login
Enter your username and password in the respective fields
Next, select your desired VPN server and click connect
Wait for the connection
That's it! You can now use FastestVPN on your iPhone.
How to Manually Configure a VPN on iPhone?
iPhone offers an in-built VPN option where you can manually configure your iPhone VPN. Though, using the FastestVPN app for iPhone is relatively a short and easy method. But, you can also try this manual configuration of VPN on your iPhone. Here are the required steps:
Open your iPhone "Settings"
Under settings, select "General"
Under General, select "VPN & Device Management."
Next, select when you see "VPN"
Now tap where you see"Add VPN Configuration" and enter relevant details
That's all! You have now successfully configured your manual VPN on your iPhone.
Can I use a free VPN on my iPhone?
I will not recommend using a free VPN on iPhone. Instead of protecting your privacy, free VPNs make use of your data without you knowing. Firstly, these free VPNs are always overcrowded and badly affect your speed.
Secondly, they have very limited functionality, and lastly, they are free, so they need money to upgrade their servers right?
But, have you ever thought about where did they get all that money from? The answer to this question is by selling your browsing activities to advertisers and other third parties.
Therefore, if you're a true privacy advocate, then always stick to high-quality, premium VPN services just like FastestVPN.
It is a risk-free VPN and comes with a 15-day money-back guarantee. If you're not satisfied, then you can easily ask for a refund within 15 days only.
FAQs
Do iPhones have VPNs pre-installed?
iPhones don't have a pre-installed VPN. It only offers a built-in VPN client to connect to your preferred VPN client. However, the best way to use a VPN on iPhone is by installing a dedicated VPN app for iPhone.
What does a VPN on an iPhone do?
A VPN on iPhone encrypts your traffic and connects you to a VPN server in a different location. It allows you to safely use the internet. Moreover, a VPN also enables you to bypass geographical restrictions and lets you access content that is otherwise geo-blocked at your location.
Is VPN safe for iPhones?
Yes, a premium and trusted VPN app for iPhone is safe and reliable. However, using a free VPN app on your phone is not recommended in any case.
Do I need a VPN on my iPhone?
Although Apple's servers are secure and encrypted, the rest of your internet traffic is not as secure as it should be. Therefore, using a VPN on iPhone is vital. With FastestVPN for iOS, all your traffic remains encrypted and hidden. FastestVPN also conceals your IP address and protects your sensitive data from hackers, advertisers, and cyber criminals.
How to select the best VPN for iPhone?
If you're looking for an iPhone VPN, then look for the following qualities. 1) Your VPN provider should be headquartered at a secure location, free from international surveillance alliance. 2) Your VPN provider should have great speed. 3) There should be a clear no-logs policy to ensure your data protection. Lastly, your VPN provider must offer unlimited bandwidth for an impeccable browsing experience. FastestVPN possesses all the above-mentioned qualities. Give it a try, you can also claim a refund within 15 days.
Conclusion
By now, you must have got an idea about what is VPN on iPhone and Do You Need One? If you want to increase your online security and privacy, then you should be using a VPN on your iPhone. And, if you are confused about what is the best VPN for iPhone,  Don't worry, just give FastestVPN a try and see how it protects your security and privacy with its powerful set of advanced security features.
Take Control of Your Privacy Today!
Unblock websites, access streaming platforms, and bypass ISP monitoring.
Get FastestVPN