15 Ways to Bypass Torrent Blocking Effectively [Updated 2021]
15 Ways to Bypass Torrent Blocking Effectively [Updated 2021]
By Johan Curtis No Comments 7 minutes
Torrenting is one of the top activities on the internet. It is a way of sharing files over the internet using P2P protocols. Although torrenting is considered legal, it's primarily used to share copyrighted content. As a result of torrents' popularity, hundreds of torrenting websites have popped up over the course of a decade. And as a result, copyright violations have increased and torrents blocked.
The relevant authorities in countries work to block such websites and fine users who access them. The DMCA and anti-piracy advocates have collaborated with Internet Service Providers (ISP) to crack down on users who download copyrighted material, such as movies and music.
However, you can still bypass torrent blocking easily without the ISP and DMCA knowing. Here are 15 ways to bypass torrent blocking.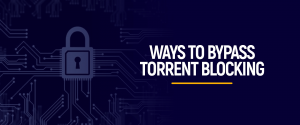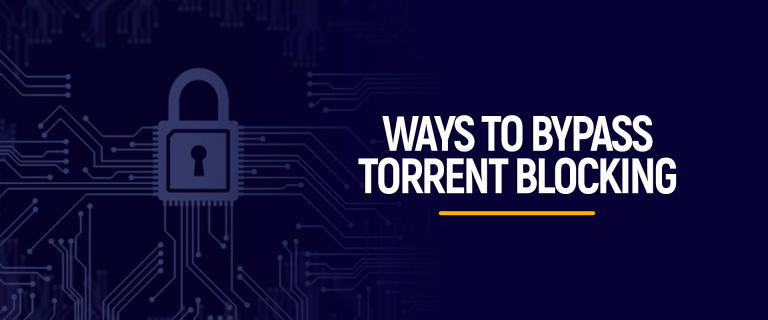 Ways to Bypass Torrent Blocking
Use VPN Service
Virtual Private Service (VPN) is the easiest way to bypass torrent blocking. A VPN lets you mask spoof your actual location, thus allowing you to access restricted sites without a problem. It uses a network of private servers in various geographic locations and private IP addresses to spoof your location.
Because internet traffic then flows through the VPN service's servers, the ISP cannot track a user's online activity. Geo-spoofing allows users to access content that is otherwise blocked in their country, such as unblocking torrent websites. Moreover, VPN services utilize advanced encryption technology that adds another layer of security. Internet traffic is not susceptible to infiltration.
When choosing a VPN service, take time to go through each service's list of features and the value proposition. It is a good practice to read up on user reviews to get a general idea of the service's quality.
Use Magnet Links
Magnet links are torrent files that do not require downloading. After bypassing torrent blocking, use magnet links to catch torrent files and download them via a torrent client.
Use HTTP Proxy
The third option to bypass torrent blocking is through HTTPs proxy. There are several proxy websites that allow you to tunnel through and bypass torrent blocking. Try using websites https://proxy.org or https://proximize.me/.
Switch to Port 80
You can bypass torrent blocking by simply switching to a different port. Set your port manually to either 80 or 8080. You will have to deactivate UPnP and NAT PMP. However, this bypass torrent blocking method will introduce slow download speeds.
Seedbox
A seedbox works as an intermediator between the torrent website and your devices. Seedboxes are services for hire, they let you download/upload anonymously. You can use seedboxes to bypass torrent blocking.
Use the TOR Network
TOR is a special network that directs internet traffic by rerouting through multiple servers before arriving at the destination. It makes tracking user activity very difficult. You can use the TOR network to bypass torrent blocking very easily.
How to unblock uTorrent from WiFi
As an alternative, you can also use HTTP to your advantage to bypass torrent blocking. Here's how to do it:
Download a torrent file from the internet
Double-click on the torrent file
Use the torrent client to initiate download
You might notice that the file is downloading but not showing any download/upload speeds. That's because it's not actually downloading, and we need to move to the next step
Upload the torrent file to a website that allows you to download torrent files off your browser
Begin the download from the website and select the destination where you want to save the file
This is an easy way bypass torrent blocking.
Torrent Relay
Torrent Relay is another great method to bypass torrent blocking. It's a service that allows you to bypass torrent blocking by converting torrent links into https links. A user can share the torrent link on the website which grants you an https link that you can download off Torrent Relay's server.
The problem with Torrent Relay is that since it's free, a lot of users in the swarm can empty available free slots, leaving you with only premium slots.
ImageShack
ImageShack is a popular image hosting website. One of the good features of ImageShack is link sharing. Users can upload URLs and share them with friends for free. The URLs are also available to other ImageShack users. It's another way to bypass torrent blocking by finding links of popular torrents.
Txtor
Txtor is another alternative to bypass torrent blocking. It's a tool that allows you to convert torrent files into .txt format. Simply enter the torrent link into Txtor and it will generate a .txt download link. It should be kept in mind that this method to bypass torrent blocking will not work if your ISP has blocked all torrent traffic.
Thunder
Thunder is a free download manager out of China that is similar to other torrent download managers. It allows you to bypass torrent blocking by masking a torrent download as a normal HTTP download. It makes it difficult for ISPs to identify the file's nature. Moreover, it unblocks ports restricted by ISP.
However, there's one drawback to Thunder, it's in the Chinese language. Download the translation file and extract it into the following directory:
en_us/ThunderLanguages
BitLet
BitLet is another great torrent download manager that allows you to instantly download torrent files. Simply load a torrent file into BitLet and choose where you want to save it.
The download manager is ever available as a browser extension for Google Chrome. It means that you don't need to download a separate application that will take relatively more space and resources on your computer to bypass torrent blocking.
ZbigZ
ZBigZ works by utilizing a proxy for generating a download link to the user. It's not a download manager but instead generates a downloadable link. Just sign-up for a free account and bypass torrent blocking with ease.
Furk.net
Furk.net acts as a storage service that lets you instantly stream stored content on devices. You can bypass torrent blocking through the service's torrent servers. Sounds too good to be free? Well, it isn't. The service requires a purchase.
Torrent2exe
Torrent2exe is another method to bypass torrent blocking. Where one of our previous solutions converted torrent files into .txt format, Torrent2exe converts torrent files into .exe format, allowing them to be downloaded easily.
However, make sure that your anti-virus is not blocking the .exe file. It may recognize it as a malicious file, so put that in the exception list.
Final Words
Downloading torrents is one of the biggest hurdles internet users face. Because of growing copyright violations, it's becoming increasingly difficult for people who just wanted to download using the P2P protocol. The DMCA is actively working with ISPs to detect activities involving copyright violations.
Torrent blocking is a typical response to preventing copyright violations. The only way to access then is to bypass torrent blocking. We have compiled 15 different ways you can access your favorite torrent websites and URLs. They are easy to work with and lets you bypass torrent blocking almost instantly.
Some methods are better than the others, but all of them work to bypass torrent blocking. You can even use a reliable VPN service to bypass torrent blocking easily. A VPN will bypass torrent blocking and mask your identity over the internet so that your ISP cannot detect your activities.
Take Control of Your Privacy Today!
Unblock websites, access streaming platforms, and bypass ISP monitoring.
Get FastestVPN