How to Watch Winter Olympics 2018 Games Live Online
How to Watch Winter Olympics 2018 Games Live Online
By Johan Curtis No Comments 6 minutes
For many professional athletes, it is a huge honor to win an Olympic medal. This pride to win one will be at stake for them in the upcoming Winter Olympics 2018 this February. Yes, we will be seeing hundreds of players participating and competing with each other next month for the ultimate prize. Apart from all the athletes who'll be fighting on the field to win, there will also be millions of fans watching the games live on the field as well as on TV and Online, and hoping for their country to triumph and take as many gold medals as possible. The Olympics is unarguably the biggest sporting events in history, and this time it won't be anything less.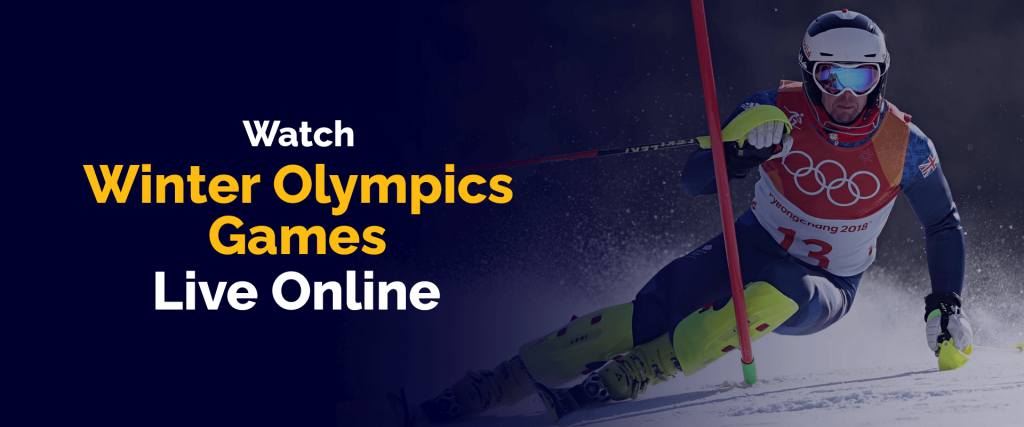 How to Watch Winter Olympics 2018 Games Live Stream Online?
Depending on where you are, you may face streaming restrictions to watch the 2018 Winter Olympic sports streams or be limited to watch it on a channel that you might not prefer. So, here we have made a step by step guide to watching the Winter Games online from where ever you are using a Kodi VPN. You may find many different VPN providers in the market but let us tell you that FastestVPN is the best choice when it comes to watching live streaming videos and event from anywhere. They offer the crisp quality live stream without any lag. Watching the 2018 Winter Olympics using FastestVPN is incredibly easy. Follow the below steps and we are sure you will be able to watch the Winter Games live without any restrictions and problems.
To begin, get a reputable VPN. (i.e. FastestVPN)
Sign up and download their app for your OS, i.e. Mac/Windows, or any other TV device.
Open the VPN application and sign in.
Choose a server location (i.e. UK if you want to unblock BBC iPlayer).
Save changes and now go to BBC iPlayer Website
You'll be able to access their content and enjoy the live streaming of 2018 Winter Olympics for free.
As a UK expat, I prefer to watch 2018 Winter Games live online on the BBC iPlayer app. This is because the BBC iPlayer offers English coverage of the event. Additionally, the BBC iPlayer app is easily available on almost every streaming device (including PS3, PS4, Xbox, iOS, Android, Apple TV, Roku, and Smart TVs). Although most of these live streaming apps are geo-restricted, using a VPN like FastestVPN will allow viewers to unblock BBC iPlayer outside the UK and watch the 2018 winter Olympics live online.
As the event gets closer and closer, it is time for us to get ourselves ready for the event. Viewers from around the world will be able to watch the Winter Olympic sports streams in high definition from their homes through various Online streaming channels. To help you get ready for the Olympics, we have prepared this short guide on how you can watch 2018 winter Olympic games. So without wasting any further time, let's get you ready for these details now.
What games will we be seeing at this year's Olympics? Here is a list of the most popular Olympics games we will be enjoying this winter:
Ice Hockey
Alpine Skiing
Freestyle Skiing
Cross-Country Skiing
Ski Jumping
Snowboarding
Biathlon
Nordic Combined
Curling
Bobsled
Luge
Skeleton
Figure Skating
Speed Skating
Short Track Speed Skating

---
How to Watch Winter Olympics 2018 Stream Live Online?
The 2018 Winter Olympics is already setting records. With 90 nations, 7 different sports, and 102 events, we are in for a treat this time around. A record-breaking number of viewers will be watching the 2018 Winter Olympic games since more and more people now have access to the internet than during any past Olympics. Online access means that even those who do not have cable TV watch the Olympics can now watch it online without any difficulties.
Even though viewers worldwide will be able to watch the games live streams, finding an accessible live steam will still be an issue for many viewers. Online access to the Winter Olympics 2018 will be difficult in different parts of the world due to geo-restrictions. Not only that, some online streaming providers will require you to log in to watch the stream with satellite or cable TV credentials. This means viewers will be facing many difficulties in searching for free live streams of 2018 Winter Olympic games on Kodi.
However, viewers will have more options to watch 2018 PyeongChang Olympics than ever before. Here is the list of all the major online channels that will live stream the 2018 winter games this year.
BBC iPlayer (UK)
CBC (Canada)
NBC Sports (USA)
BeIN Sports (Middle East)
Sky Sports (New Zealand)
ARD (Germany)
ZDF (Germany)
DR TV (Denmark)
Rai TV (Italy)
Channel 7 (Australia)
France TV (France)
RTVE (Spain)
Star Sports (India)
TV 2 (Norway)
Winter Olympics 2018 Facts and Figures
Although summer Olympics in 1988 was held in an Asian country, this is the first time an Asian country is hosting the winter Olympics. South Korea has been given the chance to host the biggest event for the first time in their history.
The PyeongChang Winter Olympics is estimated to cost around 10 billion dollars. In comparison, it is five times less than the cost of 2014 Sochi Olympics.
Four new sports are also added to the 2018 winter games: speed skating mass start, curling mixed doubles, snowboard big air, and alpine skiing nation's team event.
As obvious, the opening and closing ceremonies of the 2018 Winter Olympics is going to be held in the Pyeongchang Olympic Stadium.
The previous Winter Games were held in Sochi Russia, where the host won 13 gold medals and 33 medals overall. Whereas this year's host won only three gold medals and eight overall during the last Olympic games.
When you use a VPN like FastestVPN, it hides your IP address and allocates you a new unique IP. This allows you to access global content without any restrictions including live streamings. VPN not only gives you access to global content, it also encrypts your data and increases your internet privacy.
It doesn't matter how many viewers are tuning in, you will be able to watch Winter Olympics 2018 without any lag or throttling.

---
Conclusion
The 23rd Olympic Winter Games are going to be huge, and it's going to be really easy to access live streaming of the event and stay updated. You can do all that for free if you have a VPN at your disposal. After all, it's very chilling in South Korea right now and won't a great decision to head there without proper gears. It is better to watch the whole event live online while staying at home.