How to Watch Wimbledon on Android – Wimbledon Championship on Android
How to Watch Wimbledon on Android – Wimbledon Championship on Android
By Johan Curtis No Comments 3 minutes
2019 Wimbledon Championship begins on Monday, 1 July 2019 and will end on Sunday, 14 July 2019. It is one of the greatest Grand Slams that feature star players from all over the world such are Halep, Wozniacki, Nadal, and Federer. With fans over the world ogling at the players, they, of course, want to catch them in action too.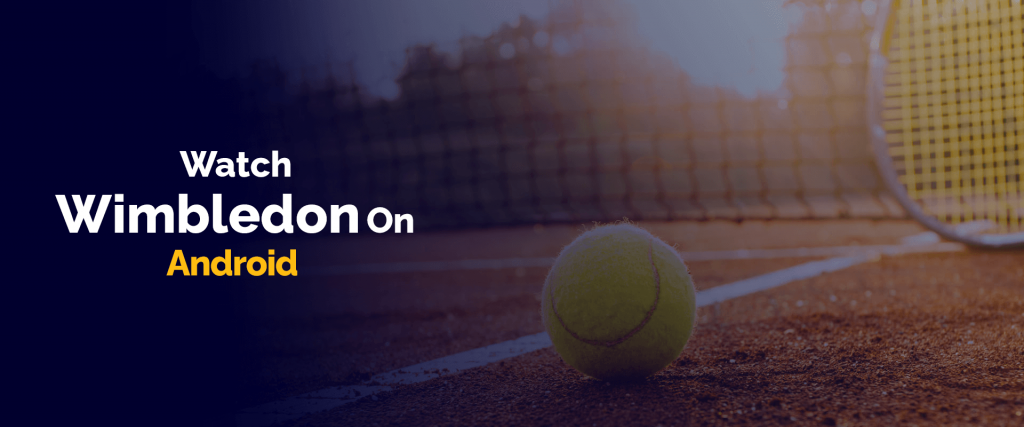 Those who are without cable can also be up-to-date with the events live on any device. If you are on the go but your mind is still on the match, you can watch Wimbledon on Android easily for free. Follow this exclusive guide, and learn how.
Watch Wimbledon Tennis on Android
On any Android device, such as phone, tablet or Android box you can easily enjoy the tennis tournament. With dedicated apps for the devices, you can watch Wimbledon on Android with utmost ease.
Here is how you can achieve seamless streaming of Wimbledon 2019:
Choose a pricing plan
Download and install dedicated Android App on the phone, tablet or Android Box (separate app)
Connect to FastestVPN (UK server for free stream)
From the browser on your device (chrome), visit BBC iPlayer's website
Find Wimbledon stream and smoothly watch all the matches live for free!!
Make sure that you are connected to FastestVPN's UK server though as BBC is broadcasting Wimbledon live for free in UK only. The access is restricted for anyone outside the UK. FastestVPN helps you overcome the problem with connectivity that shows presence in the UK, virtually.
---
Wimbledon Live Streaming Channels
 Channels that are streaming Wimbledon live are quite a few as listed below:
BeIN Sports (Middle East)
BeIN Sports (France)
ESPN (USA)
Fox Sports (Australia)
Hotstar (India)
Plus 7 (Australia)
Sky Deutschland (Germany)
Sky Italia (Italy)
SRF (Switzerland)
Tennis Channel (USA)
Though all these channels are geo-restricted and require a cable subscription too. If you have the subscription to the channel but are outside the designated channel's country, then you cannot access it without a VPN.
If you don't have a cable subscription at all, no matter where you are, then you can watch it on BBC iPlayer for free. This, again, is geo-blocked but with FastestVPN connectivity it can be dealt with, overcoming all geo-restrictions easily.
---
---
Wimbledon Dates 2019
Catch all the Wimbledon live scores on BBC Sports official website. Schedule for the tournament is as follows:
First Round – July 1 (Monday)
First Round – July 2 (Tuesday)
Second Round – July 3 (Wednesday)
Second Round – July 4 (Thursday)
Third Round – July 5 (Friday)
Third Round – July 6 (Saturday)
Fourth Round – July 8 (Monday)
Women's Quarterfinals – July 9 (Tuesday)
Men's Quarterfinals – July 10 (Wednesday)
Women's Semifinals – July 11 (Thursday)
Men's Semifinals – July 12 (Friday)
Women's Finals – July 13 (Saturday)
Men's Finals – July 14 (Sunday)
---
Wimbledon 2019 Key Players
The top contenders of Wimbledon 2019 are no other than the popular players known worldwide. These Wimbledon players are:
Roger Federer
Rafael Nadal
Carolina Wozniacki
Serena Williams
Simona Halep
Alexander Zverev
Novac Djokovic
Petra Kvitova
---
---
Conclusion – Wimbledon Championship on Android
2019 Wimbledon Championship will be a promising tennis tournament filled with excitement, as always. With the thrill of the tournament spread across the world amongst tennis lovers, there is a majority searching for workable solutions as well. This is the best guide they have landed on to get the free live stream. Watch Wimbledon on Android for free with FastestVPN and stream live seamlessly.