Watch Dillian Whyte vs Alexander Povetkin on Kodi
Watch Dillian Whyte vs Alexander Povetkin on Kodi
By Johan Curtis No Comments 6 minutes
Are you ready to witness one of the most exhilarating fights of the season? Matchroom has finally confirmed the fight between Dillian Whyte and Alexander Povetkin, as Whyte's promoter Eddie Hearn said that the situation does not look like it will be improving anytime soon and while keeping that in mind, he promised to make this match happen even if it has to be behind closed doors.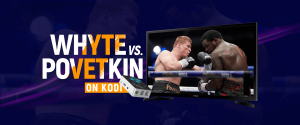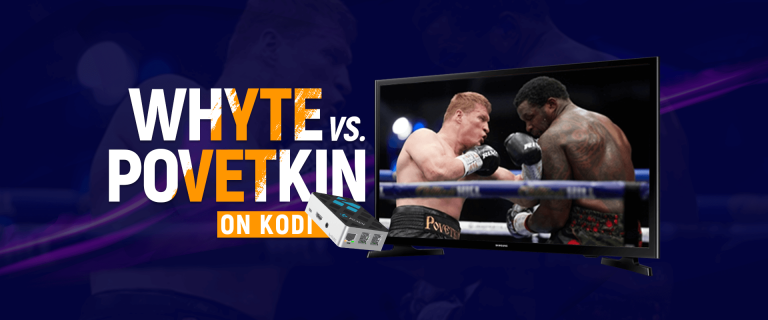 The match was initially set to take place on the 2nd of May in Manchester but had to be postponed to a newer date which was 4th July. However, since there was no such improvement in global conditions it has been again pushed forward to a date which is now finally disclosed.
Both players are in lockdown currently and preparing for their fights. Whyte has been in Portugal and has been training ever since for his bout with Povetkin in order to bring his A-game. He wishes to maintain his one-loss career and successfully defend his world title against Povetkin, as this would lead him to become the number one contender to fight against Joshua and Wilder.
Moreover, he doesn't mind that the arena will not entertain a crowd this time; he has his mind set on winning only,
"I think it's definitely different," Whyte said. "There's a massive difference obviously without the crowd. You could see when Ngannou was walking out; he was trying to like look around a bit. He got to the cage and he was like, acting a bit. The boxing behind closed doors, it's a funny one, man. I think, well, the good thing is like I say, I'm a fighter anyway. I'm willing to fight anywhere. I'm willing to go have a brawl anywhere. I've calmed down a lot in that way, but it's not a problem for me. We've been in gyms. We've been in many camps sparring. We've had harder fights in the gym than we've actually- I've had harder fights in the gym than I've had in the ring, with just me, my coach and their coach. So, it'll be similar, I think."
Although, Povetkin is no easy opponent- he's had his fair share of wins and with his impressive boxing career and Olympic achievements such as winning a gold medal the European Games (2002 and 2004) and World Championships (2003) as well as the coveted Olympic gold in Athens (2004). He's set the bar rather high.
Want to know where to watch the match since you can't be there physically? Now, you can stream Dillian Whyte vs Alexander Povetkin on Kodi! Keep reading to find out how.
Watch Dillian Whyte vs Alexander Povetkin Date, Time and Venue
Date: 27th March 2021
Venue: Europa Point Sports Compex, Gibraltar
Time: 10:30 p.m. GMT / 4:30 p.m. ET
How to Watch Dillian Whyte vs Alexander Povetkin on Kodi
As we all know, the match was originally set to take place in Manchester on two different dates; although due to the uncertainty there had to be a change in plans. All we know now is that the general audience will not be allowed to view the match from the arena directly as it will take place privately.
Fans will now have to either stream the match online or watch it on their TVs. Out of which, streaming is the considerably easier option as it would barely take up any of your time and wouldn't cost you a huge sum of money (which you'd have to spend to subscribe to certain cable packages).
You can easily stream the match online on either Sky Sports or DAZN. They are both equally good options that provide you with a wide variety of content anytime you want!
The process is rather simple; if you wish to subscribe to Sky Sports all you have to do is pay only £30 per month, or it also has an option to customize your package such as add Sky Entertainment into the package for £55/month, or avail the complete Sky Sports package for £40.
Similarly, if you want to opt for DAZN; you can stream sports anytime you want only at the cost of $19.99 per month or you could choose to pay annually at $99.99 per year.
Disclaimer: both the websites mentioned above use geo-restrictions and limit their availability only to certain regions or locations which means it cannot be accessed from users around the world.
If you wish to surpass these restrictions, it can be done easily with the help of a VPN. Whenever you're deciding upon what VPN to go for, it is always wise to choose a paid version like FastestVPN rather than a freebie since they basically provide you with no protection.
When you subscribe and connect to FastestVPN, it will firstly hide your internet traffic and identity by changing your IP address and granting you immediate access to any restricted websites. Furthermore, it not only unblocks websites but it will also provide you with added security and privacy.
Similarly, you can easily stream Whyte vs Povetkin on Kodi by connecting to FastestVPN; here's how:
How to Watch Dillian Whyte vs Alexander Povetkin on Kodi
Find Kodi for your device
Get FastestVPN
Connect FastestVPN with your Router using UK/USA IP address
Open Kodi
Click on the small gear icon at the top-left corner to open Settings menu
Click on File Manager then double-click on Add Source
Enter this repository link in the URL field: http://fusion.tvaddons.co
Now, click OK
Go back to the Settings menu and click on Add-ons
Pick Install from Zip File
Select Fusion > Repositories > English > Repository.leopold
Get back to Add-ons and select Install from Repository
Now pick Leopold
Go to Video Add-ons and search for Sky Sports
Click on Install
Once done, the add-on will be available in Add-ons at the Home Page.
Fight Records
Dillian Whyte
Born: 11 April 1988 (age 32) Port Antonio, Portland, Jamaica
Other names: The Villain, The Body Snatcher
Nationality: British
Height: 6 ft 4 in (193 cm)
Division: Heavyweight, Super-heavyweight (kickboxing)
Reach: 78 in (198 cm)
Stance: Orthodox
Fighting out of: Brixton, London, England
Years active:  2008 (MMA), 2011–present (Boxing)
Boxing record
Total: 28
Wins: 27
By knockout: 18
Losses: 1
Alexander Povetkin
Real name: Alexander Vladimirovich Povetkin
Nickname(s): Sasha, Russian Vityaz, White Lion
Weight(s): Heavyweight
Height: 1.88 m (6 ft 2 in)
Reach: 190 cm (75 in)
Nationality: Russian
Born: 2 September 1979 (age 40) Kursk, Russian SFSR, Soviet Union
Stance: Orthodox
Boxing record
Total fights: 38
Wins: 35
Wins by KO: 24
Losses: 2
Draws: 1
Conclusion
You wouldn't want to miss this fight; we can already sense the excitement! Two extremely talented players will battle it out in the octagon, who will win? Only time will tell.
So don't forget to tune into Dillian Whyte vs Alexander Povetkin on Kodi!
More importantly, make sure to subscribe to FastestVPN in order to ensure immediate access to the stream and for an added layer of protection.
Take Control of Your Privacy Today!
Unblock websites, access streaming platforms, and bypass ISP monitoring.
Get FastestVPN