Watch Tyson vs Jones on Kodi for Free
Watch Tyson vs Jones on Kodi for Free
By Johan Curtis No Comments 5 minutes
Get ready for some exciting news! The boxing veteran, Mike Tyson, has decided to make comeback to his boxing career after fifteen years! Iron Mike has decided to make a comeback to his career in an eight-round bout against Roy Jones Jr. on the 28th of November.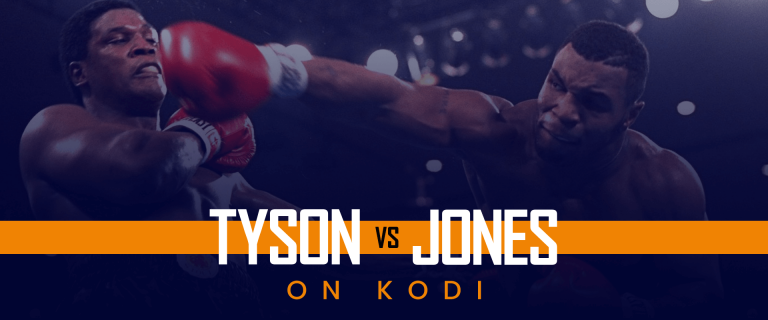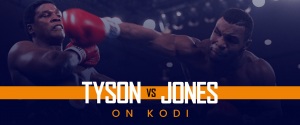 Tyson, who is known as the 'Baddest Man on the Planet,' became the youngest-ever heavyweight champion in his time at just 20-years old. The 54-year old has had a stellar record of knocking out 44 of his 58 opponents, with his last match against Kevin McBride in 2005.
The Preparations
Tyson has been training non-stop with coach, Rafael Cordeiro, as his numerous posts and images suggest. He is in tremendous shape and is making sure that he brings his very best to his bout. According to Cordeiro, "As soon as we started training, I said, 'My Lord.' I didn't know what to expect from a guy who hasn't hit mitts for, I think, almost 10 years… I saw a guy with the same speed, the same power as a guy who is 21, 22 years old."
"The power is different level. I have trained a lot of heavyweights in my career, with not a lot of respect for everybody, but he is almost as powerful as Wanderlei Silva is right now. When you talk about power, I held his right hook and thought, 'He is going to kill somebody.'"
Moreover, his opponent Roy Jones Jr., who recently turned 51 is not an easy opponent. Jones managed to claim the world titles at middleweight, super-middleweight, light-heavyweight and heavyweight during his career and was known for his combinations of speed, power, and defense.
Jones Jr. had made clear that he knows what he is getting into, and that its not an easy decision fighting against the legendary Mike Tyson, however, he is looking forward to it and assures the audience that he will be bringing his A-game for this match!
A match as good as this just cannot be missed, watching the two legendary veterans collide will be a thrill! You can easily watch Tyson vs Jones on Kodi, keep reading to find out how.

Mike Tyson vs Roy Jones Jr. Date, Time, and Venue
Date: 28th November 2020
Time: 10 pm E.T
Venue: STAPLES Center, Los Angeles, California, United States of America.
How to Watch Tyson vs Jones on Kodi?
The legendary bout is all set to take place in Los Angeles and is said to be a pay per view fight with a special title and belt made just for this fight. The match was originally planned to take place in September, however, given the global pandemic and its crucial condition it was postponed.
The fight will now take place in the STAPLES Center, unfortunately fans will not be allowed in the arena for this fight either due to the coronavirus. However, it will be aired live on Triller, a social media application just like TikTok, and ESPN+.
All you must do is subscribe to ESPN+ or download Triller, pay the pay per view price, and begin streaming!
One slight problem is that ESPN+ uses geo-restrictions, and airs geo-restricted content which means that ESPN+ is only accessible to people within the United States of America, or other selected locations. To surpass such location blocks, you need to be using a VPN.
A VPN will bypass these geo-restrictions and grant you immediate access to the webpage, as it disguises your IP address and presents it as one which matches the website's geographical requirements while also providing you with security and privacy. FastestVPN is one of the best options out there, with its incredible uptime and support for various devices like Firestick, PS4, Smart TV, and Kodi. It's effortless to stream all your favorite matches. See below to find how to watch Mike Tyson vs Roy Jones Jr on Kodi.
Here is a step by step tutorial on how to watch the match on Kodi:
Find Kodi for your device
Connect FastestVPN with your Router using US IP address
Open Kodi
Click on the small gear icon at the top-left corner to open the Settings menu
Click on File Manager then double-click on Add Source
Enter this repository link in the URL field: http://repo.rubyjewelwizard.com/
Now, click OK
Go back to the Settings menu and click on Add-ons
Pick Install from Zip File
Select Fusion > Repositories > English > Repository.leopold
Get back to Add-ons and select Install from Repository
Now pick Leopold
Go to Video Add-ons and search for ESPN+
Click on Install
Once installed, the add-on will appear on your Kodi application.
Fight Records
Mike Tyson
Name: Michael Gerard Tyson
Born: June 30, 1966 (age 54) Brownsville, Brooklyn, New York, U.S.
Nickname(s): Iron Mike, Kid Dynamite, the Baddest Man on the Planet
Weight(s): Heavyweight
Height: 5 ft 10 in (178 cm)
Reach: 71 in (180 cm)
Stance: Orthodox
Boxing record
Total fights: 58
Wins: 50
Wins by KO: 44
Losses: 6
No contests: 2
Roy Jones Jr.
Real name: Roy Levesta Jones Jr.
Nickname(s): Junior, Superman, RJ, Captain Hook
Weight(s): Middleweight, Super middleweight, Light heavyweight, Cruiserweight, Heavyweight
Height: 5 ft 11 in (180 cm)
Reach: 74 in (188 cm)
Nationality: American, Russian
Born: January 16, 1969 (age 51) Pensacola, Florida, U.S.
Stance: Orthodox
Boxing record
Total fights: 75
Wins: 66
Wins by KO: 47
Losses: 9
Conclusion – Tyson vs Jones on Kodi
The audience is brimming with exhilaration at this point, and so are we! This is going to be a match everyone will remember, a legendary bout where two veteran boxers compete against one another!
Even though, the fight has received some backlash from players such as Floyd Mayweather, who thinks that the creation of a special belt only for this match is unnecessary and excessive.
Regardless of such claims, both players are determined to bring their A-game to the fight and are confident that they can outperform each other. So, do not forget to tune in to Tyson vs Jones on Kodi and make sure to subscribe to FastestVPN to stay safe, and get past any geo-restrictions!

Take Control of Your Privacy Today!
Unblock websites, access streaming platforms, and bypass ISP monitoring.
Get FastestVPN