Watch Mike Tyson vs Roy Jones Jr. on Firestick
Watch Mike Tyson vs Roy Jones Jr. on Firestick
By Johan Curtis No Comments 6 minutes
Are you ready to witness one of the biggest and most awaited matches of all time? California State Athletic Commission has finally approved the long-awaited and requested bout between Mike Tyson and Roy Jones Jr.!
Originally, the match set to take place on 12th September in California, but Tyson and his team, after conducting a few meetings with Jone's management, announced that the match is to be postponed to November. Especially since it will be Thanksgiving weekend then and is bound to bring in more pay per view than normally.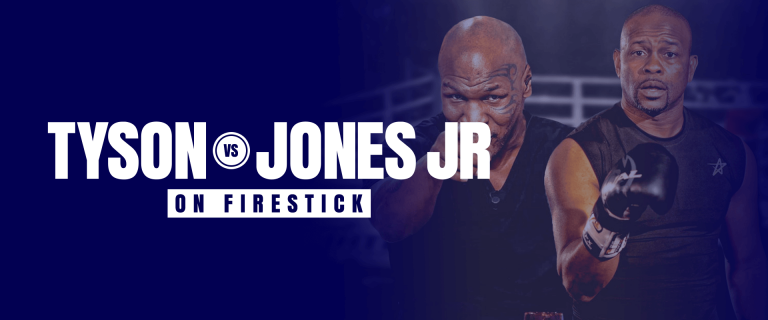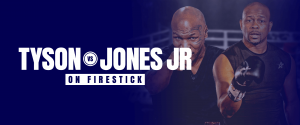 With that being said, both the absolutely legendary players are all set to hit the octagon in an exhibition match to show off their boxing skills and prove that age truly is just a number. Since the players aren't competing for a title or something, there will be no judges or announcements; the only option is to win by KO.
Andy Foster of California State Athletic Commission says, ""We can't mislead the public as to this is some kind of real fight. They can get into it a little bit but I don't want people to get hurt. They know the deal." "It's an exhibition, they can exhibit their boxing skills, but I don't want them using their best efforts to hurt each other. They're going to spar hard, but they shouldn't be going for a knockout. This isn't a record-book type of fight."
"This is not world championship boxing right now. It's not what this is. People shouldn't be getting knocked out. The public can see what kind of shape Roy and Mike are still in."
Mike seems to pretty prepared for the fight, he's confident that he's still just as good and no matter how old he is or how long ago he retired; he will take Roy down. "My mentality is just what it's always been. How do I say this? I'm an annihilator… Man for man I don't think nobody can match me… I'm the greatest fighter since the conception of God, how could I not take this opportunity up?"
This surely will be a fight you wouldn't want to miss! Want to know how to watch Mike Tyson vs Roy Jones Jr. on Firestick? keep reading to find out how.
Date, Time and Venue
Date: 28th November 2020
Time: 10 pm E.T
Venue: Staples Center, Los Angeles, California
How to Watch Mike Tyson vs Roy Jones Jr. Live Online
Even though the players have moved the match to November, there is still no chance for the audience to view the match live inside the arena. All matches will still be held behind closed doors, which leave the viewers with no other option but to watch it on cable or stream it online.
Although, for this match, the option to watch it on cable may not be available because the fight is being promoted at pay per view for $49.99 on the regular pay per view streaming platforms or on the social media app "Triller."
You can stream the match online easily by subscribing to ESPN+ or any other platform. Once you are subscribed and a member, you will then be able to view the match live after you additionally pay PPV charges.
ESPN+ generally would not be such a bad buy, once you obtain membership, you get access to their entire content library which is rather vast and offers all kinds of sports and relevant updates as well as stream live matches such as this one.
Normally ESPN+ costs you $4.99 per month, or you could choose to subscribe at $49.99 per year. Moreover, they even have a bundle where you could subscribe to ESPN+, Disney Plus, and Hulu for $12.99 per month and along with a subscription, you will also have to additionally pay for the fight's PPV.
Another option would be to download the app Triller and pay for PPV and stream the match live on the application.
Whichever option you choose, the problem of geo-restriction is likely to be a problem for you if you are outside the USA. ESPN+ and similar sites usually have geo-restrictions which means that users who are not residing in the selected regions cannot access the website or application. In order to surpass these restrictions, you will need an efficient VPN.
A VPN such as FastestVPN will not only provide you with online anonymity and unblock the websites and applications for you; it will also act as an added layer of security to keep you and your online activity safe from any damage.
This is a major fight in the making. The kind we expect people to watch live on Smart TV, but if you don't have a TV with smart functionality, use a FireStick instead, or watch live on PS4. Here's how you can watch the match through Firestick with FastestVPN:
How to Watch Mike Tyson vs Roy Jones Jr. on Firestick
Install FastestVPN app for Firestick
Open FastestVPN and get connected to the USA server
Go to ESPN.com and search for ESPN+
Open ESPN+
Subscribe to the service and watch Mike Tyson vs Roy Jones Jr.
Fight Records
Mike Tyson
Name: Michael Gerard Tyson
Born: June 30, 1966 (age 54) Brownsville, Brooklyn, New York, U.S.
Nickname(s): Iron Mike, Kid Dynamite, the Baddest Man on the Planet
Weight(s): Heavyweight
Height: 5 ft 10 in (178 cm)
Reach: 71 in (180 cm)
Stance: Orthodox
Boxing record
Total fights: 58
Wins: 50
Wins by KO: 44
Losses: 6
No contests: 2
Roy Jones Jr.
Real name: Roy Levesta Jones Jr.
Nickname(s): Junior, Superman, RJ, Captain Hook
Weight(s): Middleweight, Super middleweight, Light heavyweight, Cruiserweight, Heavyweight
Height: 5 ft 11 in (180 cm)
Reach: 74 in (188 cm)
Nationality: American, Russian
Born: January 16, 1969 (age 51) Pensacola, Florida, U.S.
Stance: Orthodox
Boxing record
Total fights: 75
Wins: 66
Wins by KO: 47
Losses: 9
Conclusion
We can't to witness the greatness in the octagon when these legends battle it out! It'll surely be a match that you wouldn't want to miss out on.
Will Jones be able to knock Tyson out due to his more relevant and recent experience? Or will Tyson prove that he truly is the best knockout boxer there is? Make sure to tune in to find out!
Don't forget to watch Mike Tyson vs Roy Jones Jr. on Firestick through FastestVPN, if you want to get rid of these pesky location blocks.
Take Control of Your Privacy Today!
Unblock websites, access streaming platforms, and bypass ISP monitoring.
Get FastestVPN