Watch Mike Tyson vs Roy Jones Jr. Live Online
Watch Mike Tyson vs Roy Jones Jr. Live Online
By Johan Curtis No Comments 8 minutes
The octagon is all set to welcome Iron Mike, Mike Tyson, and legendary Roy Jones Jr. The fans have waited their fair share of time to witness the two legends battle it out. The fight was originally all planned and set for September but was then pushed back by Tyson's management to November; they claimed the fight would be able to generate more revenue during the Thanksgiving weekend. After a meeting with Roy and his management, the date was finally set and confirmed.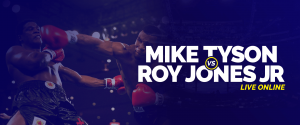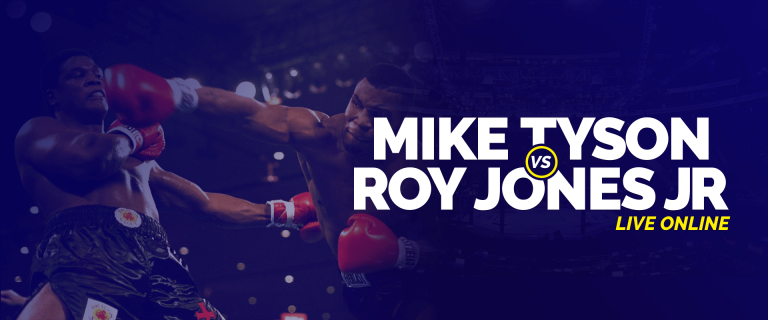 "Changing the date to November 28th will give more people the opportunity to see the biggest comeback in boxing history," Tyson said. "This temporary inconvenience will last longer than Roy Jones Jr. He better be ready, I'm coming full force."
Even though this fight is known to be an exhibition match, the players have been promoting themselves by releasing several teasers or promotional clips. Since it is an exhibition bout, Andy Foster has announced that the only way to win is through knockout. However, he does express concern over the players going too far. He says, "We can't mislead the public as to this is some kind of real fight. They can get into it a little bit but I don't want people to get hurt. They know the deal." "It's an exhibition, they can exhibit their boxing skills, but I don't want them using their best efforts to hurt each other. This is not world championship boxing right now. It's not what this is. People shouldn't be getting knocked out."
With Tyson's return to the ring, one can only imagine how well prepared he is for this! He claims that the people enjoy his and his opponent's rivalry and that is the sole reason they want to see them in the octagon, it's either go hard or go home for him! He says, "My mentality is just what it's always been."
However, his opponent, Jones does have some sort of advantage over him since the 51 year old retired more recently; in 2018 after defeating Scott Sigman by unanimous decision.
This is going to be one exciting match, stay tuned to find out where you can watch Mike Tyson vs Roy Jones Jr. Live Online.
Date, Time and Venue
Date: 28th November 2020
Time: 10 pm E.T
Venue: Staples Center, Los Angeles, California
How to Watch Mike Tyson vs Roy Jones Jr. Live Online
Even though the fight was pushed back to November, there is still no guarantee that viewers will be allowed inside the arena; it is said to take place behind closed doors only. This leaves the audience with only one option to view the match which is streaming it online.
For "not an actual fight", it is priced rather high at $49.99 pay per view. The exhibition match can either streamed through pay per view on any PPV platform such as ESPN+, however, in order to gain access to the live event you need to be subscribed to the streaming platform you choose.
Subscribing to ESPN+ wouldn't be such a bad decision because upon subscription you get access to ESPN+'s massive media library and you will now be able to view whatever sports you like whenever.
Normally ESPN+ costs you $4.99 per month, or you could choose to subscribe at $49.99 per year. Moreover, they even have a bundle where you could subscribe to ESPN+, Disney Plus and Hulu for $12.99 per month and along with subscription you will also have to additionally pay for the fight's PPV.
Additionally, you can also stream the match live on Triller, which is an upcoming social media video platform; somewhat similar to TikTok, it allows you to share your video creations with the world.
Even though with unlimited options available, it is not enough for international viewers because most of the solutions mentioned above are geo-restricted. This means that they are only available in selected regions and not worldwide; in order to surpass such geo-restriction you will need a VPN.
A VPN such as FastestVPN will mask your identity online and disguise your IP address as one which matches the particular site or app's requirements. Furthermore, FastestVPN also guarantees to keep you safe and secure while you browse online.
Here are a few step by step tutorials on where to watch the match live online:
How to Watch Mike Tyson vs Roy Jones Jr. on ESPN+
Select your favorite pricing plan and subscribe to FastestVPN
Download FastestVPN app that supports your device or configure VPN in router
Select US server location
Go to ESPN+ and click at Mike Tyson vs Roy Jones Jr. Live
Now you can watch the show.
Subscribe to FastestVPN
Download FastestVPN app (for Android TV only) or setup FastestVPN with your Router using USA IP address
Connect your Smart TV to Router
Open browser and search for your desired website or open an installed app for your Smart TV. Search and click at live Mike Tyson vs Roy Jones Jr., and watch the show.
Subscribe FastestVPN
Install FastestVPN app for Firestick
Open FastestVPN and get connected to the USA server
Go to ESPN.com and search for ESPN+
Open ESPN+
Subscribe to the service and watch Mike Tyson vs Roy Jones Jr.
Find Kodi for your device
Get FastestVPN
Connect FastestVPN with your Router using US IP address
Open Kodi
Click on the small gear icon at the top-left corner to open Settings menu
Click on File Manager then double-click on Add Source
Enter this repository link in the URL field: http://fusion.tvaddons.co
Now, click OK
Go back to the Settings menu and click on Add-ons
Pick Install from Zip File
Select Fusion > Repositories > English > Repository.leopold
Get back to Add-ons and select Install from Repository
Now pick Leopold
Go to Video Add-ons and search for ESPN+
Click on Install
Once done, the add-on will be available in Add-ons at the Home Page.
How to Watch Mike Tyson vs Roy Jones Jr. on IOS/Android
Get FastestVPN
Download FastestVPN app for Android or IOS
Connect to USA server location
Go to Play Store and search for ESPN+ or visit the ESPN website
Download the app
Open app after installation
Subscribe and stream Mike Tyson vs Roy Jones Jr. live.
How to Watch Mike Tyson vs Roy Jones Jr. on Apple TV
Subscribe to FastestVPN
Configure FastestVPN through Router
Launch Apple TV browser and access ESPN+
Once the fight goes live, access the streaming channel and screen Mike Tyson vs Roy Jones Jr. on Apple TV.
Subscribe to FastestVPN
Setup FastestVPN with router using US IP address
Now plug in PS4/Xbox with the router
Head to PlayStation Store/Xbox Store, and download ESPN+
Open app and subscribe to ESPN+
Now you can watch the full match live online.
Fight Records
Mike Tyson
Name: Michael Gerard Tyson
Born: June 30, 1966 (age 54) Brownsville, Brooklyn, New York, U.S.
Nickname(s): Iron Mike, Kid Dynamite, the Baddest Man on the Planet
Weight(s): Heavyweight
Height: 5 ft 10 in (178 cm)
Reach: 71 in (180 cm)
Stance: Orthodox
Boxing record
Total fights: 58
Wins: 50
Wins by KO: 44
Losses: 6
No contests: 2
Roy Jones Jr.
Real name: Roy Levesta Jones Jr.
Nickname(s): Junior, Superman, RJ, Captain Hook
Weight(s): Middleweight, Super middleweight, Light heavyweight, Cruiserweight, Heavyweight
Height: 5 ft 11 in (180 cm)
Reach: 74 in (188 cm)
Nationality: American, Russian
Born: January 16, 1969 (age 51) Pensacola, Florida, U.S.
Stance: Orthodox
Boxing record
Total fights: 75
Wins: 66
Wins by KO: 47
Losses: 9
Conclusion
This is going to be one exhilarating match; we can't wait to see the results! Both boxing legends will be gathered together in the octagon, the critics and audience is already going crazy with their predictions.
Some say Jones holds a significant advantage over Tyson because of his recent retirement and the fact that he has been in practice longer, he could easily knock out Tyson with his deadly punches.
However, Tyson is not one to take easy; he has been one of the best fighters for knockout matches and we're sure that even though he has aged, he still has his skills.
Only time will tell, who wins and who doesn't; don't forget to watch Mike Tyson vs Roy Jones Jr. live online and subscribe to FastestVPN to surpass geo-restrictions.
Take Control of Your Privacy Today!
Unblock websites, access streaming platforms, and bypass ISP monitoring.
Get FastestVPN