How to Watch Swedish TV from Abroad
How to Watch Swedish TV from Abroad
By Johan Curtis No Comments 5 minutes
Are you a fan of Swedish TV? We all have our favorite shows or movies that we want to watch over and over again, no matter where we are. Don't you wish you could watch Swedish TV or access their channels from anywhere in the world?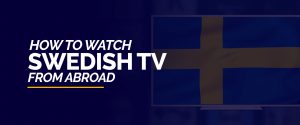 As you may know by now, most streaming platforms employ geo-restrictions. Similarly, so do most Swedish TV Channels, and you will probably not be able to gain access to any of those until and unless you are requesting access from within Sweden.
Here are some of the famous Swedish channels to look forward to on your Smart TV or on a smartphone:

SVT
SVT is a public non-commercial network which has many channels of its own ranging from news, general, sports to educational;
SVT1 (News) (DTT)
SVT2 (general) (DTT)
SVT24 (news, sports, reruns) (DTT)
SVT Barn (children) (DTT)
Kunskapskanalen (educational) (DTT)
This is Sweden's national channel funded by public taxes and is known for its quality content.
TV4 AB
TV4 AB is probably the biggest private commercial networks in Sweden; it solely directs and broadcasts from Sweden. Much like SVT, TV4 AB also consists of multiple channels that offer tenfold content. Such as:
TV4 (general entertainment) (DTT) (HD)
Sjuan (general entertainment) (DTT)
TV12 (DTT) (HD)
TV4 Film (movies) (DTT)
TV4 Fakta (documentaries) (DTT)
TV4 Guld ("classic" programming)
C More Sport (sports) (DTT)
Nordic Entertainment Group
Another one of the well-known private commercial networks is the Nordic Entertainment Group; they offer a wide range of channels that cover almost every other television category.
TV3 (general entertainment) (DTT) (HD)
TV6 (entertainment) (DTT) (HD)
TV8 (news and documentaries) (DTT)
TV10 (sport and documentaries) (DTT)
V Sport (HD)
V Sport Football (HD)
V Sport Hockey
Viacom CBS Networks EMEAA
If you enjoy cartoons and music or have children, Viacom has all the channels you need! Viacom, a private commercial network, is one of the most-watched networks in Sweden.
Comedy Central Sweden (DTT)
MTV Sweden (music/entertainment) (DTT)
Nickelodeon Sweden (children) (DTT)
Nick Jr. (DTT)
Nicktoons (DTT)
These are only the top few; Swedish TV encompasses a wide media library consisting of several networks and channels within those networks.
How to Watch Swedish TV Internationally
As stated above, like every other broadcasting or streaming platform, Swedish channels also make use of geo-restrictions, blocking their content from being viewed internationally.
This is probably the most frustrating thing about global channels, why must they be blocked? Well, no need to stress out too much; we've got your back! To surpass geo-restrictions or to remove any location blocks, you need a VPN.
A VPN (Virtual Private Network) is a service which extends a private network across a public network and allows its user to send or receive data through the public network. A VPN will give you online anonymity and simultaneously mask your IP address so that your internet traffic is private and untraceable.
Connecting to a VPN before opening a Swedish channel will help you gain immediate access to that particular channel. The VPN will mask your IP with a Swedish IP address, guaranteeing complete anonymity and providing you with instant access to the said channel or network.
VPN for Swedish TV
It is incredibly important that when selecting a VPN for such purposes, you choose the right one. There are several VPNs in the market, each with its distinct features. However, one thing that we should all steer clear from is free VPNs.
Free VPNs are a privacy risk. Running a VPN service requires resources. There is a cost attached to running a service 24/7 for thousands of customers. The way free VPNs make money is by logging user activity and selling that data to advertisers. Your activities, browsing habits, to be specific, is very valuable to advertisers.
As a paid VPN service, FastestVPN guarantees a no-logs policy. It means that whatever you do on the internet will never be recorded. Moreover, free VPNs do not provide the kind of varied features that FastestVPN does, such as Kill Switch, AES 256-bit encryption, simultaneous logins, Ad-Blocker, and more.
How to Stream Swedish TV with FastestVPN
Here's a quick step by step tutorial on how to subscribe and connect to your favorite Swedish channel using FastestVPN:
Subscribe to FastestVPN.
Once done, launch the app.
Log in to your account.
Connect to any Swedish server.
Once you're connected, open whatever streaming channel you'd like
It is now unblocked. Enjoy streaming!
Conclusion
We all love our international content. It is always refreshing to have a change of channels and watch something completely new. Swedish TV is a great option for you, with their diverse range of programs and categories of content – it is bound to get you hooked to your screen.
Now you can watch Swedish TV from abroad, no matter where you are, all with the help of VPN.

Take Control of Your Privacy Today!
Unblock websites, access streaming platforms, and bypass ISP monitoring.
Get FastestVPN