How to Watch South Korea vs Mexico Live Streaming
How to Watch South Korea vs Mexico Live Streaming
By Johan Curtis No Comments 3 minutes
Establishing Germany as the strong and ruthless team that they are, only one spot will be available for the round of 16 for all other teams in Group F. We would pin Mexico as one of the most active challenger for the vacant spot but fans will just have to watch South Korea vs Mexico live streaming to find out!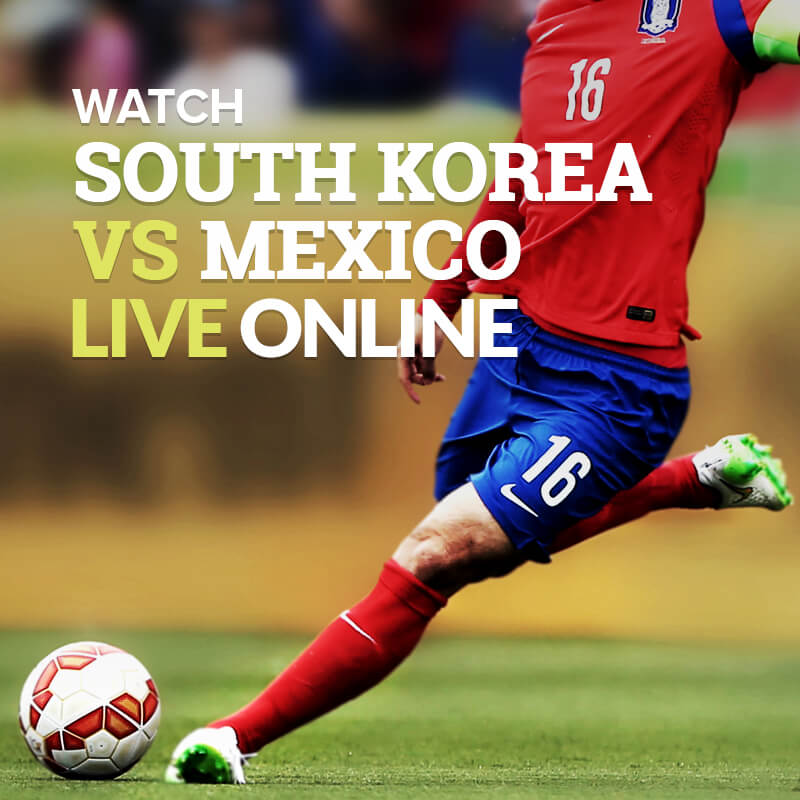 ---
---
South Korea vs Mexico Live – Date, Time and Venue
The venue has a seating capacity of 45000 but only 42000 tickets are sold to the general public. It will also host another stage match and a round of 16 as well.
South Korea vs Mexico Date: 23rd June 2018
South Korea vs Mexico Time: 18:00 local time
South Korea vs Mexico Venue: Rostov Arena, Russia
---
South Korea vs Mexico Online For Free
Fans with cable can watch the match on their television sets via channels that have official rights to telecast FIFA 2018. Sony LIV app also has its subcontinent fans covered. Mexico audience can visit Televisa website and enjoy their team in action.
These channels are geo-restricted though so cannot be accessed unless you are present there, physically or virtually. Cord cutters can also watch South Korea vs Mexico live online on the Russian channel for free! It is said that the channel will go on air 10 to 30 minutes ahead of time on all broadcasting websites.
Get the app for your device or configure it with router, whatever is more convenient
Connect to Russian or UK Server (for free streams)
Go to MatchTV.ru or BBC official website from your browser
And Voila! Enjoy live stream for the 28th FIFA 2018 match!
---
South Korea vs Mexico Team News
The teams have star-studded lineups, though South Korea is still deficient in their defense department as compared to Mexico but at the same time have a strong attack. Here is how the lineups of both the sides look like:
---
South Korea Team
Goalkeepers: Kim Jinhyeon, Kim Seunggyu, Cho Hyeonwoo
Defenders: Yun Yeongseon, Kwon Kyungwon, Oh Bansuk, Kim Jinsu, Kim Minwoo, Park Jooho, Hong Chul, Go Yohan, Kim Younggwon, Jang Hyunsoo, Jeong Seunghyeon, Lee Yong
Midfielders: Ki Sungyueng, Koo Jacheol, Lee Jaesung, Lee Seungwoo, Moon Sunmin, Jeong Wooyoung, Kwon Changhoon, Ju Sejong, Lee Chungyong
Forwards: Son Heungmin, Hwang Heechan, Kim Shinwook, Lee Keunho
---
Mexico Team
Goalkeepers: Alfredo Talavera, Jesus Corona, Guillermo Ochoa
Defenders: Nestor Araujo, Hugo Ayala, Jesus Gallardo, Miguel Layun Edson Alvarez, Oswaldo Alanis, , Hector Moreno, Diego Reyes, Carlos Salcedo
Midfielders: Jhonatan Dos Santos, Andres Guardado, Erick Gutierrez, Rafael Marquez, Jesus M. Corona, Jurgen Damm, Marco Fabian, Giovani Dos Santos, Jesus Molina
Forwards: Raul Jimenez, Hirving Lozano, Dribe Peralta, Javier Aquino, Javier Hernandez, Carlos Vela
---
---
Conclusion
Watch South Korea vs Mexico live streaming and enjoy a game full of high stakes. It will be a match of high intensity – just the way fans like it. Those who are not able to book tickets for the venue, can watch it online at home on any of their preferred device. Don't miss this encounter and enjoy the encounter live with FastestVPN from anywhere on the globe.