Watch Shakur Stevenson vs Oscar Valdez on Roku
Watch Shakur Stevenson vs Oscar Valdez on Roku
By Alexandra Smith No Comments 5 minutes
It's that time of the year when you set your calendars for another exciting boxing event. Shakur Stevenson is going to fight Oscar Valdez in the boxing ring with the determination to take another laurel at home. However, WBO Belt holder Shakur Stevenson has declared that he is going to get Oscar Valdez in the worst way.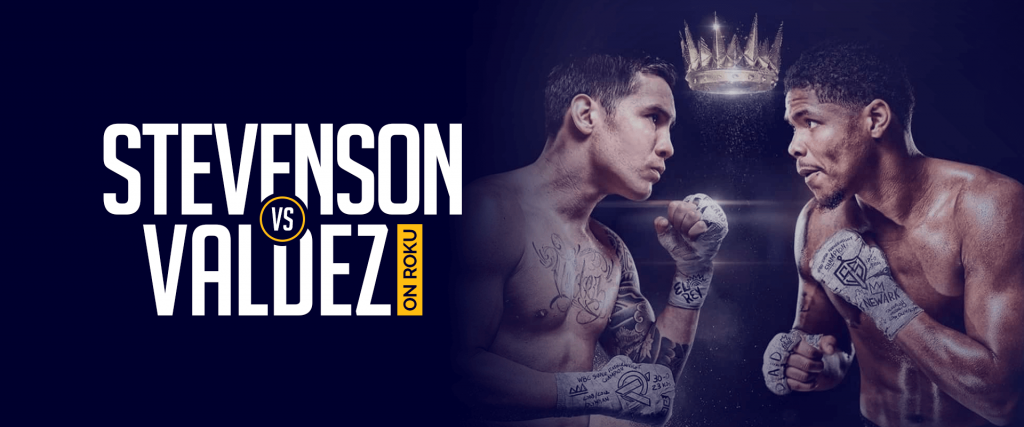 Shakur Stevenson is an American professional boxer. Having held the world championship in two weight classes, he's proud to hold the lightweight and featherweight awards. Meanwhile, Oscar Valdez is a Mexican professional boxer and WBC champion who holds two champion awards along with the Olympic qualification.
WBO champion Stevenson led a successful career since he set foot in the International Boxing Association. For Valdez, he accomplished his first fight in 2012 in Olympic games, uptil now he only believes in making wins!
Hence, the grand event is going to take place on the 30th of April 2022, on Saturday at MGM Grand Garden Arena in Las Vegas. Let's prepare to enjoy the massive bout and see your favorite contenders fighting in the ring! We know you are thinking about the channels and geo-restrictions. You dont need to fret when we have covered everything for you to cherish the marvelous event. Read along to find out more!
What Media Sites Are Covering the Event?
Stevenson-Valdez's fight would be on-air live on ESPN, ESPN Deportez, and ESPN+ at 10:00 PM ET/ 7:00 PM PT. You must be ready and connect to a premium VPN for an exciting event with no interruption.
Stevenson vs Valdez – MGM Grand Garden Arena 2022
The grand steaming event is designed to be broadcast on Saturday, April 30th 2022, in MGM Grand Garden Arena, Las Vegas. The world's two famous actors are all set for the amazing boxing event. WBC Champion Oscar Valdez is a Mexican boxing legend. Shakur Stevenson also doesnt need any introduction since he has already ranked as the World's best junior lightweight award winner and seems very enthusiastic about the bout.
Moreover, Stevenson and Valdez are grappling with becoming the world's first unified junior lightweight champions after the Mexican legend Marco Antonio Barrera took the accolade in 2005. Lets see who will be holding the trophy!
What is Roku?
Roku is a brand of media devices that satisfies all of your media streaming activities. Roku can transform your conventional cable equipment into an exciting smart TV with great media exposure.
You can enjoy thousands of TV shows in a premium user interface while connecting your TV to your Roku device. Read further to find out about how to watch Shakur Stevenson vs Oscar Valdez on Roku.
Why Do You Need To Have a VPN Subscription?
There are several media streaming sites that dont allow broadcasting outside the USA and ESPN is one of them. Having a robust VPN that can bypass all the content restrictions would be an effective way to stream your favorite bouts that you are waiting for!
Connect to FastestVPN and watch Shakur Stevenson vs Oscar Valdez from anywhere in the world. You can read how to set FastestVPN's Roku app to open gates to an exciting streaming world!
How to Watch Shakur Stevenson vs Oscar Valdez on Roku
You might be interested in knowing about the instructions and setting up your Roku device before the streaming takes place. It is not a difficult task to stream anything on Roku if you are connected to a VPN, and what's better than FastestVPN that unblocks all your favorite media apps to provide you with a next-level streaming facility.
Follow these effective guidelines to get along.
Subscribe to FastestVPN.
Configure FastestVPN in your router.
Connect Roku to your VPN configured router.
Launch the Roku channel.
Download the ESPN app on your Roku.
Log in to ESPN. Make sure you have a subscription to ESPN+.
Start streaming your favorite Shakur Stevenson vs Oscar Valdez globally.
Who Is on the Undercard for Shakur Stevenson vs Oscar Valdez
On the undercard plan for the Shakur Stevenson vs Oscar Valdez, we have Ali Walsh who will be fighting Alejandro Ibarra in a four-round middleweight attraction on Saturday at the MGM Garden Arena. You can stream the live hot fight at ESPN, ESPN Deportes, and ESPN+.
Fight Records
Seeing your favorite contenders entering the wing has its own charm. Keep going with the excitement and boost your mood by reading the incredible fight records of the contenders.
Shakur Stevenson
Weight: Featherweight, Super featherweight
Height: 5 ft 8 in (173 cm)
Reach: 68 in (173 cm)
Nationality: American
Stance: Southpaw
Total Fights: 17
Wins: 17
Wins by KO: 9
Losses: 0
Draws: 0
Oscar Valdez
Weight: Featherweight, super featherweight
Height: 5 ft 6 in (1.68 m)
Reach: 66 in (168 cm)
Nationality: Mexican
Stance: Orthodox
Total Fights: 30
Wins: 30
Wins by KO: 23
Losses: 0
Draws: 0
Wrapping Up
And thats a wrap! Set your lounge with your Roku device and connect it to the FastestVPN for a buffer-free and smooth streaming experience. You can watch Shakur Stevenson vs Oscar Valdez on Roku via ESPN+ while connected to the FastestVPN to live your long-awaited event with an extreme premium aura.

Take Control of Your Privacy Today!
Unblock websites, access streaming platforms, and bypass ISP monitoring.
Get FastestVPN