How to Watch Peacock TV in Canada
How to Watch Peacock TV in Canada
By Christine Margret No Comments 5 minutes
Peacock TV is the latest 2020 video-on-demand streaming service where you can watch thousands of movies and TV Shows. Introduced in April 2020, it has attracted 15 million users in a matter of months.
The service hasn't officially rolled out in Canada. Though getting started with Peacock TV is easy, we'll show you how to watch Peacock TV in Canada.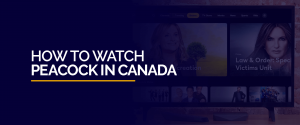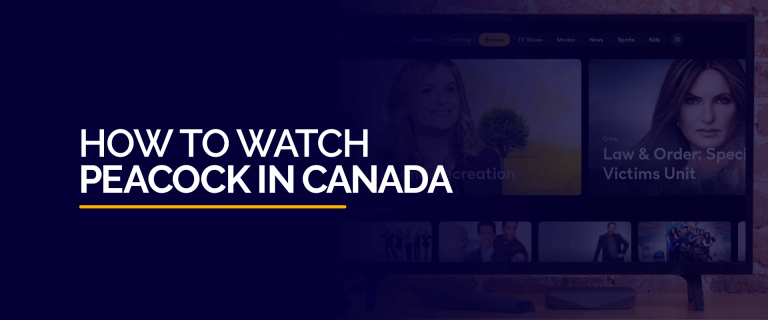 What Is Peacock TV?
Just like Netflix and Hulu, Peacock TV is yet another top American video-on-demand streaming service. It gives you a chance to watch a variety of TV shows, movies, and much more. The streaming platform is operated by NBCUniversal – a Comcast subsidiary.

What Can I Watch on Peacock TV?
Peacock TV is bursting with a good range of content. It includes a collection of NBC's shows, Universal's films, and most of Universal's original content is available there.  What's more? The service also focuses on the live, curated content, just like any other top streaming service.
How to Watch Peacock TV in Canada?
Peacock TV is officially available in the USA. When you try to connect this service outside of the USA, you'll receive an error saying the service is currently not available in your region.
A VPN is the best tool to access Peacock TV in Canada. A virtual private network will encrypt your traffic and change your Canada IP address to a US IP address. In this way, you will appear as someone who is streaming from the US instead of Canada.
Follow these quick and easy steps to watch Peacock TV in Canada:
Visit FastestVPN.com
Signup
Install device supporting VPN app
Connect to a US server
Wait till connection gets established
Head to Peacock TV, and that's it!
Locations where Peacock TV Is Officially Available
Right now, Peacock TV is officially available in the United States only. The company has no plans for further expansion yet.
Most Popular Shows on Peacock TV
Peacock TV has a boatload of amazing shows and movies to get you started. Here's the list of the most popular show to rock your streaming world.
| | | |
| --- | --- | --- |
| Free Tier  | Peacock Premium  | Peacock Originals  |
| Saturday Night Live | House | The Capture |
| 30 Rock | Cheers | Brave New World |
| Royal Pains | Frasier | Intelligence |
| Phantom Thread | Two and a Half Men | Psych 2: Lassie Come Home |
There's much more that you can expect to watch since the service also offers live content, including news, sports, Olympics, and more.
What is the Cost of Peacock TV?
Peacock TV offers different pricing for different plans. The first plan that you can enjoy for free is the basic version with ads. Then comes the second plan, which is the Peacock Premium Plan for $4.99/mo and $49.99/year. The third plan is the Peacock premium plus plan for $9.99/mo and $99.99/year.
Peacock premium plus offers double the shows than Peacock premium plan and without ads.
Devices That Peacock TV Supports
You can watch Peacock TV on the following devices listed below:
| | | |
| --- | --- | --- |
|  Android | PlayStation 4 | Chromecast |
| Android TV | LG Smart TV | iOS |
|  Apple TV | Vizio SmartCast TVs | box One |
Note: Peacock TV is almost accessible on all the major devices and platforms except Amazon's Fire TV and Roku.
Why Is Peacock TV Blocked In Canada?
It could be due to several reasons. Peacock TV is a new streaming service that has a long way to go when it comes to competing with more established services. Expanding to new countries requires catering to legal agreements that the service might not be prepared for at this stage.
Is Peacock Subscription Worth it?
Subscribing to Peacock TV is totally worth it. One of the best things about this streaming service is that unlike other streaming services, Peacock TV offers an option for a free subscription that supports advertisements. It has a complete, curated list of content for all ages. Whether you're looking to watch live news, comedy like FRIENDS, sports including US golf, NFL Wild Card Playoff Game, Beijing Olympics, and a lot more is just right there.
What Are the Features of Peacock TV?
You can make the most out of your Peacock subscription. The streaming service is not only packed with great content, but great features are available too. Here's a glimpse of features that you can enjoy with Peacock TV.
No accounts required to connect multiple devices.
Supports three simultaneous devices with a single account.
Parental controls are available with PIN support.
Why to Use FastestVPN to unblock Peacock TV
FastestVPN offers various dedicated US servers to choose from. It allows you to quickly connect and stream your favorite shows on Peacock TV without frequent connection drops. Moreover, FastestVPN offers exclusive VPN deals to its customers, which help you save significantly. Our 24/7 customer support connects you to professionals to immediately resolve connection or setup issues.
How to Signup Peacock TV using FastestVPN?
Once you're connected to FastestVPN, you simply need to install Peacock TV app or head to Peacock TV website and then sign up like you do for any other streaming service.
Is Using a VPN with Peacock TV Legal?
Using Canada VPN is certainly not illegal to stream Peacock TV.
What Apps does Peacock TV Support?
Peacock TV apps for streaming are available for various devices and platforms. You can check below to find which platforms are supported by the service:
Vizio and LG smart TVs
iOS mobile devices
Android mobile devices
Android TV box
Xbox One
PlayStation 4
Chromecast and Roku.
Conclusion
Peacock TV is incredibly amazing, giving you a variety of content, prices, and streaming options. However, the service is not officially accessible in many regions. You can watch Peacock TV in Canada by following all the essential steps mentioned in our guide. So, what are you waiting for? Connect FastestVPN and watch Peacock TV to discover new shows and movies every month.

Take Control of Your Privacy Today!
Unblock websites, access streaming platforms, and bypass ISP monitoring.
Get FastestVPN