How to Watch Manny Pacquaio vs. Keith Thurman on Android – Stream on Any Android Device
How to Watch Manny Pacquaio vs. Keith Thurman on Android – Stream on Any Android Device
By Johan Curtis No Comments 4 minutes
If you've been paying close attention to Keith Thurman's career then you'd know how eager the 30-year old fighter has been to get a shot against Manny Pacquiao in the ring. It has been six years since he shared his interest in the fight. That soon becomes a reality as Premier Boxing Championship has revealed what is one of the biggest fights of 2019.
Manny Pacquiao vs Keith Thurman is official for July 20. It's easy to see why this will be one of the biggest events of the year if not the biggest. On one corner we have the undefeated Super WBA Welterweight Champion Keith Thurman and on the other we have World Champion – the only eight-division Champion – Manny Pacquiao who is nothing short of a legend in boxing.
This is will be Pacquiao's second appearance in the right for 2019 after his win against Adrien Broner earlier this year. Pacquiao explained in an interview that the reason why he picked the challenge was to prove himself. As the Filipino fighter is moving past the age of 40, there's a running idea that he might be losing his edge. It is exactly what Pacquiao wants to prove wrong. Thurman accepted the challenge, further expressing that he would make Pacquiao "disappear" come July 20.
It is a thrilling encounter for sure, and you can watch Manny Pacquiao vs. Keith Thurman on Android device of your choice from anywhere in the world.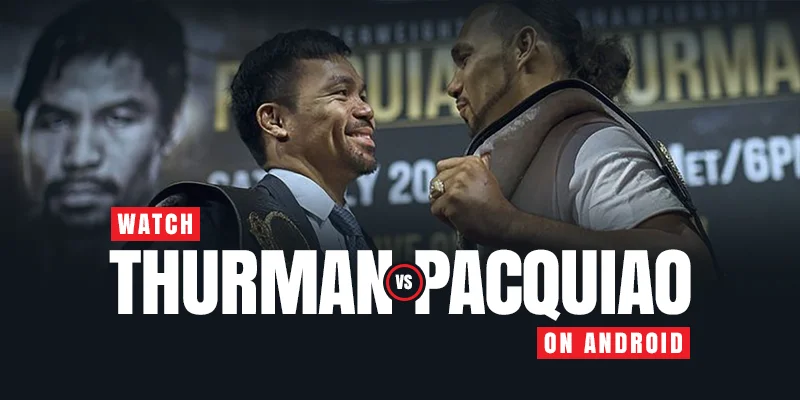 Manny Pacquiao vs. Keith Thurman Date, Time and Venue
Date: July 20, 2019
Time: 9 PM Eastern Time/6 PM Pacific Time
Venue: MGM Grand Arena
Watch Manny Pacquiao vs Keith Thurman on Android
If you have an Android device then it's incredibly easy to stream the upcoming fight on the go. Streaming through the internet grants you the ability to watch from anywhere in the world, and on your favorite device.
Android has taken over the world with devices that range from smartphones to even digital entertainment devices like Amazon's Fire TV and Fire TV Stick. So whether you are on the go with your smartphone or watching on the big screen in the living room, Android's extensive ecosystem has got you covered.
Manny Pacquiao vs Keith Thurman will headline as the Fox Sports PPV event to watch in July. Before you subscribe to Fox Sports, check with your cable TV subscription because chances are that you may already have Fox Sports as part of the package.
From there, it's easier as you can simply login to Fox Sports with your network provider's credentials. And since this is a PPV event, it's geo-restricted to the United States. It means you cannot access Fox Sports if you live outside the United States. While some free streams of the event might appear on the day of the event, it's always recommended to stream through legit sources.
To that end, a VPN is necessary for spoofing your location. FastestVPN easily takes care of that problem through its high-speed servers that are scattered around the world – including the United States.
Here's what you need to do to watch Manny Pacquiao vs. Keith Thurman on Android:
Download and install FastestVPN for your Android device
Launch FastestVPN on your Android device
Connect to any US server
Go to Play Store and search for Fox Sports app
Download and install Fox Sports
Launch Fox Sports
Login with your details
Once you are logged in, it's time to catch the live stream of Manny Pacquiao vs Keith Thurman on Android.
Manny Pacquiao vs Keith Thurman Fight Records
Pacquiao Stats
Nationality: Filipino
Division: Welterweight
Height: 5 ft 5 ½   (166cm)
Reach: 67 in (170cm)
Stance: Southpaw
Total fights: 70
Wins: 61
Wins by Knockout: 7
Losses: 2
Thurman Stats
Nationality: American
Division: Welterweight/Light Middleweight
Height: 5 ft 7 in   (170 cm)
Reach: 69 in (175 cm)
Stance: Orthodox
Total fights: 30
Wins: 29
Wins by Knockout: 22
Losses: 0
Conclusion – Manny Pacquiao vs Keith Thurman on Android
The fight will ensure Thurman the title of Welterweight title if he wins. Not only that but defeating Pacquiao be another feather in his cap – a golden one. Pacquiao has established himself as one of the best in the space, he is boxing's only eight-division championship as well.
You do not want to miss this fight. Catch Manny Pacquiao vs Keith Thurman on Android live with the power of FastestVPN!
Take Control of Your Privacy Today!
Unblock websites, access streaming platforms, and bypass ISP monitoring.
Get FastestVPN